Companies by Sector
More than 6000 listed
Communication Services
Telecommunication Services
Consumer Cyclical
Advertising & Marketing Services
Furnishings, Fixtures & Appliances
Homebuilding & Construction
Manufacturing - Apparel & Accessories
Manufacturing - Apparel & Furniture
Retail - Apparel & Specialty
Consumer Defensive
Beverages - Non-Alcoholic
Financial Services
Diversified Financial Services
Healthcare
Healthcare Providers & Services
Medical Devices & Instruments
Medical Diagnostics & Research
Medical Instruments & Equipment
Industrials
Farm & Heavy Construction Machinery
Transportation & Logistics
Utilities
Utilities - Independent Power Producers


	
Investment Research Firm Issues Amber Alert on Camber Stock
The retail-led short squeeze that last month drove the price of oil-related company Camber Energy, Inc. (CEI) up 733.33% quickly unwound today. During a week when the energy sector has rallied, CEI stands at $0.48 for every dollar held at the open Tuesday.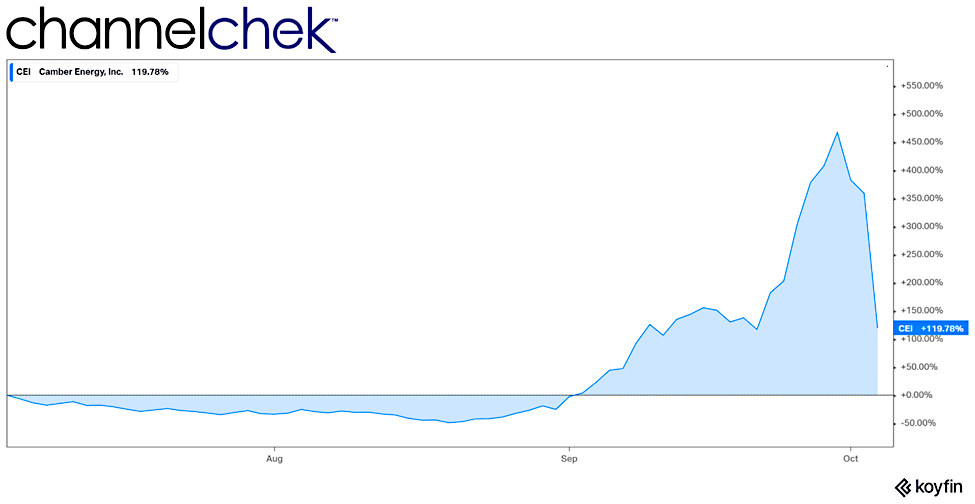 Three Month Chart of Camber ($CEI) Percentage Change
Shares of Camber Energy plunged 52.1% by late day Tuesday (October 5), as a sudden selloff from the stock's near two-year high. Blindsided those that contributed to the short squeeze that was elevated if not orchestrated by a number of well-followed Twitter accounts and subreddits.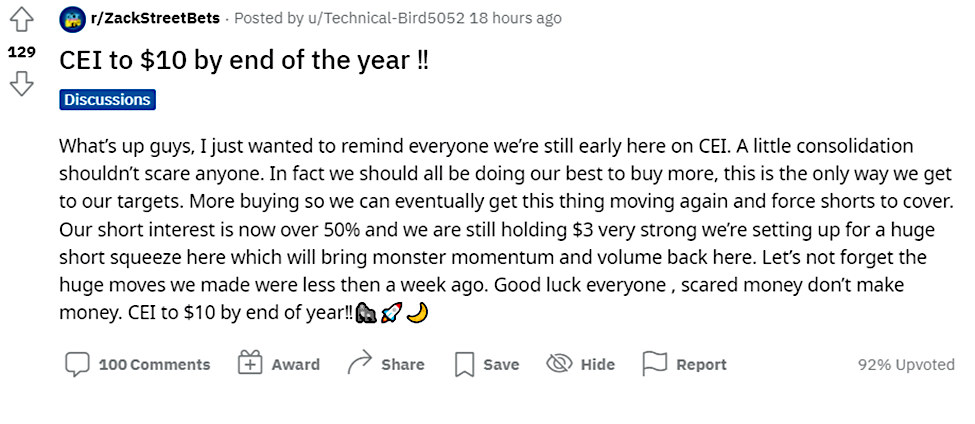 What Caused the Selloff?
Kerrisdale Capital describes itself as a private, research-oriented investment firm. At 11:09 am today, they alerted the social media community that they are short with a series of seven tweets that began: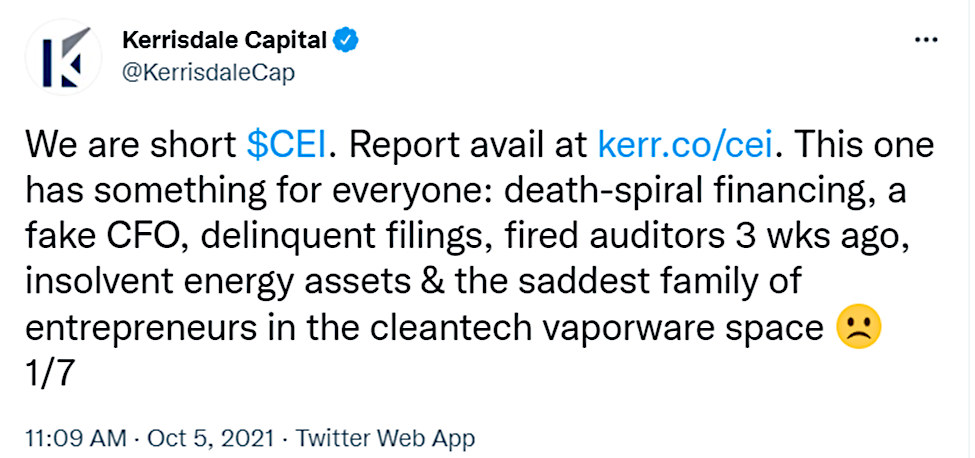 Kerrisdale also issued an initiation report on the company titled, Camber Energy, Inc. (CEI) — What If They Made a Whole Company Out of Red Flags? The report makes clear they have a short position in Camber, but the report also digs much deeper than many social media posts related to the company as to why they have taken a short position.

Source: Camber Initiation Research Report – Kerrisdale Capital
The equity research report alleges that the companies highly dilutive convertible preferred has allowed Camber to see its share count increase "50-million-fold from early 2016 to July 2021." The Kerrisdale research also declares about CEI, which has an ESG investor following, "The recent clean-energy license is nearly worthless." Another key component that may have caused those long the stock to get out is the allegation that Camber only has one real asset, a 73% stake in an OTC-traded company with negative book value.
Citing the research, a public call from Atlanta law firm Holzer & Holzer invites investors to contact them if they have been "hurt." Their website reads: "On October 5, 2021, Kerrisdale Capital released a report alleging the Company "has failed to file financial statements with the SEC since September 2020, is in danger of having its stock delisted next month, and just fired its accounting firm in September."
Take-Away
The 25-page equity research report by a private investment firm appears on the surface to be thorough. However, in a world of cat and mouse, corporate chess, and litigation, it's imprudent to trust anything without checking. This CEI story may be the big meme-stock that gets the regulators involved. As this unravels and more details are brought to light, it's likely will all be wiser.
Information is critical for making fundamental decisions when investing. Channelchek is a highly followed no-cost platform that includes research from the highly ranked analysts at Noble Capital Markets. Register free for access today.
Are You a Business Major?
Each year Noble Capital Markets, Channelchek, and generous sponsors hold the Channelchek College Equity Research Challenge.
The Challenge invites students to compete for high cash prizes awarded to the student and the student's school - plus more. It may also provide high-value networking opportunities with veteran equity analysts.
Who can compete?
You don't have to be a finance, accounting, or major in a related field to understand that up to $7500 for you, and an additional $5,000 to your school can be quite helpful. If you are fully matriculated and interested, you likely qualify.

Suggested Reading:
Sources:
https://holzerlaw.com/cases/camber-energy-inc-cei/
https://www.accesswire.com/666879/Camber-Comments-on-Short-Report
https://www.kerrisdalecap.com/wp-content/uploads/2021/10/Camber-Energy-Inc.-CEI.pdf
Stay up to date. Follow us:
Company
Ticker
Price
Previous
Mkt Cap
Volume
52wk Range
Camber Energy Inc.
CEI (AMERA)
$1.34
$334.42M
0
$0.33 - $4.85
Advanced Market Data
()
Detailed Quote
Charts
Statistics
Financials
Historical Quotes
Insider Activity
Key Ratios