Companies by Sector
More than 6000 listed
Communication Services
Telecommunication Services
Consumer Cyclical
Advertising & Marketing Services
Furnishings, Fixtures & Appliances
Homebuilding & Construction
Manufacturing - Apparel & Accessories
Manufacturing - Apparel & Furniture
Retail - Apparel & Specialty
Consumer Defensive
Beverages - Non-Alcoholic
Financial Services
Diversified Financial Services
Healthcare
Healthcare Providers & Services
Medical Devices & Instruments
Medical Diagnostics & Research
Medical Instruments & Equipment
Industrials
Farm & Heavy Construction Machinery
Transportation & Logistics
Utilities
Utilities - Independent Power Producers


  
Carl Icahn Selling into Warren Buffet's Buying, Can they Both be Right?
"We started buying on Monday, and we bought all we could," Warren Buffett told CNBC. The Berkshire Hathaway CEO was discussing a new 91.2 million share stake his company took in Occidental Petroleum (OXY). At the same time, Carl Icahn, another renowned investor, has been selling shares of OXY. Can they both be right?
Warren Buffet on OXY
Buffett pulled the trigger on $4.5 billion of Occidental, an energy exploration and production company, last week. This gives Berkshire close to a 10% stake in the company. This is an increase in exposure for Berkshire as it also has positions worth $10 billion of preferred shares, along with warrants to buy 83.9 million common shares exercisable at $59.62.
Berkshires 2021 annual report showed they held $144 billion in cash and equivalents.
Carl Icahn on OXY
Billionaire investor Carl Icahn, sold his remaining lot of OXY last week. According to The Wall Street Journal, Icahn made about $1 billion on Occidental stock and still holds about 15 million in warrants (OXY WS). The warrants, which trade at around $34, have an exercise price of $22 a share (current level $57-$58).
Icahn still continues to have exposure to the energy sector through a roughly 6.4% stake worth $2 billion in Cheniere Energy (LNG), a liquefied natural gas producer, and a controlling interest worth $1 billion in CVR Energy (CVI), a petroleum refiner.
The activist investor became involved with Occidental in 2019 around the same time as Buffett. He urged the company to not pursue the debt-financed deal for Anadarko, which Buffett was for and helped enable with loans. Berkshire's warrants and preferred shares were part of financing the arrangement.
Buffett vs Icahn
When you find two legendary investors taking opposite sides of the same trade at the same time, in a sector that is moving quickly, it's worth stopping to try to understand why. Berkshire Hathaway's Buffet, who is 91, was a heavy buyer of OXY while Carl Icahn, 86, was selling a huge position put on in 2019.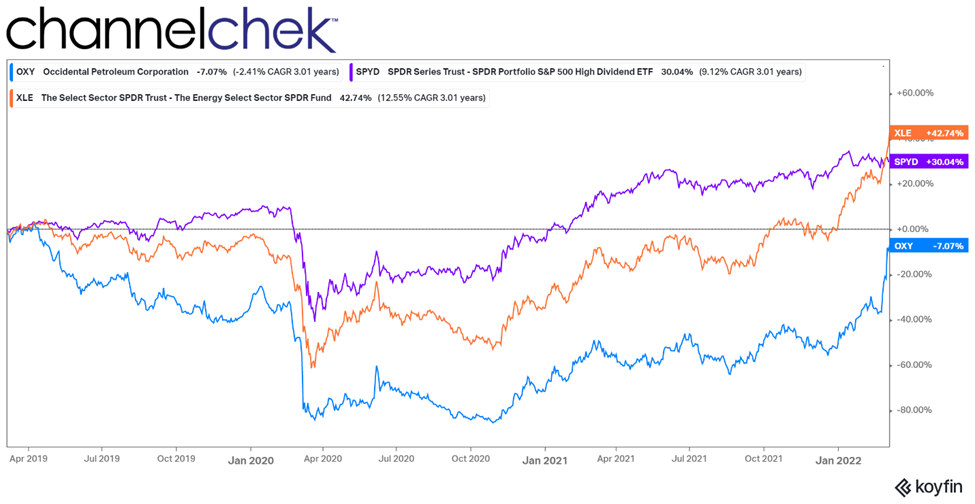 Description: Since March 2019 OXY has consistently performed below the energy sector and S&P 500
There have been other times when one of these two was buying into the other's selling. In 2016, Icahn exited a position in Apple (AAPL) he had held for about three years. Also, in 2016 Buffett began scaling into Apple. Icahn made a reported $2 billion profit on 180 million shares of Apple. It is unclear if the redeployment of the proceeds of this sale outpaced the earnings that would have occurred if he held Apple, which has grown 500% since.
Apple has been Buffett's biggest public market win in the past decade. Berkshire holds about 900 million shares worth $145 billion, more than four times its cost.
Investment Styles
As an activist investor, Icahn's primary methodology is to own a significant enough amount of a company to influence how the company is run. If a profit presents itself, he is likely to take it. Such was the case with the doubling of OXY in two months' time this year.
Berkshire's portfolio is mostly non-public companies it owns outright. As for publicly traded stocks, Buffett's style is to be patient waiting for value in terms of price and potential. Buffett has described his favorite holding period as "forever."
Berkshire is also cash-heavy and should like to deploy $80 billion, but has been priced out of stocks and acquisitions for several years now. With recent market weakness, there may be some big purchases on the horizon.
Take-Away
Investors have different time frames and risk tolerance. More active traders like Icahn may sell if they see other opportunities where they believe the capital could produce a better return, whereas Berkshire's longer-term view and huge cash position, could make their transactions based on a totally different set of factors. For Berkshire, this purchase may be as easy to understand as asking "do we expect OXY to perform better than cash."
Managing Editor, Channelchek
Suggested Reading
Sources
https://www.channelchek.com/news-channel/Pros_and_Cons_of_a_Company_Like_Berkshire_Hathaway_in_your_Portfolio
https://www.cnbc.com/2022/03/05/berkshire-hathaway-reveals-5-billion-stake-in-oil-giant-occidental-petroleum.html
https://www.sec.gov/Archives/edgar/data/315090/000089924322009579/xslF345X03/doc4.xml
https://www.barrons.com/articles/warren-buffett-was-buying-occidental-carl-icahn-was-selling-who-will-be-right-51646672487?mod=hp_columnists

Stay up to date. Follow us: