Companies by Sector
More than 6000 listed
Communication Services
Telecommunication Services
Consumer Cyclical
Advertising & Marketing Services
Furnishings, Fixtures & Appliances
Homebuilding & Construction
Manufacturing - Apparel & Accessories
Manufacturing - Apparel & Furniture
Retail - Apparel & Specialty
Consumer Defensive
Beverages - Non-Alcoholic
Financial Services
Diversified Financial Services
Healthcare
Healthcare Providers & Services
Medical Devices & Instruments
Medical Diagnostics & Research
Medical Instruments & Equipment
Industrials
Farm & Heavy Construction Machinery
Transportation & Logistics
Utilities
Utilities - Independent Power Producers


	Image Credit: Beverly Yuen Thompson (Flickr)
Marijuana Sales Growth Breaking Records While Barely Scratching the Surface
While non-CBD cannabis products are legal in only 74% of the United States, sales revenue exceeds that of many products that trade freely. For example, the U.S. market for athletic shoes is $14 billion annually. By comparison, during the first half of 2021, cannabis sales were $12 billion. The current cannabis growth trajectory suggests sales will become more than double the entire athletic footwear market this year. Milk, which can be found in most households, restaurants, and coffee shops, had sales in 2020 of only $12.6 billion. The businesses that make up legal cannabis are all thought to be in their infancy; what do current numbers tell us about the future?
The Numbers
Cannabis sales were approximately $18 billion in 2020. The six-month trend, plus growth from new state roll-outs, place the industry on pace to reach $25 billion to as much as $30 billion in sales by the end of 2021. At worst, this is a $7 billion increase on 2020's $18 billion, or 38.9%. This potential is not found in other consumables or industries. Looking at figures from a year earlier, during the 2020 Covid driven events, sales revenue increased by 60% over the prior year. According to information published by Whitney Economics and Leafly, that level of growth would continue the marijuana industry's position as the country's fastest-growing business.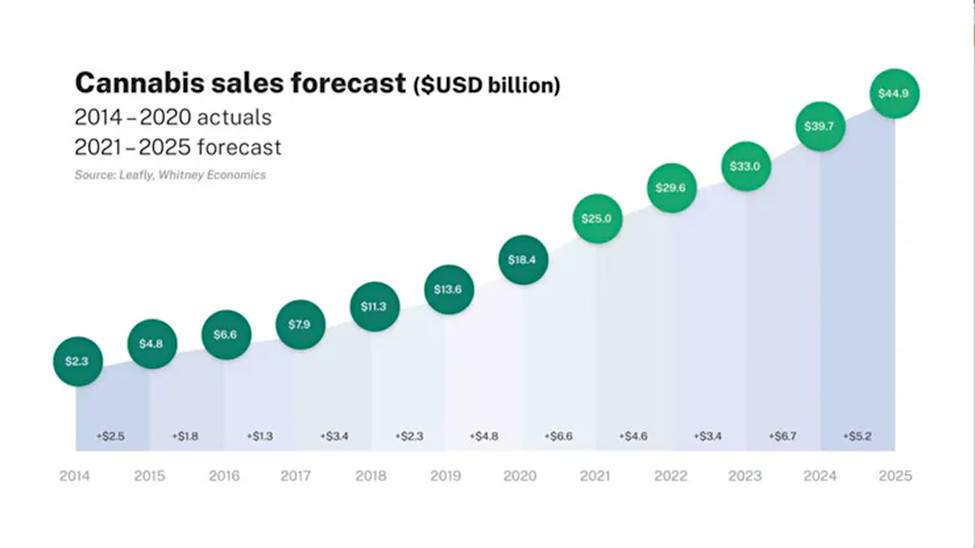 Whitney Economics and Leafly cannabis industry growth and projected growth
Mid-Year Cannabis Industry Numbers
During the first half of 2021, revenues were near $12.5 billion (medical and adult-use combined). This indicates an acceleration as the first-quarter revenues were less than half that amount at about $5.8 billion.
These newer legal states that have more recently put a framework in place (distribution, admin, recordkeeping, etc.) are hovering around $1.2 billion in sales each.
Massachusetts, where legal cannabis sales are on pace to reach $1.2 billion in 2021 would attain roughly a 70% gain over 2020. Massachusetts state's stores opened in Nov. 2018.
Michigan was experiencing monthly sales of approximately $100 million earlier in the year. Sales in March and April increased by 50% putting them at the $150 million pace. The trend suggests, Michigan's 2021 sales could be $1.6 billion. This would be a 65% increase over 2020 sales.
Illinois leaves us with the same projection of $1.2 billion in annual sales for all of 2021. This would be a 20% increase – weak by cannabis standards, coveted in most industries. Slower growth may be a result of delayed implementation because of political battles over licensing and equity.

Take-Away
The fastest-growing industry (sales) in the U.S. over the past few years is cannabis – and the growth streak is expected to continue. Its also accelerating and has the potential to expand for years to come. While this should keep investor attention, individual company success are derived by more than just an industry's expansion. Even the incredible tech revolution of the 90s had businesses in the right place, at the right time, fail because of competition, management errors, lack of capital, etc.
Channelchek is a resource for investors interested in growing companies and growing or mature industries to find solid, unbiased research. Sorting through the myriad of opportunities within an industry, can benefit from taking in research, data, and video conversations with management on Channelchek.
Suggested Reading:
Sources:
https://www.businessinsider.com/legal-marijuana-states-2018-1
https://www.leafly.com/news/industry/cannabis-jobs-report
https://www.leafly.com/news/industry/americans-on-pace-to-spend-twice-as-much-on-weed-as-on-milk
Stay up to date. Follow us:
Company
Ticker
Price
Previous
Mkt Cap
Volume
52wk Range
WEED INC.
BUDZ (OTCQB)
$0.30
$35.44M
0
$0.21 - $2.68
Advanced Market Data
()
Detailed Quote
Charts
Statistics
Financials
Historical Quotes
Insider Activity
Key Ratios