Companies by Sector
More than 6000 listed
Communication Services
Telecommunication Services
Consumer Cyclical
Advertising & Marketing Services
Furnishings, Fixtures & Appliances
Homebuilding & Construction
Manufacturing - Apparel & Accessories
Manufacturing - Apparel & Furniture
Retail - Apparel & Specialty
Consumer Defensive
Beverages - Non-Alcoholic
Financial Services
Diversified Financial Services
Healthcare
Healthcare Providers & Services
Medical Devices & Instruments
Medical Diagnostics & Research
Medical Instruments & Equipment
Industrials
Farm & Heavy Construction Machinery
Transportation & Logistics
Utilities
Utilities - Independent Power Producers

Ceapro Inc. Reports 2020 First Quarter Financial Results and Highlights
(Note: companies that could be impacted by the content of this article are listed at the base of the story [desktop version]. This article uses third-party references to provide a bullish, bearish, and balanced point of view; sources are listed after the Balanced section.)
– Maintained production operations during COVID-19 pandemic crisis, providing our customers essential products while ensuring the health and safety of our employees –
– R&D activities focused on the development of innovative delivery systems –
– First quarter 2020 sales increased 34% vs. first quarter 2019 –
– Net profit of $1,126,000 for Q1 2020 vs. net loss of $637,000 for Q1 2019 –
EDMONTON, ALBERTA – May 28, 2019 – Ceapro Inc. (TSX-V: CZO) ("Ceapro" or the "Company"), a growth-stage biotechnology company focused on the development and commercialization of active ingredients for healthcare and cosmetic industries, today announced financial results and operational highlights for the first quarter ended March 31, 2020.
"We are very pleased with the progress we have made on multiple fronts during the first quarter of this year, despite the COVID-19 pandemic crisis. While our first quarter financial results were very strong, our focus remains on the health and safety of our associates during these unprecedented times, followed by business continuity. These solid results are a clear testament to the dedication and hard work of every one of our employees during these challenging times and we are very proud of their commitment to support our customers heightened demand by delivering high quality products. Importantly, these results also reflect the sound foundation and the strength of our base business deliberately built over the last few years," stated Gilles Gagnon, M.Sc., MBA, President and CEO.
Corporate and Operational Highlights
Pipeline Development:
• Received approval from Health Canada for an amendment to the beta glucan clinical trial protocol to allow evaluation of subjects with confirmed pathophysiological condition of hyperlipidemia who voluntary request to be treated with beta glucan only, without regular dosing of statins. This, allowing patients to receive beta glucan as a stand-alone therapy, should accelerate patient enrollment and expand target addressable patient population.
• Received approval from Health Canada Controlled Substances and Cannabis Branch for a research license with medical cannabis for the formulation of unique solid cannabinoid delivery systems using PGX technology.
• Published Results from a collaborative project with University of Alberta researchers in Journal of Supercritical Fluids in an article titled "Preparation of PGX-dried gum arabic and its loading with coQ10 by adsorptive precipitation."
• Continued to monitor stability studies for liquid beta glucan and avenanthramides produced at a new manufacturing site as well as for the pharmaceutical-grade dry powder formulation of avenanthramides to be used in a human bioavailability study.
• Developed new PGX-dried chemical complexes like sodium alginate and gum arabic impregnated with coenzyme Q10 demonstrating the versatility of the PGX technology and the potential to develop significant bioactives delivery systems.
Technology:
• Advanced conversations with interested potential partners to out-license applications developed using Ceapro's innovative technology.
• Conducted a technical assessment of available equipment in Europe and North America and are actively evaluating locations for a future commercial scale-up of the PGX technology.
• Advanced research and development efforts to pursue the development of new PGX-dried chemical complexes for potential applications under various forms like pills, capsules, fast dissolving strips and face masks.
• Executed on research collaboration projects with Universities of Alberta and McMaster for the impregnation of various bio actives using PGX-processed dry beta glucan as a potential delivery system for multiple applications in healthcare.
• Subsequent to quarter, announced research project with McMaster University for PGX-processed yeast beta glucan as a potential treatment for COVID-19 patients.
Corporate:
• Hired an international consulting firm to support licensing activities.
• Secured DTC Eligibility for publicly traded shares under Ticker OTCQZ: CRPOF.
• Increased Company exposure through investor relations activities.
Financial Highlights for the First Quarter Ended March 31, 2020
• Total sales of $4,273,000 for the first quarter of 2020 compared to $3,197,000 for the comparative period in 2019; an increase of 34% over last year. Avenanthramides sales volumes increased by 68% for Q1 2020 vs Q1 2019.
• Net income after taxes of $1,126,000 for the first quarter of 2020 compared to a net loss after taxes of $637,000 for the comparative period in 2019.
• Research and Development of $503,000 in Q1 2020 vs $801,000 in 2019. This decreased investment was partly due to a slowdown of recruitment of patients for the beta glucan trial during the pandemic crisis.
• Cash generated from operations of $531,000 in Q1 2020 vs. cash flows generated from operations of $367,000 in Q1 2019.
• Positive working capital balance of $6,263,817 as of March 31, 2020.
"As we respond to the potential impacts and uncertainties of COVID-19 by taking the necessary steps to preserve our financial position, we continue to execute on our transition to a new business model from a contract manufacturer to a biopharmaceutical company. We remain dedicated to executing on our milestones ahead and depending on the pandemic situation, look forward to what we believe will be an exciting year," concluded Mr. Gagnon.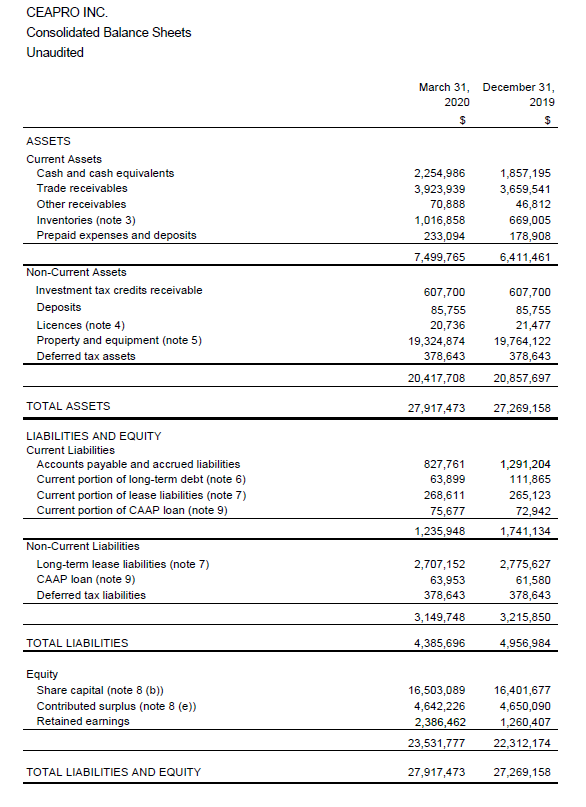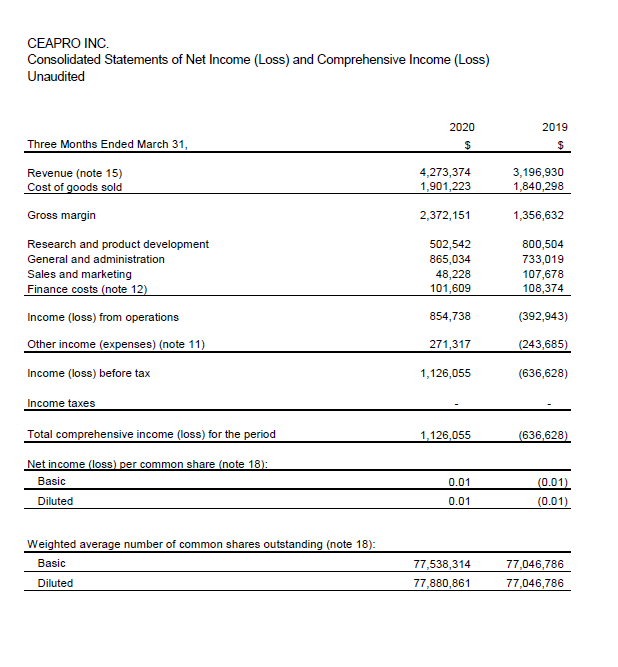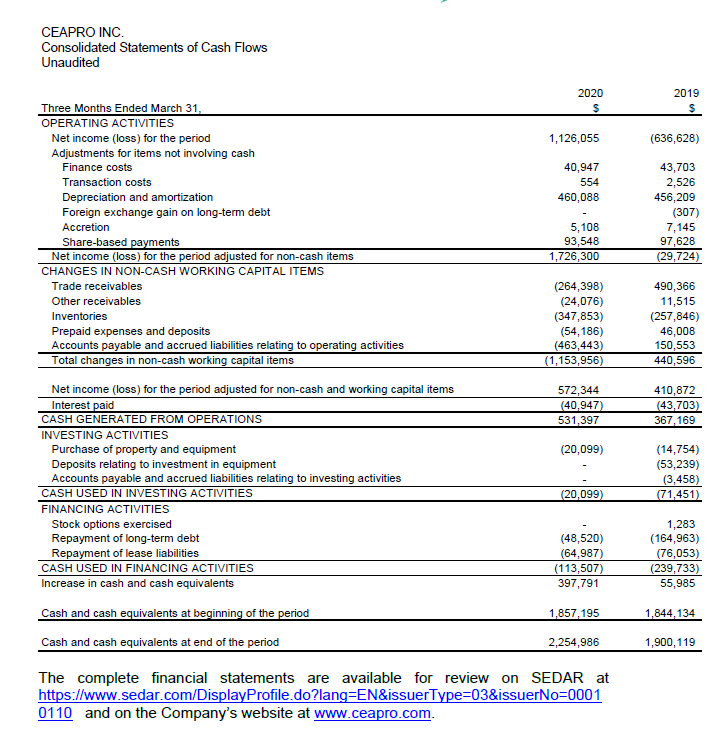 About Ceapro Inc.
Ceapro Inc. is a Canadian biotechnology company involved in the development of proprietary extraction technology and the application of this technology to the production of extracts and "active ingredients" from oats and other renewable plant resources. Ceapro adds further value to its extracts by supporting their use in cosmeceutical, nutraceutical, and therapeutics products for humans and animals. The Company has a broad range of expertise in natural product chemistry, microbiology, biochemistry, immunology and process engineering. These skills merge in the fields of active ingredients, biopharmaceuticals and drug-delivery solutions. For more information on Ceapro, please visit the Company's website at
www.ceapro.com
.
For more information contact:
Jenene Thomas
JTC Team, LLC
Investor Relations and Corporate Communications Advisor
T (US): +1 (833) 475-8247
E: czo@jtcir.com
Issuer:
Gilles R. Gagnon, M.Sc., MBA President & CEO T: 780-421-4555
Neither TSX Venture Exchange nor its Regulation Services Provider (as that term is defined in the policies of the TSX Venture Exchange) accepts responsibility for the adequacy or accuracy of this release
Company
Ticker
Price
Previous
Mkt Cap
Volume
52wk Range
Advanced Market Data
()
Detailed Quote
Charts
Statistics
Financials
Historical Quotes
Insider Activity
Key Ratios