Companies by Sector
More than 6000 listed
Communication Services
Telecommunication Services
Consumer Cyclical
Advertising & Marketing Services
Furnishings, Fixtures & Appliances
Homebuilding & Construction
Manufacturing - Apparel & Accessories
Manufacturing - Apparel & Furniture
Retail - Apparel & Specialty
Consumer Defensive
Beverages - Non-Alcoholic
Financial Services
Diversified Financial Services
Healthcare
Healthcare Providers & Services
Medical Devices & Instruments
Medical Diagnostics & Research
Medical Instruments & Equipment
Industrials
Farm & Heavy Construction Machinery
Transportation & Logistics
Utilities
Utilities - Independent Power Producers


Image Credit: Mark Chinnick
Food Costs, Empty Shelves, and Real Estate Prices Could Provide Investors With Opportunities
Food shortages, inflation, and skyrocketing real estate. These are the most discussed topics among my social media followers. The discussions, and memes, seem to be defining 2022, just as the pandemic defined 2020 and vaccinating for the pandemic defined 2021. During the two-plus decades I managed billions in funds on Wall Street, my mind became trained to connect dots and look for opportunities. As news stories scrolled down my Bloomberg screen, my automatic thought process was always to ask myself, what's impacted, is it bullish or bearish, is there an investment opportunity, and what risks might I be missing.
Connecting Dots
Last month I attended my first in-person conference in two years. In the interest of full disclosure, Channelchek is a sponsor of the NobleCon investor conference, but it is without bias that I know this annual event consistently opens my eyes to companies and realities that help my investing.
During the investor event my mind becomes super busy digesting and connecting economic and investment "dots." Matching what I know about the markets with what the list of company presenters are explaining about their companies is exciting. Since video replays of the conference presentations are available online, I've recently started watching what I missed in person. In this way, I can make sure I haven't missed anything.
Working through the companies alphabetically, I started with Alico Inc (ALCO). Alico is a Florida-based food producer and land management company. As mentioned earlier, my social media (and traditional media) newsfeed is full of stories of food inflation, food shortages, and climbing land values, especially in Florida. Alico's bottom line would seem to benefit from any or all of these situations.
About Alico (ALCO)
The 120-year-old company is one of the largest citrus producers in the U.S., it owns and manages citrus groves in seven Florida counties. Alico is a major landowner with a total of 49,000 prime citrus acres and 84,000 acres in total. In addition to having strong long-term contracts and relationships with companies like Tropicana, the company also holds thousands of acres of ranch land in Florida. As much as 26,000 acres of this ranch land is for sale and stands to benefit of shareholders.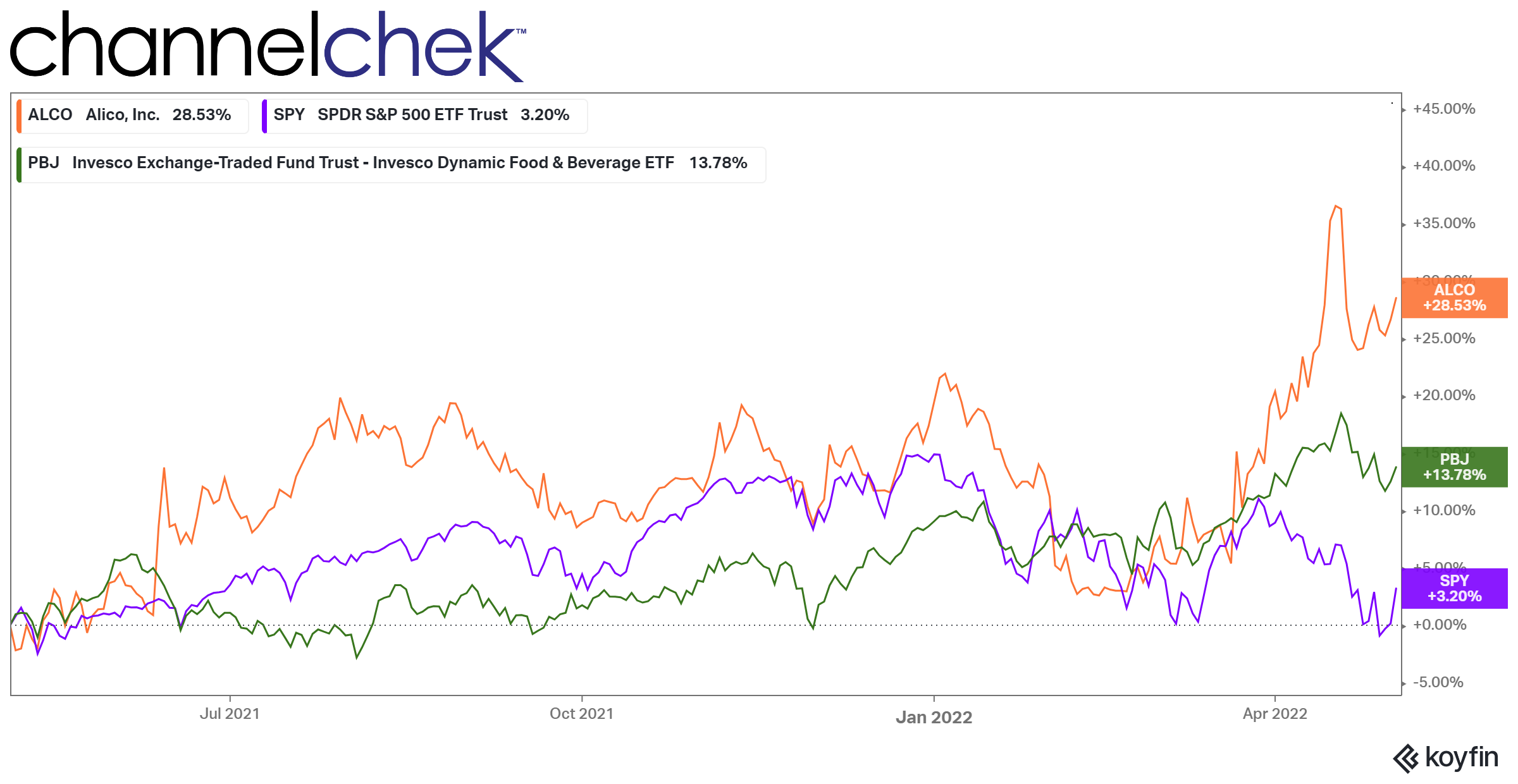 Source: Koyfin
The chart above compares the one year return with that of the S&P 500 along with Invesco Dynamic Food & Beverage ETF (PBJ)
During the recorded presentation, Rich Rallo, the chief financial officer of Alico, discussed what he described as a market cap disconnect where the company's stock price and asset valuation is below the industry norm. This may change as investors allocate away from tech and look for alternatives.
There is plenty to learn from the presentation replay about agri-business in general and Alico specifically. For example, how Alico benefitted from hedging fuel costs, future sales contracts on fruit, fertilizer, and grove density.
The company recently paid a dividend of about 5%.

Take-Away
Popular investment advice is, "invest in what you know." It would follow that the more an investor knows, the better equipped they are to recognize opportunities and be comfortable enough to commit capital.
My recent trips to the supermarket has shown me that inflation is running high, and despite the high prices, some shelves are bare. I hear from investors that they are want to invest in companies that aren't hurt by inflation. I suggest they should look for companies that benefit from rising prices.
Alico will be reporting earnings on May 9.
Managing Editor, Channelchek
Suggested Content
Stay up to date. Follow us:
Company
Ticker
Price
Previous
Mkt Cap
Volume
52wk Range
Alico Inc.
ALCO (NGS)
$39.97
$301.59M
0
$30.21 - $43.65
Advanced Market Data
()
Detailed Quote
Charts
Statistics
Financials
Historical Quotes
Insider Activity
Key Ratios