Companies by Sector
More than 6000 listed
Communication Services
Telecommunication Services
Consumer Cyclical
Advertising & Marketing Services
Furnishings, Fixtures & Appliances
Homebuilding & Construction
Manufacturing - Apparel & Accessories
Manufacturing - Apparel & Furniture
Retail - Apparel & Specialty
Consumer Defensive
Beverages - Non-Alcoholic
Financial Services
Diversified Financial Services
Healthcare
Healthcare Providers & Services
Medical Devices & Instruments
Medical Diagnostics & Research
Medical Instruments & Equipment
Industrials
Farm & Heavy Construction Machinery
Transportation & Logistics
Utilities
Utilities - Independent Power Producers

What's Moving the Market: Explained in Three Charts – Part 2
The market continues to rise despite the negative impact of a pandemic and remediation efforts that have slowed down the economy. In an article written on June 5, 2020, What's Moving the Market: Explained in Three Graphs – Part 1, we explained the rise in three graphs. The first graph showed a significant jump in personal income in April related to the government stimulus. The second graph showed a large spike in personal savings in April as home-bound consumers decided to invest the money instead of spending it. The third showed the increased weighting that a handful of tech stocks are having on the major indices implying that the market movement is due the success of a few companies that are less affected by the pandemic and not a broad-based representation of the economy. These three trends witnessed in April have continued into the summer months. But there is more to the story, as explained in the next three graphs.
Reason #1 – Retail investors have become active participants in the stock market.
Households have been taking their stimulus money and putting it directly into the stock market. Joe Mecane, the head of execution services at Citadel Securities, said that retail investors make up 20% of the market currently, up from 10% in 2019. Retail online brokerages such as E-Trade, TDAmeritrade, and Charles Schwab have reported robust business activity in recent months in response to the stimulus and the erasing of commission fees. The activity has created a FOMO (fear of missing out) among retail investors, which serves to push the share of retail-favored stocks even higher. Goldman Sachs shows this outperformance graphically in the chart below.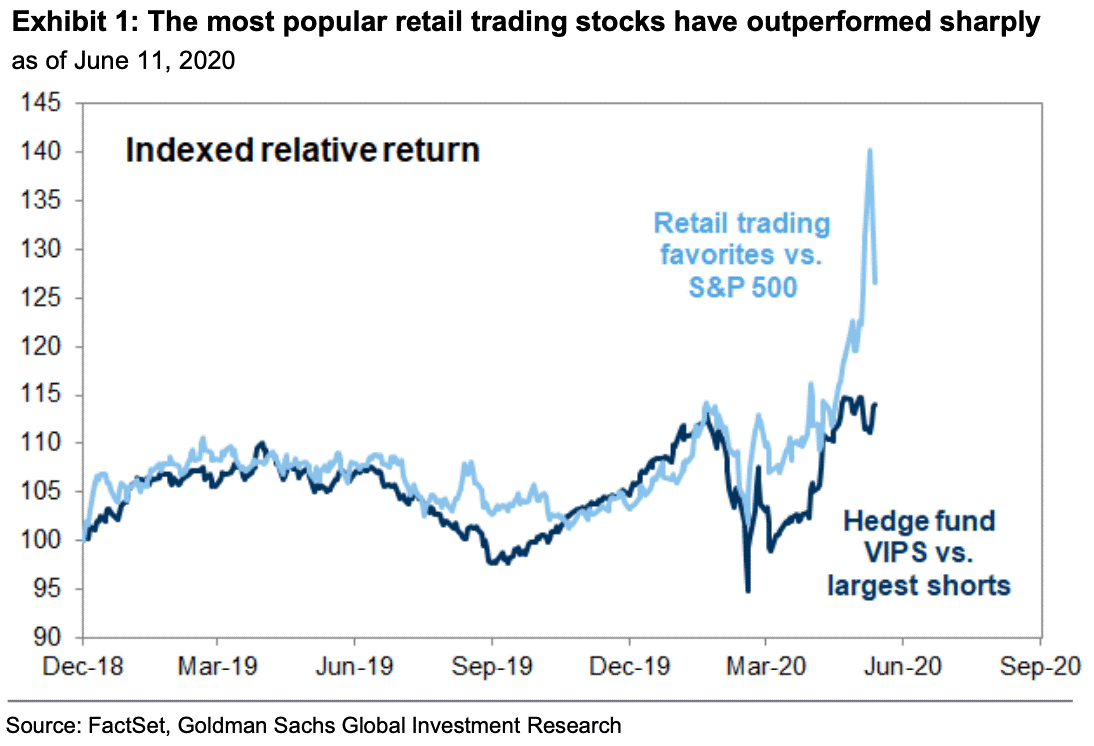 Reason #2 – Investors have nowhere else to go
Valuation multiples have climbed as management and analysts lower expectations for 2020. True, investors may be looking beyond 2020, expecting a strong rebound in 2021. Still, multiples of 2021 results are high relative to historical levels. So why do stock prices keep rising? Frankly, there is nowhere else for investors to put their money. Bank deposits offer little return. Government bonds, as shown in the graph below, provide returns below 0.5% unless you go out past ten years.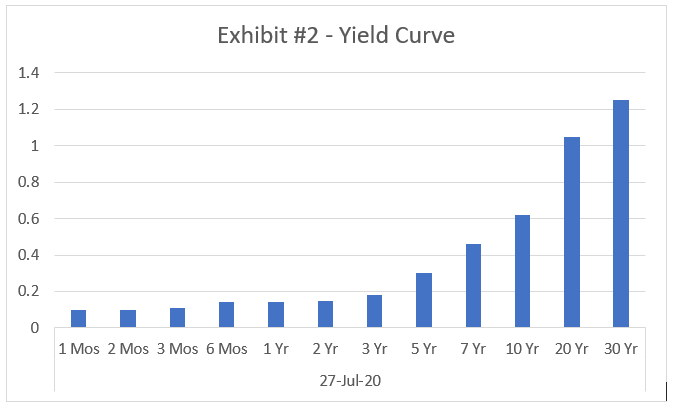 Reason #3 – Earnings reports for the second quarter are coming in above depressed expectations
It's early in the reporting season, but results are generally surpassing expectations at a higher rate than we have seen in past quarters. This may reflect increased caution by management and analysts given uncertainty. Nevertheless, better-than-expected results will lead to higher expectations for future quarters. John Butters of Factset provides the below scorecard for S&P 500 companies who have reported second-quarter results: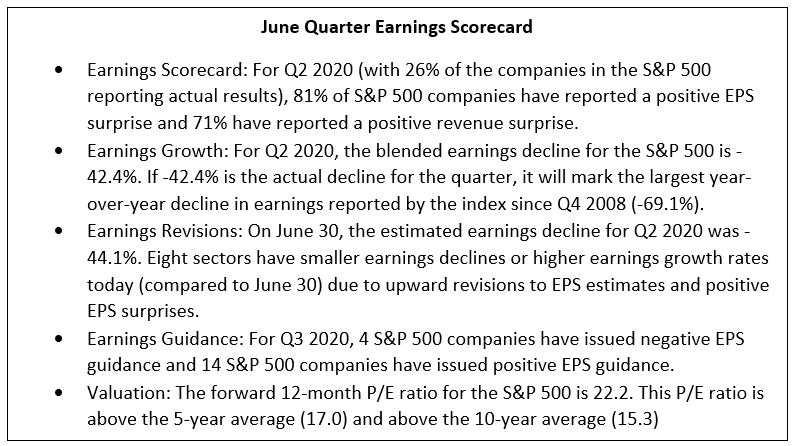 The three graphs presented above help explain why the market continues to rise. However, they do not offer much insight into whether the market will continue to rise in the future. There are just too many unknowns. Will the stimulus that put money in investor pockets be extended? How will retail investors react when the market faces a downturn? Have management and analysts overestimated the downside of the pandemic, or were they just being overly cautious? Only time will tell.
Suggested Reading:
What's Moving the Market: Explained in Three Graphs – Part 1
Equity Markets Give a Lesson in Behavioral Psychology
Copying the Brightest Investment Ideas
Enjoy Premium Channelchek Content at No Cost

Each event in our popular Virtual Road Shows Series has maximum capacity of 100 investors online. To take part, listen to and perhaps get your questions answered, see which virtual investor meeting intrigues you here.
Sources:
https://financialpost.com/investing/how-the-new-retail-investor-mania-is-changing-the-stock-market-game, Victor Ferreira, Financial Post, July 06, 2020
https://www.factset.com/hubfs/Resources%20Section/Research%20Desk/Earnings%20Insight/EarningsInsight_072420.pdf, John Butters, Factset, July 24, 2020
https://markets.businessinsider.com/news/stocks/retail-investors-quarter-of-stock-market-coronavirus-volatility-trading-citadel-2020-7-1029382035#
, Ben Winck, Markets Insider, July 9, 2020