Companies by Sector
More than 6000 listed
Communication Services
Telecommunication Services
Consumer Cyclical
Advertising & Marketing Services
Furnishings, Fixtures & Appliances
Homebuilding & Construction
Manufacturing - Apparel & Accessories
Manufacturing - Apparel & Furniture
Retail - Apparel & Specialty
Consumer Defensive
Beverages - Non-Alcoholic
Financial Services
Diversified Financial Services
Healthcare
Healthcare Providers & Services
Medical Devices & Instruments
Medical Diagnostics & Research
Medical Instruments & Equipment
Industrials
Farm & Heavy Construction Machinery
Transportation & Logistics
Utilities
Utilities - Independent Power Producers


Image Credit: DiDi
Is DiDi Dead Money for Investors?
Didi Global Inc. (DIDI) shareholders will vote on its delisting at a special meeting on May 23. The downhill ride in stock price since last June began when the SEC began a probe into the corporation's IPO. The company also came under the dark cloud that other Chinese technology companies were under, as Beijing had been creating rigid regulations making it more difficult for them to operate. That regulatory campaign has slowed.
Didi (DIDI) says, subject to applicable Chinese regulations it is cooperating with the SEC investigation. The ridesharing company's own guidance on the situation is not reassuring, "We cannot predict the timing, outcome or consequences of such an investigation," DiDi wrote in a report to shareholders.
The company stock fell 7% in after-hours trading Tuesday and is down another 5.75% at midday today (May 4).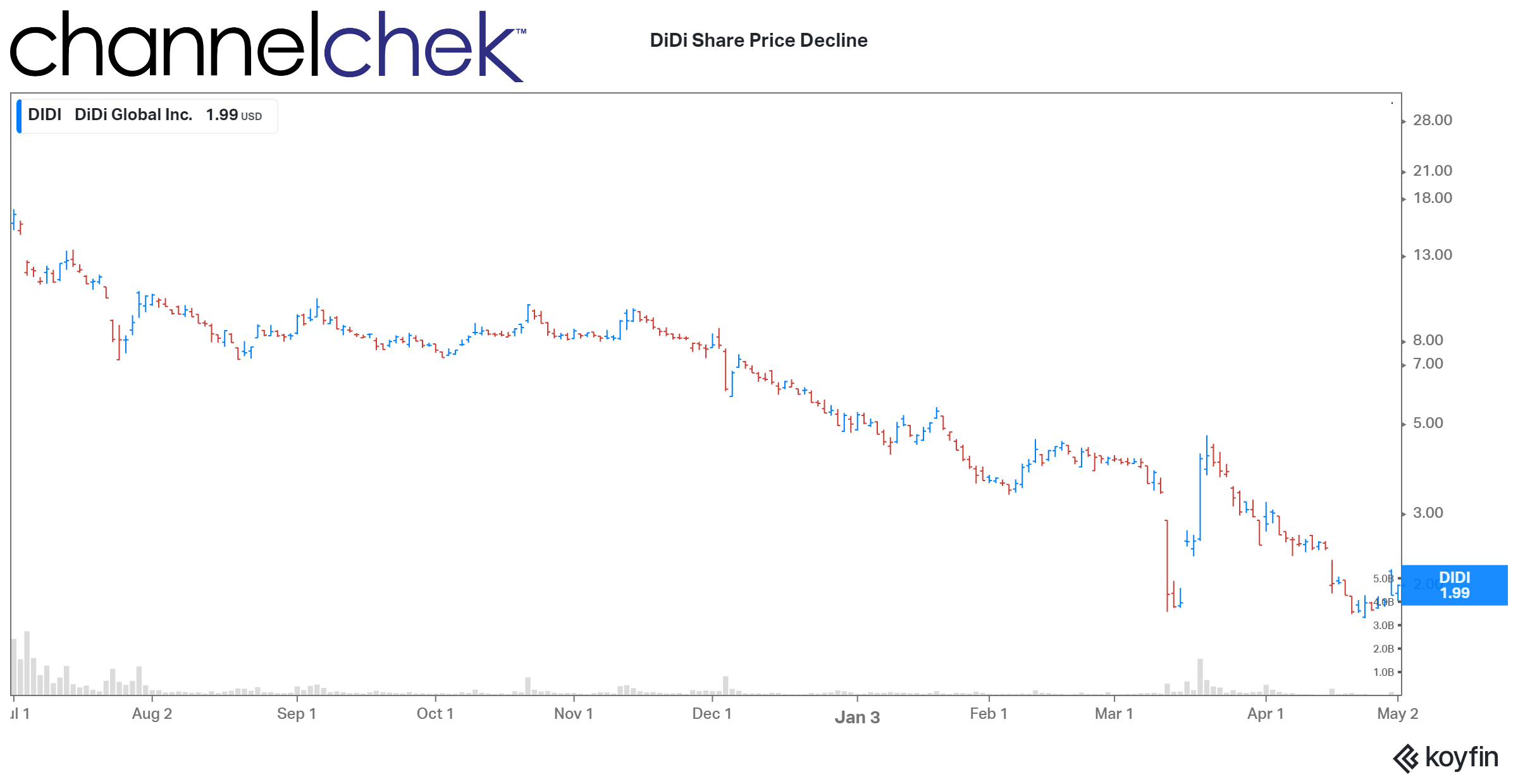 Details of the SEC probe have not been made public. Gaps in some disclosures before the IPO is a likely area of SEC investigation. What is known is the company didn't tell investors that Chinese officials had urged the company to delay the IPO as the government was worried about revealing sensitive information in the offering. DiDi was then being reviewed by Beijing as a cybersecurity threat to China. This occurred just days after going public. The long selloff that followed has not had a reprieve. The IPO raised $4.4 billion at $14 per share.
The new U.S. Securities and Exchange Commission scrutiny mounts as Chinese regulatory pressures have not fully subsided. In December, DiDi said it would apply to list on the Hong Kong Exchange. But in March, the company said that it would delist from New York before looking for a new public listing. This is to cooperate with Beijing's cybersecurity probe.
Shareholders will vote on the delisting on May 23, but company directors and strategic investors like Tencent (TCEHY) and Softbank (SFTBY) are likely to push it through. Smaller self-directed investors, many who are sitting with huge losses, may find their ownership is "dead money" for an undetermined amount of time once the company is delisted.
Take-Away
The U.S. Securities and Exchange Commission is investigating Didi Global Inc.'s troubled 2021 public offering when the Chinese ride-hailing company raised $4.4 billion only days before revelations of a Chinese probe into data security pummeled the stock.
Like many other Chinese tech companies, Didi has come under the spotlight from regulators both in China and the U.S. since the IPO. Action from U.S. regulators shows that the end is not yet in sight for shareholders of the stock.
The company has been in talks with the Cyberspace Administration of China about a fine and penalties.
Managing Editor, Channelchek

Suggested Reading
Sources
https://finance.yahoo.com/news/didi-global-says-faces-sec-220926186.html
https://www.wsj.com/articles/didis-u-s-road-trip-just-got-even-bumpier-11651663261?mod=djemheard_t
https://www.bloomberg.com/news/articles/2022-05-03/didi-global-says-it-faces-sec-investigation-related-to-u-s-ipo-l2qpduya
Stay up to date. Follow us: