Companies by Sector
More than 6000 listed
Communication Services
Telecommunication Services
Consumer Cyclical
Advertising & Marketing Services
Furnishings, Fixtures & Appliances
Homebuilding & Construction
Manufacturing - Apparel & Accessories
Manufacturing - Apparel & Furniture
Retail - Apparel & Specialty
Consumer Defensive
Beverages - Non-Alcoholic
Financial Services
Diversified Financial Services
Healthcare
Healthcare Providers & Services
Medical Devices & Instruments
Medical Diagnostics & Research
Medical Instruments & Equipment
Industrials
Farm & Heavy Construction Machinery
Transportation & Logistics
Utilities
Utilities - Independent Power Producers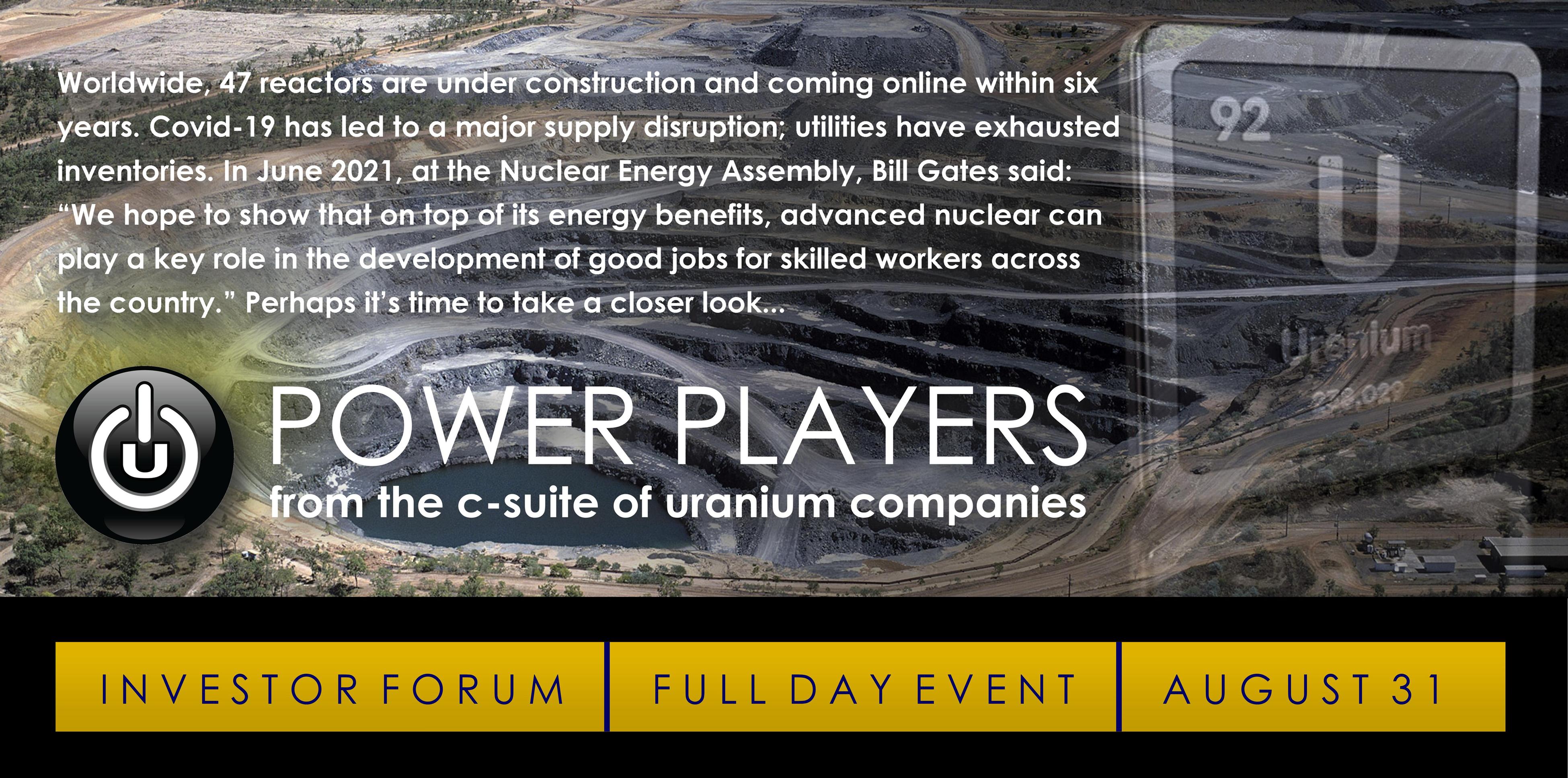 Noble Capital Markets Uranium Power Players Investor Forum

August 31, 2021
The Noble Uranium Power Players Investor Forum is a virtual conference bringing together leading companies involved in the exploration and production of uranium. Demand for uranium is growing as idled nuclear plants are restarted and new plants are being built. At the same time, uranium supply is decreasing as mines run out of uranium and new potential mines are not being developed due to low uranium pricing. Many experts believe uranium prices will rise in upcoming years although the timing and magnitude of the increase are unknown. Our panel of management teams will discuss their respective company's roles in the revitalization of uranium mining. Noble Capital Markets senior uranium analyst, Michael Heim, will guide the companies through a question and answer session following each presentation.
The Investor Forum is free and open to all registered users of Channelchek. Registration is fast and free. Not already a member? Use the link below to register now so you're ready to view the Investor Forum presentations on August 31.
Register for Channechek to gain access to the Investor Forum
On Mobile? Register for Channelchek here!
Click the logos for more information on the presenting companies

Azincourt Energy (AZURF)


Blue Sky Uranium (BKUCF)


CanAlaska Uranium (CVVUF)


enCore Energy (ENCUF)


Energy Fuels (UUUU)


GoviEx Uranium (GVXXF)


Peninsula Energy (PENMF)


Standard Uranium (STTDF)

Company
Ticker
Price
Previous
Mkt Cap
Volume
52wk Range
Energy Fuels Inc
UUUU (AMERA)
$8.93
$1.40B
0
$4.32 - $11.39
Fundamental Analysis
enCore Energy Corp
ENCUF (OTCQB)
$1.26
$400.27M
0
$0.75 - $1.80
Fundamental Analysis
Standard Uranium Ltd
STTDF (OTO)
$0.18
$21.30M
0
$0.14 - $0.39
Peninsula Energy Ltd.
PENMF (GREY)
$0.17
$170.54M
0
$0.08 - $0.28
GoviEx Uranium Inc
GVXXF (OTCQB)
$0.34
$188.08M
0
$0.15 - $0.47
Canalaska Uranium Ltd
CVVUF (OTCQB)
$0.49
$50.05M
0
$0.30 - $0.68
Blue Sky Uranium Corp
BKUCF (OTCQB)
$0.24
$43.55M
0
$0.12 - $0.29
Azincourt Energy Corp
AZURF (OTO)
$0.06
$29.80M
0
$0.04 - $0.10
Advanced Market Data
()
Detailed Quote
Charts
Statistics
Financials
Historical Quotes
Insider Activity
Key Ratios