Companies by Sector
More than 6000 listed
Communication Services
Telecommunication Services
Consumer Cyclical
Advertising & Marketing Services
Furnishings, Fixtures & Appliances
Homebuilding & Construction
Manufacturing - Apparel & Accessories
Manufacturing - Apparel & Furniture
Retail - Apparel & Specialty
Consumer Defensive
Beverages - Non-Alcoholic
Financial Services
Diversified Financial Services
Healthcare
Healthcare Providers & Services
Medical Devices & Instruments
Medical Diagnostics & Research
Medical Instruments & Equipment
Industrials
Farm & Heavy Construction Machinery
Transportation & Logistics
Utilities
Utilities - Independent Power Producers


Image Credit: Diverse Stock Photos (Flickr)
The DWAC SPAC Acquiring Trump Media Keeps Investors on Edge
When a SPAC, such as Digital World Acquisition Corp. (DWAC), soon to become Trump Media & Technology Group (TMTG), enters the DeSPAC phase, the terms are set, but the world keeps turning. For this reason, investors and potential investors need to continue to monitor events impacting the industry and the company to be acquired. There have been many surprises since October for DWAC shareholders, the past three days have been particularly challenging for investors to unravel.
Background
Since Trump Media agreed to be acquired October 20, 2021, much has happened that could impact the company and the industry. These include an SEC probe of the deal, post-pandemic changes in users lifestyle, a frigid national relationship developing with Russia, and Twitter agreeing to be taken private. Even when the formal ownership change hasn't yet taken place, understanding a stock's outlook (and future versions of the company) is as important as any currently public company, perhaps even more complex.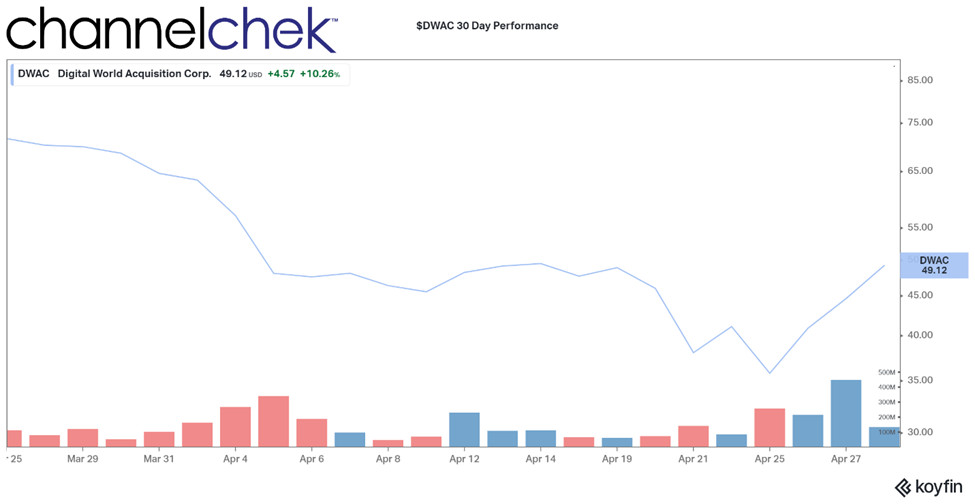 Source: Koyfin
The Trump Media example is star-studded and has faced renewed uncertainty within the past two weeks. When Elon Musk succeeded in striking a deal to take Twitter private for the purpose of providing a "platform for free speech around the globe," this instantly created competition for the media start-up being acquired by the Digital Media SPAC. And it has caused gyrations in price for the pre-merger stage for DWAC, which hit a 30-day low of $33.25 the day of the announcement (April 25) and then bounced significantly up to $47.36 as the future owner of the well-established Twitter showed through various Tweets, that they are not as much competitors, but instead exist for similar purposes.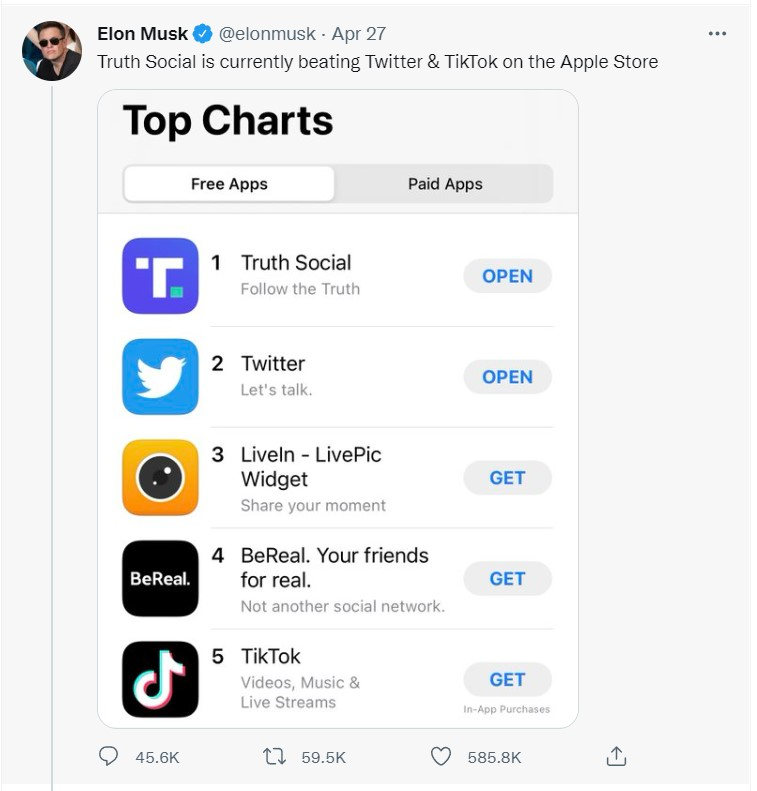 On April 27 Elon Musk gave DWACs share price a boost when he Tweeted "Truth Social is currently beating Twitter & TikTok on the Apple Store." While Musk envisions Twitter as providing a platform for free speech around the globe, the smaller start-up social platform claims to be, "a free-speech haven without viewpoint discrimination or oppressive censorship." If Musk is true to his stated purpose, the two may actually complement each other.
Take-Away
Investing in a SPAC with trust that the acquisition company can steer the capital into a purchase you may not otherwise have been fortunate enough to participate in is one reason for investors to allocate some assets to SPACs. When the target has been identified and the deal requires a choice by the investor, information is important. Should an investor decide to be part of the deal and hold the acquisition company during the De-SPAC stage, they need to continue to be alert as to changes in the industry and the now identified company to be merged.
A perfect example of the challenges is The DWAC Twitter scenario that shareholders were faced with. The company to be acquired seems to have had one of its mega-competitors looking to steer its product line even closer to that of the small fledgling company.
Channelchek helps keep investors in smaller companies informed with quality research, insightful articles, and SPACtrac for select SPACs. Register for emails here.
that has agreed to merge with Truth Social, a social media competitor to Twitter that is chaired by former President Donald Trump. Given that Musk has agreed to buy Twitter for $44 billion, it's no surprise that Musk begins to focus in on his future competition, assuming the deal gets done.
In follow-up tweets, Musk said, "Truth Social (terrible name) exists because Twitter censored free speech. Should be called Trumpet instead!"
"I am not going on Twitter, I am going to stay on TRUTH," Trump told Fox News. "I hope Elon buys Twitter because he'll make improvements to it and he is a good man, but I am going to be staying on TRUTH. The bottom line is, no, I am not going back to Twitter," Trump said.
Suggested Content
Sources
https://www.prnewswire.com/news-releases/rumble-sets-new-all-time-records-across-all-key-performance-measures-301519357.html
https://www.sec.gov/Archives/edgar/data/0001849635/000110465921128231/tm2130724d1_ex99-1.htm
https://www.prnewswire.com/news-releases/elon-musk-to-acquire-twitter-301532245.html
https://www.cbsnews.com/news/trump-media-technology-group-investors-digital-world-acquisition-spac/
Stay up to date. Follow us:
Company
Ticker
Price
Previous
Mkt Cap
Volume
52wk Range
Digital World Acquisition Corp. Units
DWACU (Nasdaq)
$58.90
$1.84B
0
$9.98 - $143.53
Advanced Market Data
()
Detailed Quote
Charts
Statistics
Financials
Historical Quotes
Insider Activity
Key Ratios