Companies by Sector
More than 6000 listed
Communication Services
Telecommunication Services
Consumer Cyclical
Advertising & Marketing Services
Furnishings, Fixtures & Appliances
Homebuilding & Construction
Manufacturing - Apparel & Accessories
Manufacturing - Apparel & Furniture
Retail - Apparel & Specialty
Consumer Defensive
Beverages - Non-Alcoholic
Financial Services
Diversified Financial Services
Healthcare
Healthcare Providers & Services
Medical Devices & Instruments
Medical Diagnostics & Research
Medical Instruments & Equipment
Industrials
Farm & Heavy Construction Machinery
Transportation & Logistics
Utilities
Utilities - Independent Power Producers


	Image Credit: Fevi in Pictures (Flickr)
Holiday Gift-Giving Season May Include More Gift Cards and IOUs
While last year's holiday season was hampered with travel restrictions and concerns over visiting older relatives amidst a pandemic, the 2021 gift-giving season may be challenged with a shortage of gifts. Constraints on importing and exporting grow throughout the entire network, including dock space, ships, trucks, warehouses, workers, and rail transit – they are all beyond capacity on top of the already backed-up ports. Demand for many items is much higher than normal. These problems are expected to continue into, and perhaps through next year. Americans should expect ongoing shortages of imported goods, higher prices that may be temporary, and closing of stores that can't keep enough product on the shelves.
Help from Washington?
Earlier this month, the Biden administration announced it was working with supply chain operators in an effort to ease congestion at the ports. The President is on record as saying, "Our experts believe … that these bottlenecks and price spikes will reduce as our economy continues to heal." It's not expected that any immediate relief will come from these longer-term efforts.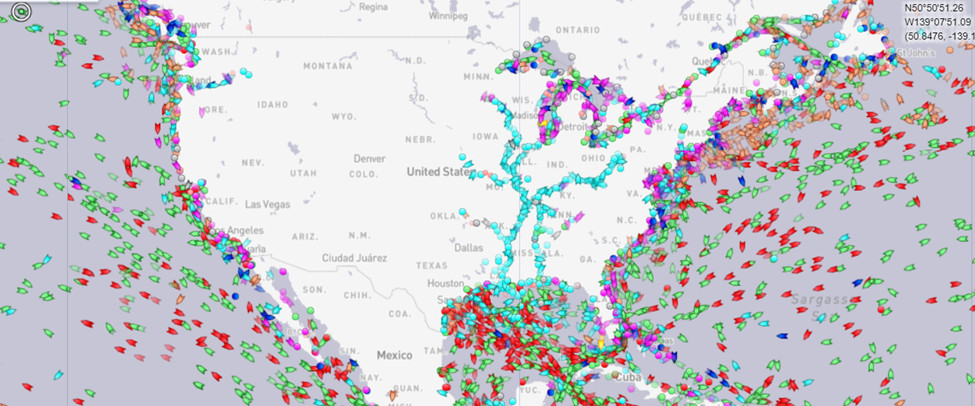 Image: Shipping traffic Map from Marine traffic.com (8/30/21)
Who Benefits
Where will the money flow? With the idea that with every problem, there is opportunity, let's explore.
Shipping companies would seem to be an obvious choice. Although their costs have increased, they have as a group been rising all year after a challenging 2020 — they are now largely in the driver's seat. Some shipping companies are trading at a multiple of their December 31st close. Large retailers may also benefit, they have the financial firepower to outcompete and perhaps even drive small competitors out of business. These companies did well last year as many also have a large online presence. The deck seems to continue to be stacked in their favor. Made in America companies avoid at least one bottleneck, but their products will be in demand. They will have an easier time than their overseas competitors. There are a number of fintech companies involved in gift cards. Gift cards were popular last year since, as a gift, they are easy to mail. This year as scarcity provides an additional reason to exchange gift cards, the underlying companies providing the financial instrument could have another good year. Dredging companies may also benefit. Part of the problem is many of the ships are too large for some of the U.S. ports. As part of infrastructure improvements, money has been earmarked to update the ports to accommodate these larger ships.
Take-Away
Pent-up demand coupled with shortages of labor and high stimulus levels has created huge bottlenecks at the nation's ports. This makes many products difficult to come by. The situation may only get worse as we approach the peak pre-holiday season.
The problem is likely to raise product prices as it has already raised shipping fees. Other industries and specific companies appear set to profit from the supply-chain issues.
Suggested Content:
Sources:
https://www.whitehouse.gov/briefing-room/statements-releases/2021/06/08/fact-sheet-biden-harris-administration-announces-supply-chain-disruptions-task-force-to-address-short-term-supply-chain-discontinuities/
https://www.transportation.gov/briefing-room/secretary-pete-buttigieg-hosts-roundtable-port-congestion-supply-chain-disruptions
https://www.fmc.gov/testimony-of-commissioner-dye-before-congress-impacts-of-shipping-container-shortages-delays-and-increased-demand-on-the-north-american-supply-chain/
https://www.whitehouse.gov/briefing-room/speeches-remarks/2021/08/11/remarks-by-president-biden-on-the-build-back-better-agenda/
https://www.youtube.com/watch?v=F4_jK8YGigY
Stay up to date. Follow us:
Company
Ticker
Price
Previous
Mkt Cap
Volume
52wk Range
Seanergy Maritime Holdings Corp
SHIP (Nasdaq)
$1.10
$168.46M
0
$0.79 - $1.62
Fundamental Analysis
Grindrod Shipping Holdings Ltd.
GRIN (NGS)
$24.02
$444.01M
0
$6.71 - $28.47
Fundamental Analysis
Great Lakes Dredge & Dock Corporation
GLDD (NGS)
$14.15
$931.82M
0
$13.24 - $16.28
Fundamental Analysis
Genco Shipping & Trading Limited New (Marshall Islands)
GNK (NYSE)
$22.15
$929.36M
0
$9.86 - $24.45
Fundamental Analysis
Eagle Bulk Shipping Inc.
EGLE (NGS)
$63.24
$862.17M
0
$33.50 - $70.98
Fundamental Analysis
Sino-Global Shipping America Ltd.
SINO (Nasdaq)
0
0
0
0 - 0
Performance Shipping Inc.
DCIX (NGS)
0
0
0
0 - 0
Diana Shipping inc.
DSX (NYSE)
$4.87
$412.34M
0
$2.90 - $6.36
Advanced Market Data
()
Detailed Quote
Charts
Statistics
Financials
Historical Quotes
Insider Activity
Key Ratios