Companies by Sector
More than 6000 listed
Communication Services
Telecommunication Services
Consumer Cyclical
Advertising & Marketing Services
Furnishings, Fixtures & Appliances
Homebuilding & Construction
Manufacturing - Apparel & Accessories
Manufacturing - Apparel & Furniture
Retail - Apparel & Specialty
Consumer Defensive
Beverages - Non-Alcoholic
Financial Services
Diversified Financial Services
Healthcare
Healthcare Providers & Services
Medical Devices & Instruments
Medical Diagnostics & Research
Medical Instruments & Equipment
Industrials
Farm & Heavy Construction Machinery
Transportation & Logistics
Utilities
Utilities - Independent Power Producers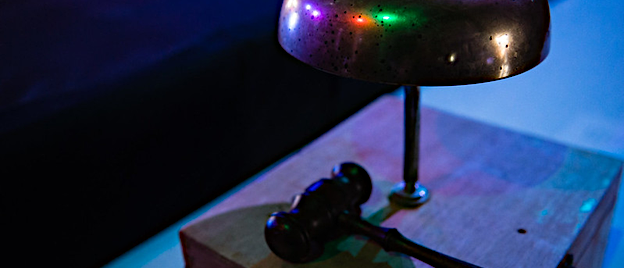 A Peek at Stock Market Performance as We Enter 2020's Final Round
If you looked at the stock market major index levels on 12/31 and then not again until 9/30, you'd think not much has happened -- boring year. Despite the overall market's rise since the beginning of the second quarter, two major indexes are essentially where they were at the beginning of 2020. The S&P 500 is up 5.57%, while the Dow Industrials is down .91%. The extreme outlier is the Nasdaq Composite with its high weighting of tech stocks; it's up 24% going into the last quarter of the year.
Who's Ahead?
Among the non-tech big winners last quarter are home builders. Builders have benefited from low rate mortgages, moves away from metropolitan areas, and a growing need for more home workspace. This, of course, is related to the pandemic and, to a lesser extent, riots. Currently, there is a historic shortage of new and existing homes for sale. An August 19 article in Forbes magazine recommends that with large home builder stocks up from 22% to 172%, they may be overvalued. Forbes contributor Richard Suttmeier writes: "You can be long, homebuilders, when their P/E ratios are 8 and lower. Today the P/E ratios are between 11.16 and 13.68." An increased cost of lumber and other forest products are also beginning to pull from builders' expected net profits.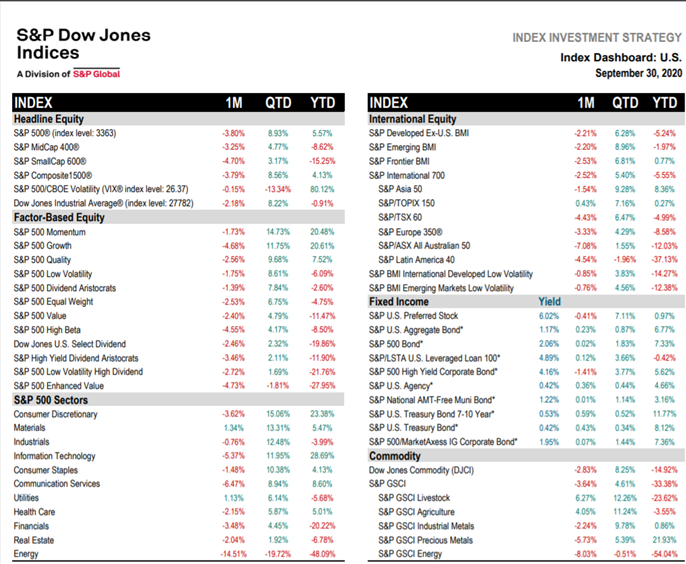 Tech favorites and growth stocks made exceptional moves upward, particularly the behemoths like Apple, which crossed the $2 trillion mark. This leaves the computer and smartphone maker bigger than the entire global markets (shares were up 27% during the 3rd quarter).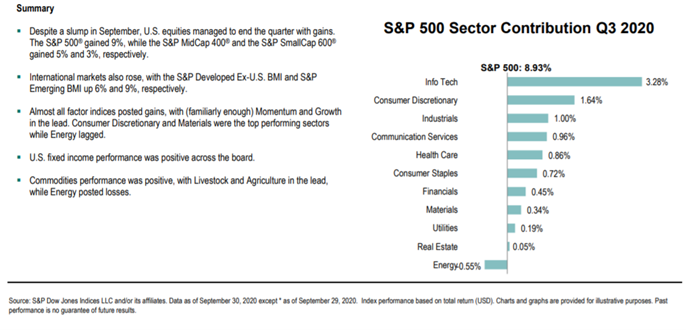 More on Markets
Other stocks that are way ahead are Zoom, an online communications company that was off most everyone's radar at the beginning of the year, and Tesla, which people have argued for years, is overvalued. In August, Tesla reached a new high, which provided a market value of more than $400 billion. The shares almost doubled in the third quarter as both institutions and self-directed investors poured money in. Both stocks have been favorites among institutions, as well as self-directed investors, many of whom are new to trading stocks or have ramped up activity significantly this year.
New Contenders
Investors this year have also waved in shares of companies that are new to the public markets. A fresh example of this is shares of software companies Palantir Technologies and Asana, which started trading Wednesday on the New York Stock Exchange, both turning in excellent initial results. Their successful entrance, along with others to the public markets, demonstrates how healthy the appetite for new issues remains this year, particularly as investors have favored technology and biotech companies.
The Economy
The economy has steadily improved since the initial pandemic shutdown. Although the pace of GDP growth is not what it was at the start of the year, there is movement back toward low unemployment, high production, and increased consumer spending. These figures over the past six months have shown steady improvement, many times surprising on the positive side. They still remain far from where they were at the start of 2020.
Meanwhile, the Federal Reserve approved a shift in how it sets interest rates in the third quarter by signaling it would target low rates for years. This provides low operating costs to corporations with high debt. A more subtle tailwind for stocks is that the fixed income markets compete with the equity markets for investor dollars. Low rates make bonds less attractive, and the risk/return on select equities more appealing.
Fourth Quarter
COVID numbers in the U.S. continue to go down, and the number of states declaring they will not shut down their economy continues to rise. This points toward increased economic activity. The question, of course, is, has this already been factored into today's equity valuations? In some sectors, like homebuilding, it may be. There is likely to be significant repositioning and rotation between industry sectors and cap weighting before the close of the year.
What may be most significant in the final round of 2020 is the Presidential election and overall election results. Over the next month and possibly longer, there will be projections, forecasts, and pundits declaring which party will have power and what that power means to the markets, sectors, and individual stocks. It may prove the most challenging quarter of 2020.
Suggested Reading:
Financial Markets Lifted Household Wealth to Record Levels
The Fed is Experimenting with Digital Money
COVID, Sex, and the Business Cycle

Each event in our popular Virtual Road Shows Series has maximum capacity of 100 investors online. To take part, listen to and perhaps get your questions answered, see which virtual investor meeting intrigues you here.
Sources:
Americans Want Homes, but There Have Rarely Been Fewer for Sale
Take profit on Home Building Stocks Now
These Stocks Have Rallied More Than 400% This Year
Why Tesla Was Left Out of the S&P 500
Photo Credit: www.attacktheback.com