Companies by Sector
More than 6000 listed
Communication Services
Telecommunication Services
Consumer Cyclical
Advertising & Marketing Services
Furnishings, Fixtures & Appliances
Homebuilding & Construction
Manufacturing - Apparel & Accessories
Manufacturing - Apparel & Furniture
Retail - Apparel & Specialty
Consumer Defensive
Beverages - Non-Alcoholic
Financial Services
Diversified Financial Services
Healthcare
Healthcare Providers & Services
Medical Devices & Instruments
Medical Diagnostics & Research
Medical Instruments & Equipment
Industrials
Farm & Heavy Construction Machinery
Transportation & Logistics
Utilities
Utilities - Independent Power Producers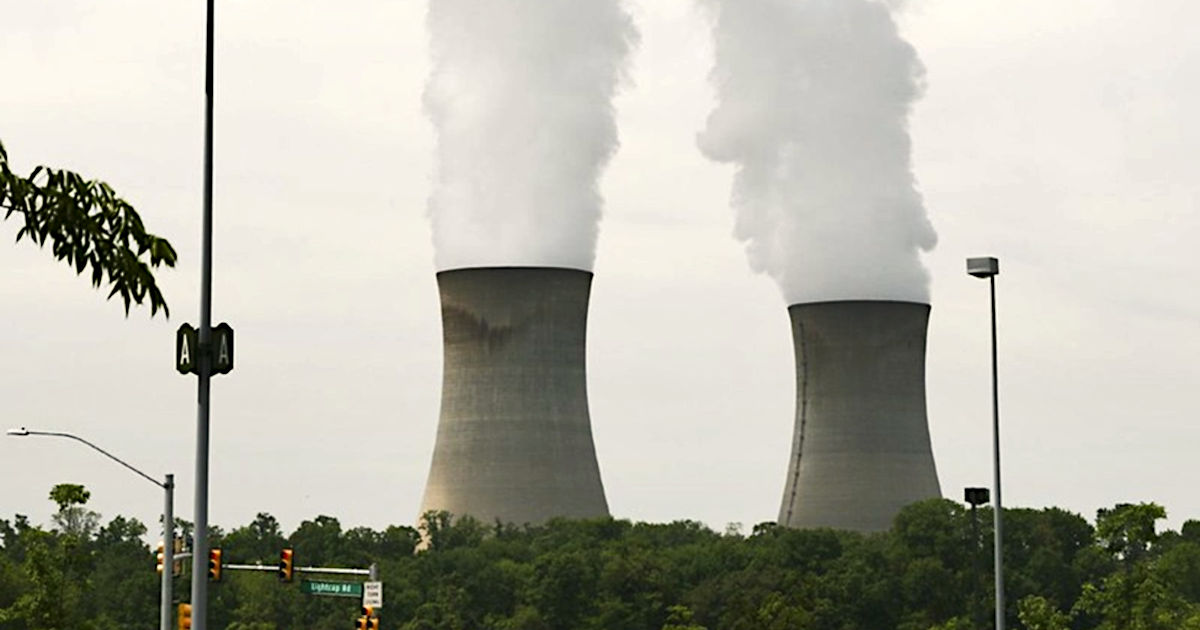 Here's How Uranium's Prices Could Spike in 2021
Uranium spot prices rose to as high as $34/lb in late May 2020. Later in the year they sank below $30/lb in response to weakened economic conditions. As more signs of pandemic-related drags on the economy have begun to be removed, spot prices have risen back above $30.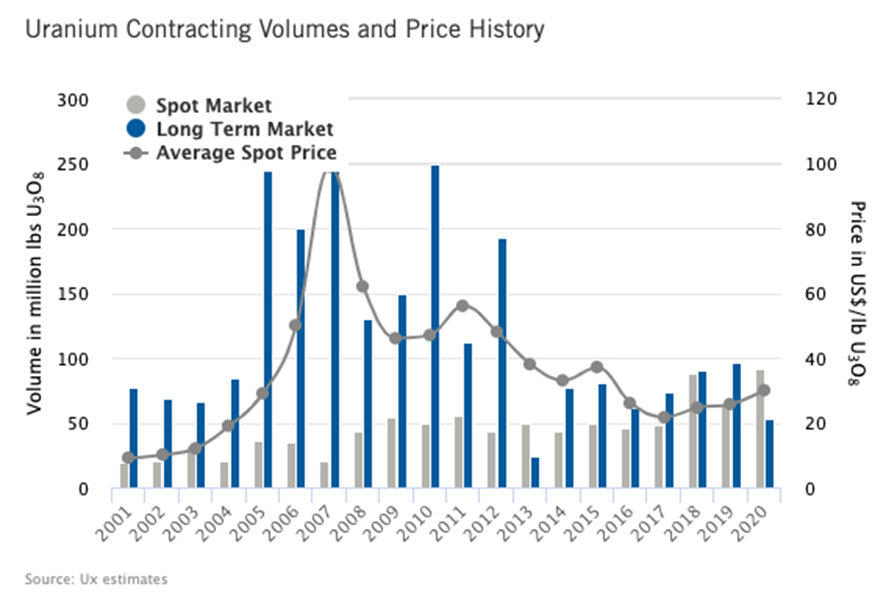 Today, the price of the alternative fuel source remains well below the mid-forties; this is the level most North American producers claim to need to justify resuming production. At present, electric utility buyers and uranium producers seem to be at a standstill. Producers are unwilling to restart production until they have long-term contracts and buyers are unwilling to sign long-term contracts at levels above current spot prices. An argument can be made that a sharp rise in uranium prices will follow, based on the following:
Uranium supply is not meeting demand. Worldwide uranium production fell to 123 million pounds in 2020, the lowest level since 2008. Production falls well short of global uranium demand, which is around 180 million lbs. The gap between demand and supply is being met by drawing down inventories, downgrading weapon-grade sources, and uranium underfeeding (re-enriching uranium tailing). These are short-term strategies.
Major uranium mines are closing removing 5.6 million lbs. of production. On January 8, 2021, the Ranger uranium mine in Australia ceased production removing 3 million lbs. of annual production. The Cominak mine in Niger ceased production on March 31, 2021 removing an additional 2.8 million lbs. of production.
The gap is growing as demand rises. New nuclear plants are being proposed. China's recently released five-year energy plan calls for nuclear energy capacity to increase by 46% by 2025. New plants have been proposed in India and the Middle East. Several plants shut down by the 2011 Fukushima disaster have filed to restart. President Biden's carbon reduction plans will promote increased use of nuclear energy in the United States.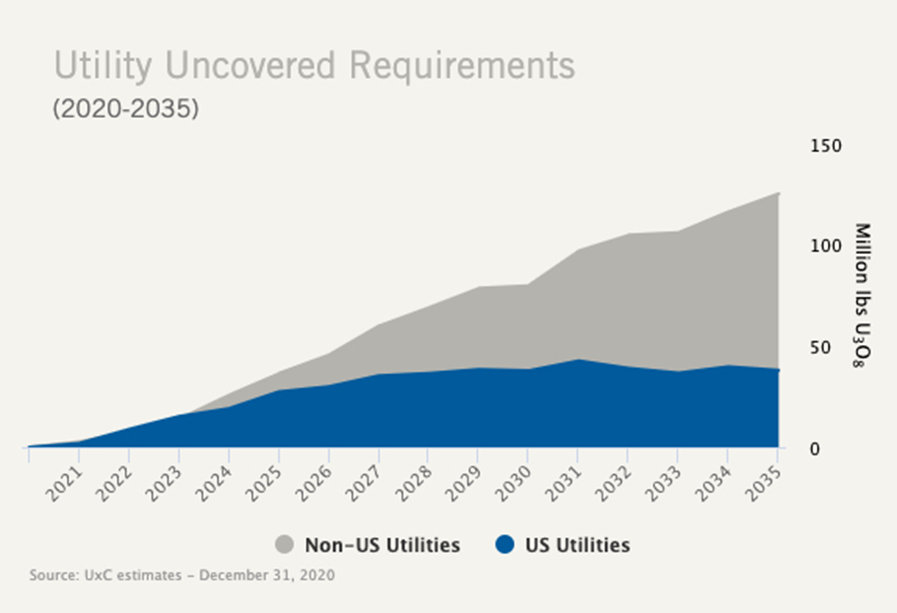 Kazakhstan will not step up to fill the gap. Kazakhstan supplies about 40% of the world's uranium supply. Last summer, Kazatomprom, Kazakhstan's state-owned uranium production company, indicated that it will "flex down" production by 20% in 2022 and not return to full production levels until a sustained market recovery is evident. Assuming Kazakhstan goes through with a reduction of approximately 15 million pounds, the gap between demand and supply will grow from 55 million lbs. to 70 million lbs.

Canada cannot fill the gap by restarting mines. Production at the two largest mines in Canada (McArthur River and Cigar Lake) was suspended in 2020 due to COVID and pricing issues. Cameco, the operator of both mines, announced on April 9th that it will restart production at Cigar Lake. However, Cigar Lake only produced 5 million lbs of uranium in 2020 and peaked at around 10 million lbs. McArthur River, which remains suspended, is licensed to produce up to 18.7 million lbs. annually but is unlikely to resume production until prices rise above $40/lb.

Russian supply is also decreasing. Russia produces about 5% of the world's supply. In October 2020, the U.S. and Russia signed the Russian Suspension Agreement amendment, which will significantly reduce the amount of Russian uranium supplied to the U.S. beginning in 2021. The agreement reduces the allowed exports from 20% of US enrichment demand to an average of 17% over the next 20 years and no more than 15% in any year after 2028.
The proposed National Uranium Reserve will benefit U.S. uranium producers. The 2021 proposed federal budget includes $150 million for the creation of a U.S. uranium reserve over the next ten years. The Working Group Report cites that "it is in (our) national security interests to preserve the assets and investments of the entire U.S. nuclear enterprise and to revitalize the sector to regain U.S. global nuclear leadership." As such, we believe the creation of a reserve will be done by purchasing uranium from U.S. uranium miners.
These factors lead to the belief that a rise in uranium prices is likely as inventories dry up within the next 12-18 months. When spot prices start to rise, we believe buyers will scramble to sign contracts. This will, in turn, accelerate the rise in spot uranium prices. What's more, any rise in uranium prices is likely to last for several years. Exploration companies typically talk about a 5-10 year window between beginning exploration drilling and reaching production. Most exploration companies have not been drilling due to low prices. Consequently, there will not be a supply response to rising prices that will hold prices in check. The result could be a boom period for uranium companies that are able to move to production quickly.
Suggested Content:
Sources
Kazatomprom to continue reduced uranium production through 2022 -- ANS / Nuclear Newswire, Nuclear New, August 25, 2020
McArthur River/Key Lake - Suspended - Uranium Operations - Businesses - Cameco, Cameco website
Federal Register :: 2020 Amendment to the Agreement Suspending the Antidumping Investigation on Uranium From the Russian Federation,
US and Russia sign final amendment to uranium suspension agreement - Nuclear Engineering International (neimagazine.com), Nuclear Engineering International, October 8, 2020
Congress Funds Establishment of National Uranium Reserve and Codifies Protections of the Recently Extended Russian Suspension Agreement (apnews.com), Associated Press, December 22, 2020
https://www.mining.com/stars-are-aligning-for-uranium-price-rally/, Frik Els, Mining.com, March 31, 2021
Virtual Road Show Series - Friday, April 16 @ 1pm EDT

Join Palladium One Mining CEO Derrick Weyrauch for this exclusive corporate presentation, followed by a Q & A session moderated by Mark Reichman, Noble's senior research analyst, featuring questions taken from the audience. Registration is free and open to all investors, at any level.
Company
Ticker
Price
Previous
Mkt Cap
Volume
52wk Range
Energy Fuels Inc
UUUU (AMERA)
$8.71
$1.36B
0
$1.98 - $11.39
Fundamental Analysis
enCore Energy Corp
ENCUF (OTCQB)
$1.44
$288.52M
0
$0.34 - $1.80
Fundamental Analysis
Advanced Market Data
()
Detailed Quote
Charts
Statistics
Financials
Historical Quotes
Insider Activity
Key Ratios