Companies by Sector
More than 6000 listed
Communication Services
Telecommunication Services
Consumer Cyclical
Advertising & Marketing Services
Furnishings, Fixtures & Appliances
Homebuilding & Construction
Manufacturing - Apparel & Accessories
Manufacturing - Apparel & Furniture
Retail - Apparel & Specialty
Consumer Defensive
Beverages - Non-Alcoholic
Financial Services
Diversified Financial Services
Healthcare
Healthcare Providers & Services
Medical Devices & Instruments
Medical Diagnostics & Research
Medical Instruments & Equipment
Industrials
Farm & Heavy Construction Machinery
Transportation & Logistics
Utilities
Utilities - Independent Power Producers

Targeting Ovarian and Breast Cancer Through Another Innovative Therapy
The ovarian cancer landscape has experienced a paradigm shift from chemotherapy to targeted therapy with the approvals of Poly (adenosine diphosphate–ribose) polymerase (PARP) inhibitors and other late-stage assets in development. The mechanism of action of PARP inhibitors is based on trapping PARP on DNA at sites, which generates unrepairable DNA breaks. These breaks lead to the accumulation of DNA damage and tumor-cell death in cancer cells due to defective recombination repair systems (e.g., tumors with mutations in BRCA1 or BRCA2 genes). BReast CAncer (BRCA) genes 1 and 2 are linked to high-risk breast and ovarian cancers.
Breast cancer is the most frequently occurring cancer in women worldwide; ovarian cancer is the second most common gynecological cancer in developed countries, including the United States. BRCA1 and BRCA2 tumor suppressor genes are linked to cellular damage through activation of specific DNA repair processes. DNA replication and error-repair are critical components of cancer cell survival. PARP inhibitors are believed to inhibit both PARP1 and PARP2. The suppression of PARP activity prevents the formation of PAR polymers and blocks the binding of NAD+ at the site of DNA damage, ultimately compromising a cell's ability to defeat DNA-dependent damage. There are currently 4 FDA-approved PARP inhibitors—niraparib (Zejula, PARP 1 and 2 inhibitors), olaparib (Lynparza, PARP 1 and 2 inhibitors), and rucaparib (Rubraca, PARP1, and PARP 3 inhibitor)— to treat patients with ovarian cancer who are refractory or resistant to platinum-based chemotherapy, and talazoparib (Talzenna, PARP 1 and 2 inhibitor) for the treatment of gBRCAm HER2- locally advanced or metastatic breast cancer.
Focusing on ovarian cancer treatment
Astra Zeneca's (AZN) olaparib is approved in the United States and Europe as a maintenance treatment for women with platinum-sensitive relapsed ovarian cancer. SOLO-1, the first pivotal study of a PARP inhibitor in an early-stage setting, showed promising results. The data was presented at ESMO and published in NEJM. In a 391-patient trial, Lynparza was superior to placebo, as demonstrated by a clinically and statistically significant improvement in progress-free survival (PFS). Patients participating in the study were diagnosed with deleterious or suspected deleterious BRCA1 or BRCA2 mutations. Patients treated with Lynparza group did not reach the median PFS at 41 months of follow-up, while the placebo group hit median PFS at 13.8 months. At 36 months of follow up, 60% of patients treated with Lynparza showed progression-free disease compared to 27% in the placebo group. In addition to SOLO-1 study, the company conducted a Phase 3 clinical trial, PAOLA-1, to evaluate Lynparza in combination with Genentech's Avastin (bevacizumab) as the first-line maintenance therapy for advanced ovarian cancer. In May 2020, Lynparza was approved in the first-line setting based on the results from the PAOLA-1 trial that showed patients treated with Lynparza and bevacizumab lived without disease progression for 37.2 months compared to 17.7 months median for bevacizumab alone.
Tesaro's (TSRO) Zejula (niraparib) was approved for maintenance use in patients who had a complete or partial response to platinum chemotherapy in March 2017. The Phase 3 PRIMA (NCT02655016) study evaluated Zejula versus placebo as maintenance therapy after frontline chemotherapy in ovarian cancer patients. PRIMA study has enrolled patients regardless of BRCA mutation, while Astra Zeneca's SOLO-1 trial only includes patients harboring BRCA mutation. Based on PRIMA results, Zejula was approved as monotherapy for women with advanced ovarian cancer beyond those with BRCAm disease in the first line and recurrent maintenance treatment settings, as well as late-line primary treatment settings on April 2020. The results showed that a 57% reduction in the risk of disease progression or death compared to placebo (HR 0.43; 95% CI, 0.31 to 0.59; p<0.0001) in the homologous recombination deficient (HRd) population (biomarker identified), and a 38% reduction in the risk of disease progression or death versus placebo in the overall population (HR 0.62; 95% CI, 0.50 to 0.76; p<0.0001).
Clovis (CLVS) 's Rubraca is a PARP1, PARP2, and PARP3 enzyme inhibitor, approved for the maintenance treatment of adult patients with recurrent epithelial ovarian cancer who responded (complete or partial response) to platinum-based chemotherapy. The ARIEL3 clinical trial evaluating Rubraca in 564 patients showed that patients treated with Rubraca have an average of 13.7 months without cancer progression compared to 5.4 months for those who did not receive Rubraca.
The ovarian cancer landscape has evolved to targeted therapy from chemotherapy with the approvals of PARP inhibitors and other late-stage assets in development. Lynparza has emerged first in the market and dominating the market with $982 million in sales, followed by Zejula with $292 million in sales and Rubraca with $143 million. There are multiple other late-stage assets- including ImmunoGen's mirvetuximab soravtansine, Mersana Therapeutics's XMT-1536, Fluzoparib Jiangsu Hengrui Medicine's fluzoparib and others expected to enter into the market in the next several years.
Exhibit 1. Worldwide sales (in millions) of PARP inhibitors in ovarian cancer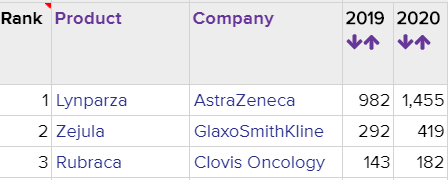 Source: Evaluate Pharma
Suggested readings:
PSCs Can Function Like Embryonic Stem Cells
PDS Biotechnology C-Suite Interview
Onconova Therapeutics C-Suite Interview
Company
Ticker
Price
Previous
Mkt Cap
Volume
52wk Range
Clovis Oncology Inc.
CLVS (NGS)
$6.23
$651.22M
0
$4.08 - $11.11
Advanced Market Data
()
Detailed Quote
Charts
Statistics
Financials
Historical Quotes
Insider Activity
Key Ratios