Companies by Sector
More than 6000 listed
Communication Services
Telecommunication Services
Consumer Cyclical
Advertising & Marketing Services
Furnishings, Fixtures & Appliances
Homebuilding & Construction
Manufacturing - Apparel & Accessories
Manufacturing - Apparel & Furniture
Retail - Apparel & Specialty
Consumer Defensive
Beverages - Non-Alcoholic
Financial Services
Diversified Financial Services
Healthcare
Healthcare Providers & Services
Medical Devices & Instruments
Medical Diagnostics & Research
Medical Instruments & Equipment
Industrials
Farm & Heavy Construction Machinery
Transportation & Logistics
Utilities
Utilities - Independent Power Producers

$25 Billion Created While $11 Billion Destroyed: What's going on with energy stocks?
(Note: companies that could be impacted by the content of this article are listed at the base of the story [desktop version]. This article uses third-party references to provide a bullish, bearish, and balanced point of view; sources are listed after the Balanced section.)
On Tuesday, Chevron indicated it would write down assets by $10 billion to $11 billion to reflect lower energy prices and decreased expected asset returns. The write-down would be one of the largest on record, rivaling some of the write downs taken by large banks during the financial crisis. On Wednesday, Saudi Arabian oil company Aramco raised $25.6 billion in an IPO of 1.5% of the company's stock. The new Aramco stock rose 20% in the first two days of trading on the Saudi stock exchange and ended with a market value above $2.0 trillion, making it the most valuable public company. So how should an energy investor view these two events? Does the Aramco IPO show that there is demand for energy stocks, or is it drawing investors away from other energy stocks? Does the Chevron write down indicate further weakness in the sector, or has the market already factored the asset value decline given recent underperformance?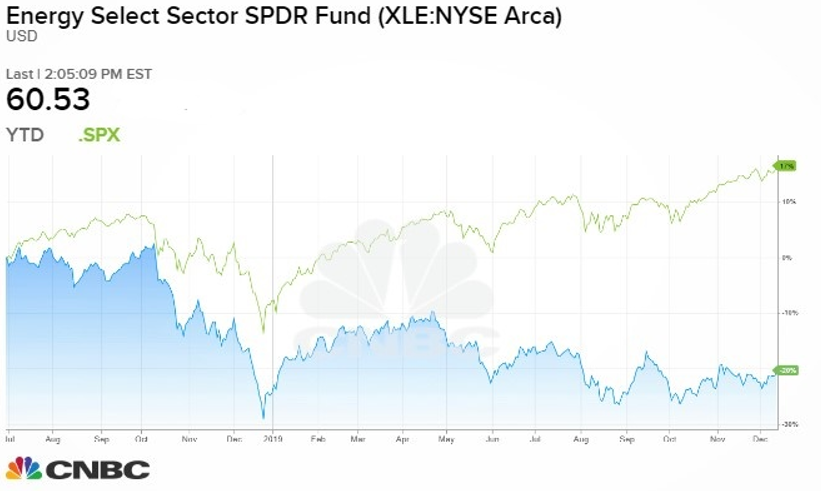 Source: CNBC, XLE Energy Index versus SPDRs YTD
The Aramco IPO shows there is demand for energy stocks. Aramco's $2 trillion market valuation is larger than the top five energy companies combined. The current valuation is at the upper end of Pre-IPO estimates that forecasted a value of $1.2 trillion to $2.0 trillion. Importantly, the XLE Energy Index outperformed the S&P Index in the weeks leading up to the IPO and the two days after the IPO. Clearly, the Aramco IPO is tapping into a new group of energy investors, not taking away investors from other energy stocks. Bernstein analyst Neil Beveridge says Aramco's investor pool is different from other major oil companies since it trades on the Saudi Tadawul exchange and appeals more to sovereign-wealth funds and strategic investors.

The Chevron write down is non-cash and does not represent a new decrease in value. Energy companies are required to periodically assess the value of their assets given prevailing energy prices. The write down is a non-cash expense that merely reflects the fact that asset values have changed. This is something investors have known for several years given lower energy prices. As proof, it should be noted that the shares of Chevron declined a modest 0.6% in after-hours trading after announcing its write down intentions. The write down does not represent a new, unknown decrease in value representative of a decreased appetite for energy stocks.
The write down will be followed by other write downs. The issues facing Chevron are not unique to Chevron but the result of lower energy prices following a period of acquisitions. The Wall Street Journal suggests that the Chevron write down is likely to ripple through the oil and gas industry. Natural gas assets located in Appalachia and Western Canada are especially vulnerable. Chevron's write down is large, but it is merely the first in what will most likely be many write downs in the upcoming quarter. In fact, by taking the lead, Chevron has made it easier for other energy companies to follow suit.

The write down may be due to broader industry factors, not just weak energy prices. As we have discussed in previous articles, the drop in energy prices may be due to reasons beyond a simple oversupply of oil and gas. Specifically, the decline may be due to technological changes that have lowered the cost of production. In addition, there are signs that a shift to alternative energy is slowing demand growth for traditional energy sources. These causes are unlikely to reverse, and it is very possible that we may be facing a long period of low energy prices.
The two events, while seemingly contradictory, represent two prevailing thoughts in the energy industry. First, energy prices are low and show little signs of improvement in the foreseeable future. That has made energy assets less valuable. The fact that energy stock performance has lagged the overall market in recent years shows that investors are aware of energy company asset declines. At the same time, the Aramco IPO shows there is pent up demand to invest in energy stocks. Investor demand is looking for signs of an upturn in the energy sector and is ready to put investment money to work when those signs appear. The sector just needs a catalyst to get things started.
Sources:
https://www.cnbc.com/2019/12/11/chevron-11-billion-writedown-could-hit-the-entire-market.html, Pippa Stevens, CNBC, December 11, 2019
https://www.barrons.com/articles/saudi-aramco-ipo-oil-stocks-51573005119, Evie Liu, Barron's, November 6, 2019
https://www.thestreet.com/investing/stocks/aramco-ipo-plans-us-china-trade-hopes-drive-energy-stocks-crude-price-higher-15152424, The Street, December 12, 2019
https://www.axios.com/chevron-10-billion-write-down-natural-gas-oil-gulf-352aa4be-1a16-4474-bea9-513687632e96.html, Ben Geman, Axios, December 11, 2019
Company
Ticker
Price
Previous
Mkt Cap
Volume
52wk Range
Torchlight Energy Resources Inc.
TRCH (Nasdaq)
$0.78
$78.20M
0
$0.22 - $1.09
Fundamental Analysis
Genie Energy Ltd. Class B Stock
GNE (NYSE)
$7.31
$191.67M
0
$4.60 - $9.61
Aegean Marine Petroleum Network Inc.
ANW (NYSE)
0
0
0
0 - 0
Adams Resources & Energy Inc.
AE (AMERA)
$23.66
$100.37M
0
$15.16 - $39.41
Abraxas Petroleum Corporation
AXAS (Nasdaq)
$2.51
$21.09M
0
$1.41 - $11.00
Advanced Market Data
()
Detailed Quote
Charts
Statistics
Financials
Historical Quotes
Insider Activity
Key Ratios