Companies by Sector
More than 6000 listed
Communication Services
Telecommunication Services
Consumer Cyclical
Advertising & Marketing Services
Furnishings, Fixtures & Appliances
Homebuilding & Construction
Manufacturing - Apparel & Accessories
Manufacturing - Apparel & Furniture
Retail - Apparel & Specialty
Consumer Defensive
Beverages - Non-Alcoholic
Financial Services
Diversified Financial Services
Healthcare
Healthcare Providers & Services
Medical Devices & Instruments
Medical Diagnostics & Research
Medical Instruments & Equipment
Industrials
Farm & Heavy Construction Machinery
Transportation & Logistics
Utilities
Utilities - Independent Power Producers

Resource Nationalism Risk When Evaluating Mining Companies
Country risk is generally a key consideration for multinational corporations as they evaluate asset portfolios and where to invest. To most, country risk connotes the stability of political regimes and policies such as taxation. The problem for mining companies is that some of the mining locations with the highest resource potential are in countries that are perceived as high-risk. While various firms provide rankings, the Fraser Institute has conducted an annual survey since 1997 of mining and exploration companies to assess how mineral potential and public policy factors such as regulation affect exploration investment.
Investment Attractiveness Index
In 2019, the survey was based on 263 responses that provided enough data to evaluate 76 jurisdictions. In 2018, enough responses were generated to evaluate 91 mining jurisdictions. The investment attractiveness index reflects a jurisdiction's mineral potential and geologic attractiveness and public policy considerations such as taxation and regulation. The table below summarizes the top ten and bottom ten rankings in the 2019 survey.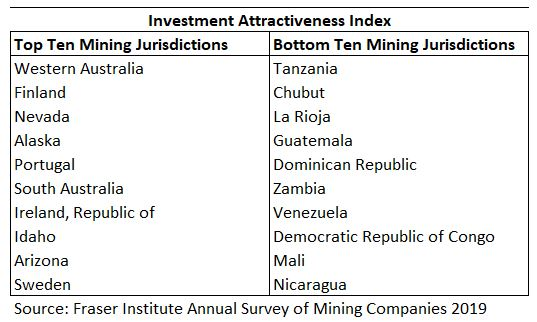 In 2019, Western Australia ranked first based on investment attractiveness, moving up from second place in 2018. Finland moved into second place after ranking 17th in 2018, while Nevada fell from first place in 2018 to third place in 2019. However, investors should keep in mind that investment attractiveness and the extent of the jurisdiction's resource potential are not always perfectly aligned.
Mr. Warren Pearce, CEO of the Association of Mining and Exploration Companies noted that rankings have moved around substantially, reflecting a need for greater stability from government in the setting of policy and the treatment of the industry.
Take-Away
While the rankings do not tell the whole story, they are an important and informative aid not just for investors and mining company managements, but policymakers as well who are interested in making their jurisdictions more conducive to investment. Importantly, increasing environmental regulation is having an impact on the company's investment decisions, which has partly contributed to Canada's slip in the rankings despite stronger showings in past surveys.
Additionally, it is helpful to know which jurisdictions are moving up or down in the rankings and why. There are examples of countries, such as Ecuador, with significant mineral endowments but whose past policies discouraged investment and exploration. However, with a shift to more supportive policies, Ecuador's ranking has improved in recent years, and those paying attention have been rewarded by gaining early entry to significant opportunities.
Suggested Reading:
U.S. Capitalism and Public Funds to Reduce Reliance on China Rare Earth Production
Metals & Mining: 2020-2Q Review and Outlook
Investors Should Pay More Attention to ATM Offerings
Enjoy Premium Channelchek Content at No Cost

Each event in our popular Virtual Road Shows Series has a maximum capacity of 100 investors online. To take part, listen to and perhaps get your questions answered, see which virtual investor meeting intrigues you here.
Sources:
Fraser Institute Annual Survey of Mining Companies 2019, Fraser Institute, Ashley Stedman, Jairo Yunis, and Elmira Aliakbari, February 25, 2020.
The Best Places to Mine Are Still in the Developed World, and that's a Problem, Reuters, Clyde Russell, March 5, 2020.
WA Leads the World as Fraser Institute Survey Sees Australia's Fortunes Rise, Association of Mining and Exploration Companies, Press Release, February 26, 2020.
Picture: Abandoned Russian mining colony in Pyramiden.