Image Source: Melania Trump Facebook
Melania Trump Moves into NFT Market to Further "Be Best" Goals
Melania Trump announced Thursday (December 16) that she has been eyeballing the NFT art business. She will be offering her first non-fungible token, Melania's Vision, through December 31st on Solana. Melania joins other celebrities like Tiger Woods, Ellen DeGeneres and Snoop Dogg that have dabbled in this Blockchain medium.
In her official statement, the former first lady said, "I am proud to announce my new NFT endeavor, which embodies my passion for the arts, and will support my ongoing commitment to children through my Be Best initiative." She confirmed in her statement that she is starting a platform that will "release NFTs in regular intervals.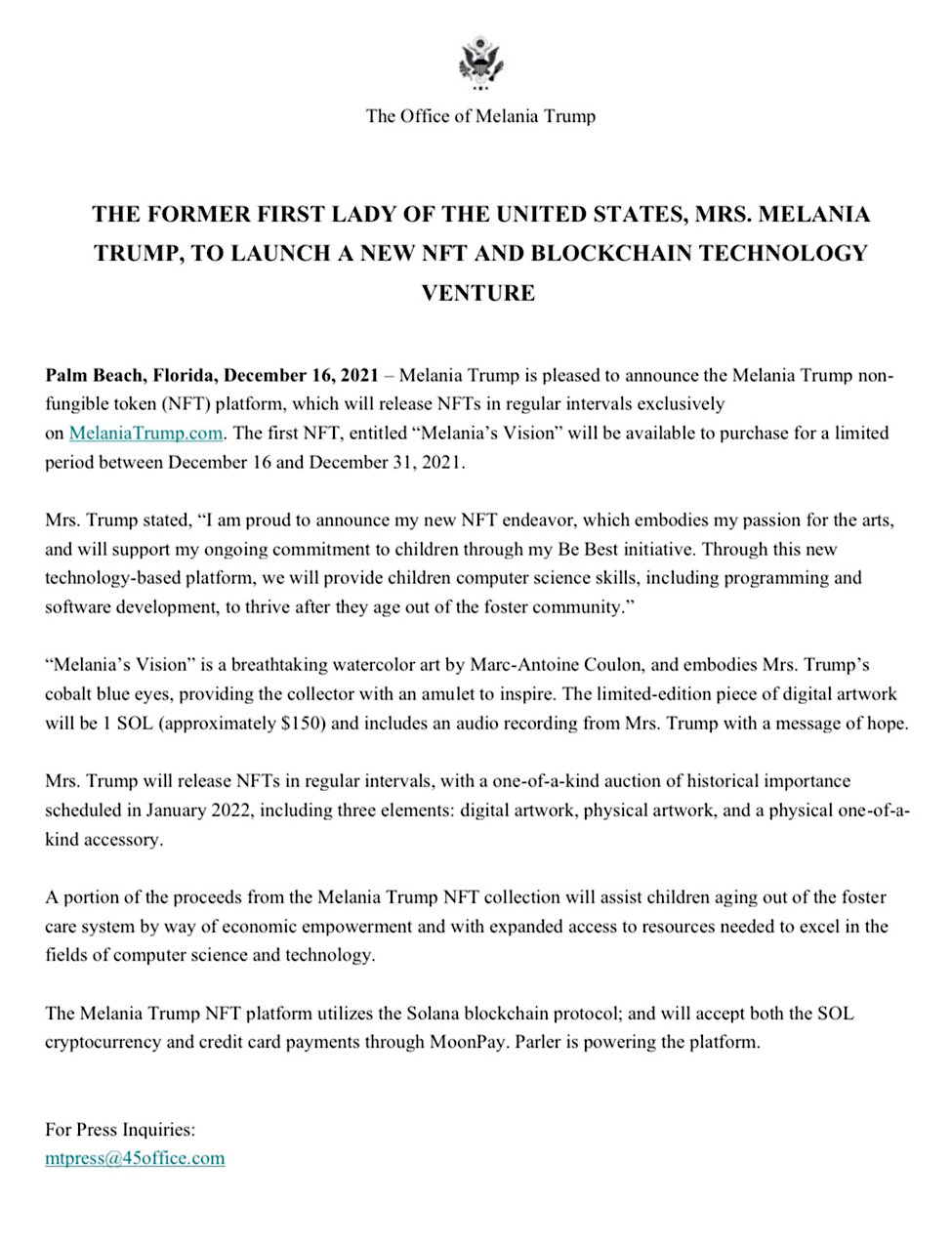 Trump's first NFT will be available for purchase until Dec. 31. The NFT, titled "Melania's Vision," was first created in watercolor paint and depicts Mrs. Trump's eyes. It is priced at one SOL, a cryptocurrency that runs on the Solana blockchain, currently valued at around $180. The image will also include an audio recording, a "message of hope" from Melania Trump.
A portion of the proceeds from the NFT sales will "assist children aging out of the foster care system by way of economic empowerment and with expanded access to resources needed to excel in the fields of computer science and technology," the statement said. The former first lady introduced the Be Best initiative in 2018, during her husband's term in office. It initially focused on three main "pillars," well-being, social media use, and opioid abuse among children.
Some of the more high-profile NFTs after Beeple's The First 5000 Days made headlines include: Jack Dorsey's digital version of his first tweet, which sold as an NFT for more than $2.9 million, and the viral 2007 video "Charlie Bit My Finger" fetched more than $760,000 in May. Earlier this week, a previously unheard demo track Whitney Houston recorded at age 17, sold as an NFT for $999,999.
Suggested Reading:
Sources:
https://melaniatrump.com/eyes-nft
https://explorer.solana.com/address/7CC4YrazfBqr2FMEWEar1fmbP3kULzMfrvW8KDPtfT6W
https://twitter.com/MELANIATRUMP/status/1471468919810670603/photo/1
https://www.lofficielusa.com/pop-culture/celebrities-on-the-crypto-art-craze
https://finance.yahoo.com/news/latest-nft-art-melania-trumps-224641936.html
Stay up to date. Follow us: