Companies by Sector
More than 6000 listed
Communication Services
Telecommunication Services
Consumer Cyclical
Advertising & Marketing Services
Furnishings, Fixtures & Appliances
Homebuilding & Construction
Manufacturing - Apparel & Accessories
Manufacturing - Apparel & Furniture
Retail - Apparel & Specialty
Consumer Defensive
Beverages - Non-Alcoholic
Financial Services
Diversified Financial Services
Healthcare
Healthcare Providers & Services
Medical Devices & Instruments
Medical Diagnostics & Research
Medical Instruments & Equipment
Industrials
Farm & Heavy Construction Machinery
Transportation & Logistics
Utilities
Utilities - Independent Power Producers

Tesla Is Planning to Mine Lithium to Supply Its Own Cathode Facility
Tesla hosted its annual shareholder meeting and "Battery Day" on September 22. The company announced plans to build its own cathode plant in North America and announced rights to a 10,000+ acre lithium clay deposit in Nevada from which it could source lithium using a proprietary extraction and processing technology that could result in a 33% reduction in lithium cost. Elon Musk, CEO, opined that lithium is abundant and every vehicle in the United States could be converted to electric using only lithium that is available in the United States, or Nevada for that matter.
Driving Down Costs
Tesla management indicated that it would build its own cathode plant in North America to leverage North American resources for nickel and lithium. Cathode production would be a part of the Tesla battery cell production plant.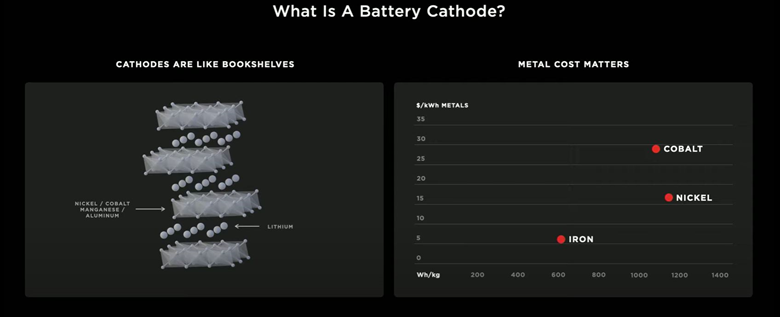 Source: 2020 Annual Shareholder Meeting and Battery Day Presentation, Tesla, Inc., September 22, 2020
Management explained that the way lithium ends up in the battery cell is through the cathode and the company would conduct on-site lithium conversion using a new sulphate-free process resulting in a 33% reduction in lithium cost using a 100% electric facility that is co-located with the cathode plant. By localizing the cathode supply chain and production, miles traveled by all the materials that end up in the cathode can be reduced by up to 80%.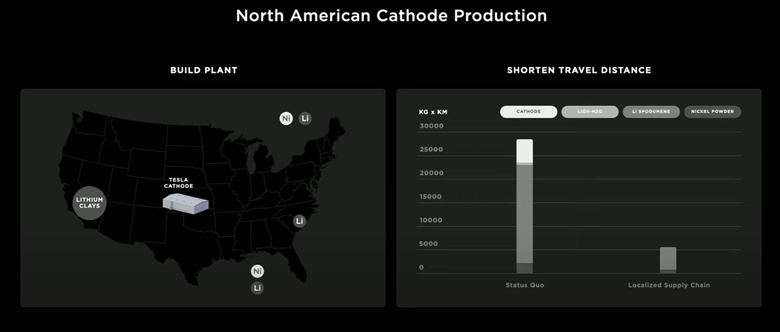 Source: 2020 Annual Shareholder Meeting and Battery Day Presentation, Tesla, Inc., September 22, 2020
However, details were scant regarding the cost of the process and when it could be commercialized. The potential lithium mine and cathode facility, both to be located in North America, are part of the company's plan to tighten its supply chain to create a less expensive and more efficient battery resulting in a lower price point ($25,000 within three years) for Tesla's vehicles.
Environmentally Friendly Lithium Extraction Process
Lithium is commonly extracted from brine reservoirs where salt water brine is pumped to the surface and left to evaporate in ponds leaving lithium salts and other minerals which are filtered until the lithium can be extracted. The process is water intensive. Tesla's new process entails extracting lithium from clay ores in Nevada using sodium chloride, or table salt. Musk stated that the process involves taking a chunk of dirt in the ground, extracting the lithium, and replacing the chunk of dirt so it looks pretty much the same as before. Management claimed that it is as simple as: 1) mix clay with salt, 2) put it in water, and 3) the salt comes out with the lithium. Future recycling of batteries is expected to gradually reduce the need for mining new ore. While it sounds straightforward, the proof will be in the pudding as they say.
Reducing Dependence on Cobalt
Most electric vehicle batteries are lithium-based and include a mix of cobalt, manganese, nickel, graphite, and other components. Companies are researching different battery chemistries to optimize battery technology using components that are the most widely available and at the lowest cost. Tesla's announcement demonstrates that it is thinking hard about the importance of securing future supplies of raw materials and how their supply chains are configured. During its Battery Day presentation, Tesla management indicated that nickel is the cheapest and the highest energy density metal, and it expects to increase nickel content and eliminate expensive cobalt over time.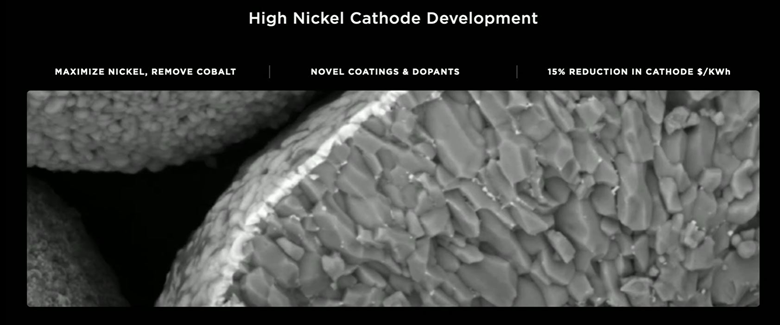 Source: 2020 Annual Shareholder Meeting and Battery Day Presentation, Tesla, Inc., September 22, 2020
Changes in the design of Tesla batteries are expected to increase the range and power of the vehicle, while at the same time reducing the amount of material used.
Take-Away
Tesla's battery day may have provided some good news for nickel producers, while creating some uncertainty for lithium producers who might have counted on Tesla as a prospective customer. While the devil will be in the details, Tesla's plans are conceptually innovative and ambitious.
Suggested Reading:
Cobalt and Rare Earth Metals from the Ocean Floor Eyed to Meet Growing Battery Demand
Expect Today's Nuclear Technologies to Provide an Important Role in the Future of Energy
This Is What Could Slam the Brakes on EV Growth
Enjoy Premium Channelchek Content at No Cost

Each event in our popular Virtual Road Shows Series has a maximum capacity of 100 online investors. To take part, listen to and perhaps get your questions answered, see which virtual investor meeting intrigues you here.
Sources:
2020 Annual Shareholder Meeting and Battery Day Presentation, Tesla, Inc., September 22, 2020
Tesla Bets on Mining with Nevada Lithium Claim, Mining.com, Mining.com Editor, September 23, 2020.
The 3 Biggest Things Elon Musk Announced at Tesla's Big Outdoor Event, Business Insider, Graham Rapier, September 23, 2020.
Tesla Says It Wants to Be a Lithium Miner. That Could Be a Problem for Extractor Stocks, Barron's, Al Root, September 23, 2020.
Tesla Is Getting into the Mining Business, Buys Lithium Claim on 10,000 Acres in Nevada, Electrek, Fred Lambert, September 23, 2020.
Tesla Plans to Build a Cathode Plant and Get into the Lithium Mining Business, Techcrunch, Kirsten Korosec, September 22, 2020.
An Overview of Commercial Lithium Production, ThoughtCo., Terence Bell, August 21, 2020.
Company
Ticker
Price
Previous
Mkt Cap
Volume
52wk Range
Nova Minerals Ltd
QTRPF (GREY)
0
0
0
0 - 0
Millennial Lithium
MLNLF (OTCQX)
$1.16
$96.91M
14.44k
$0.39 - $1.44
Mali Lithium Ltd
EEYMF (GREY)
$0.13
$45.66M
0
$0.03 - $0.16
LSC Lithium Corporation - Ordinary Shares
LSSCF (GREY)
$0.49
$79.49M
0
$0.24 - $0.91
LSC Lithium Corporation
LSC:CA (CDX)
$0.66
$107.07M
0
$0.29 - $1.20
Lithium Energi
LXENF (GREY)
$0.06
$4.52M
25.86k
$0.02 - $0.14
Lithium Corp
LTUM (OTCQB)
$0.19
$18.13M
389.71k
$0.05 - $0.34
Lithium Chile
LTMCF (OTCQB)
$0.11
$13.00M
40.33k
$0.07 - $0.33
Lithium Americas Corp.
LAC (NYSE)
$12.74
$1.15B
2.44M
$1.92 - $16.97
Lithium Americas Corp.
LAC:CA (TSX)
$16.84
$1.53B
350.63k
$2.91 - $22.47
Frontier Lithium Inc.
FL:CA (CDX)
$0.27
$45.63M
211.91k
$0.14 - $0.35
Advantage Lithium Corp
AVLIF (OTCQX)
$0.19
$30.77M
0
$0.07 - $0.35
Advanced Market Data
()
Detailed Quote
Charts
Statistics
Financials
Historical Quotes
Insider Activity
Key Ratios