Companies by Sector
More than 6000 listed
Communication Services
Telecommunication Services
Consumer Cyclical
Advertising & Marketing Services
Furnishings, Fixtures & Appliances
Homebuilding & Construction
Manufacturing - Apparel & Accessories
Manufacturing - Apparel & Furniture
Retail - Apparel & Specialty
Consumer Defensive
Beverages - Non-Alcoholic
Financial Services
Diversified Financial Services
Healthcare
Healthcare Providers & Services
Medical Devices & Instruments
Medical Diagnostics & Research
Medical Instruments & Equipment
Industrials
Farm & Heavy Construction Machinery
Transportation & Logistics
Utilities
Utilities - Independent Power Producers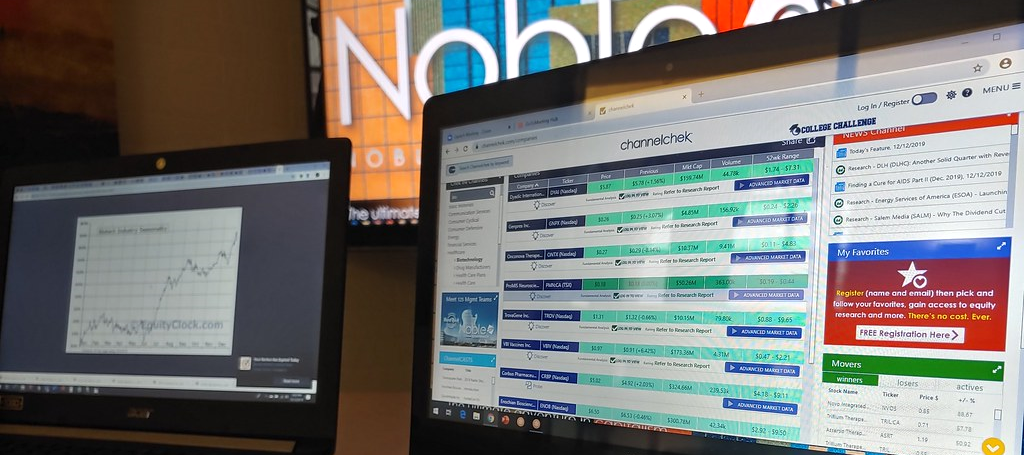 A Virtually Perfect Time to be in This Business (Channelchek) Here's Why
Question of the day: If on January 1st, you had been asked if you expected the Nasdaq (QQQ) to be up or down by the beginning of August, what would you have guessed? Now, if the question started with, "there's a global pandemic, and people across the planet are urged not to come within 2 meters of each other," would you have had more or less confidence in your response?
To be honest, if I had a crystal ball on January 1st that told me there is going to be a global slowdown of commerce and an increase in unemployment measured in tens-of-millions, I'd have guessed the market would falter, and all businesses would suffer. Obviously, I'd have been wrong. Happily, I'd not only have been wrong on healthcare, consumer goods, and tech; I'd have been wrong in the growth and popularity of the platform you're reading right now, Channelchek. Thankfully pandemics are rare. But what we've learned from the novel coronavirus and the lockdown is people retain hope and are forward-looking, and also information and communication needs arise when people are isolated. Channelchek provides information and communication.
Impact on our Business
The impact is a tremendous increase in readership of the research, articles, and publicly-traded company information housed on the platform. Visitors have quadrupled from the very respectable level in January — Each week this July brought more users than the entire month of January. This is attributable to two factors. First, our decision to push for our clients— There are companies on the Channelchek platform that rely on our sharing the research-analysts view as to price targets, performance ratings, and industry specifics. This reliance caused us to decide even before health official guidance to lockdown to push even more than before to stay on top of markets, industries, the state of the pandemic, and Channelchek subscribers. The second factor we had less control over. As we enhanced our communication with more company and industry reports, articles that stimulate thought, live interviews, and videos for registered users to become even more acquainted with companies we provide research on, we found investors extremely hungry for this content. Across the globe, people come to Channelchek to consume news and understanding. We feel very fortunate to be in the right place at the right time. Our positioning statement reads:
"For investors looking to make better decisions, Channelchek is the online research platform that best delivers on free independent, institutional-quality research because Channelchek and only Channelchek connects investors and public companies with market capitalizations below $1billion."
In hindsight, it isn't surprising the platform that exceeds others in providing specialized information on high potential biotech names during a pandemic, and mining companies when precious metals are reaching highs, media companies when communication is key to survival, energy when the recovery will bring winners and losers, government contractors and other emerging growth companies.
While this year's stock market has provided a number of head-scratching moments, our subscribers have told us they have been more confident in their decisions after becoming informed from regular visits to Channelchek. This makes our enhanced diligence in bringing you what you need even more satisfying.
Today's Trends
Stock market levels demonstrate that investors are rallying behind America's future. Even at the current level of adversity, opportunity exists for those who understand trends early. One other trend we see in addition to our readership is increased demand for small and micro-cap companies businesses to be better understood by investors. Channelchek is the meeting place for those companies and investors who want to see as many opportunities on their radar as possible, then sufficient evaluation to decide the next step.
A Small Request
If I may make a suggestion. We'd like to hear more from visitors to our site so we can further refine and enhance our content and platform. Below are links to Channelchek social media where you can either private message or comment on information we share. Please follow us and let us know what you're thinking.
Be Safe,
Paul Hoffman
Managing Editor
Engage Channelchek on your Preferred Social Platform:
Enjoy Premium Channelchek Content at No Cost
Suggested Content:
Is Company Sponsored Research the Future for Small-Cap Stock Investors?