Companies by Sector
More than 6000 listed
Communication Services
Telecommunication Services
Consumer Cyclical
Advertising & Marketing Services
Furnishings, Fixtures & Appliances
Homebuilding & Construction
Manufacturing - Apparel & Accessories
Manufacturing - Apparel & Furniture
Retail - Apparel & Specialty
Consumer Defensive
Beverages - Non-Alcoholic
Financial Services
Diversified Financial Services
Healthcare
Healthcare Providers & Services
Medical Devices & Instruments
Medical Diagnostics & Research
Medical Instruments & Equipment
Industrials
Farm & Heavy Construction Machinery
Transportation & Logistics
Utilities
Utilities - Independent Power Producers

Image Credit: McConnell Center (flickr)
Federal Marijuana Laws are Half-In/Half-Out Says Justice Clarence Thomas
U. S. marijuana law enforcement may not be "proper," according to a statement written by Supreme Court Justice Clarence Thomas. The legal opinion made public Monday (June 28) was in response to a case the court was asked to consider. That case, which involved a Colorado marijuana business attempting to challenge the tax burden created by federal prohibition and 280E, is a "prime example" of the "mixed signals" coming from the federal government regarding cannabis, according to the Supreme Court justice.
Thomas's Statement
Thomas wrote that the previous Supreme Court ruling from 2005 – Gonzales v. Raich – may now have no legal usefulness because the federal government has taken a hands-off approach to today's marijuana industry, effectively rendering its own prohibition out-of-date. Thomas wrote that a new case they were asked to review is an example of the problems with the conflicting standards coming from the federal government today. The previously decided case mentioned, Gonzales v. Raich, refers to the 2005 SCOTUS case that may have been used as precedent. It involves a California medical user in 2002 (California approved medical in 1996) who had plants destroyed by federal authorities.
In Thomas' words, "A prohibition on intrastate use or cultivation of marijuana may no longer be necessary or proper to support the federal government's piecemeal approach," in an opinion that denied a Colorado retailer a Supreme Court hearing in a legal battle over the merits of Section 280E of the federal tax code. IRS code 280E is part of the IRS law that states that businesses selling cannabis (or any other federally illegal controlled substance) cannot deduct any expenses incurred in the production, distribution, and sale. The case represents the struggle of many cannabis-related businesses that are operating legally under their state laws, but are by the letter of federal law, second-class business owners at best, and felons at worst. Part of Thomas' statement discusses marijuana businesses that could be trying to protect themselves by having armed security (firearms laws) while at the same time trafficking in a Schedule 1 substance. He also pointed out inconsistencies in banking practices brought on by federal prohibition, practices which actually increase the need for armed security.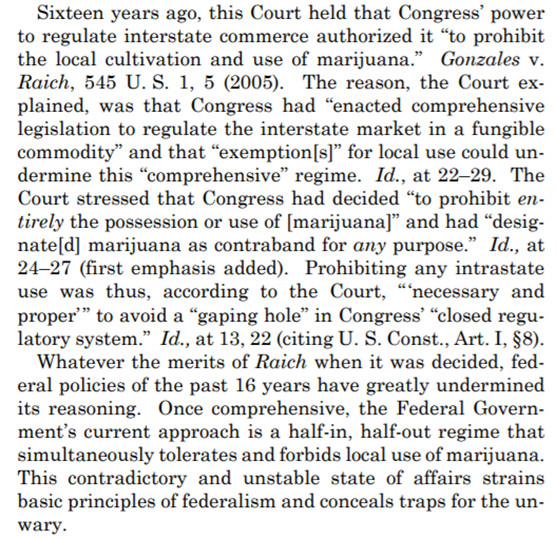 Excerpt from June 29, 2021 Statement by Justice Thomas
Take-Away
Thomas is considered by many to be the most conservative member of the Supreme Court. His formal statement is impactful for marijuana businesses in that it denied hearing the case while suggesting federal cannabis laws and policies ought to be consistent. This was made clear in his words, "Whatever the merits of Raich when it was decided, federal policies of the past 16 years have greatly undermined its reasoning," and "The Federal Government's current approach is a half-in, half-out regime that simultaneously tolerates and forbids local use of marijuana." The Supreme Court, or any court for that matter, can not serve de facto law and laws which are on the books.
Suggested Reading:

Sources:
https://www.supremecourt.gov/opinions/20pdf/20-645_9p6b.pdf
Stay up to date. Follow us:
Company
Ticker
Price
Previous
Mkt Cap
Volume
52wk Range
Medicine Man Technologies Inc
SHWZ (OTCQX)
$2.10
$93.24M
0
$1.26 - $2.95
Fundamental Analysis
United Cannabis Corp
CNAB (OTCQB)
0
0
0
0 - 0
Medical Marijuana Inc
MJNA (OTO)
$0.02
$75.09M
0
$0.00 - $0.07
Harvest One Cannabis Inc.
HVT:CA (CDX)
$0.05
$12.63M
0
$0.04 - $0.14
General Cannabis Corp
CANN (OTCQX)
$0.48
$46.11M
0
$0.20 - $1.00
Cannabis Sativa Inc
CBDS (OTCQB)
$0.24
$7.10M
0
$0.14 - $0.90
Advanced Market Data
()
Detailed Quote
Charts
Statistics
Financials
Historical Quotes
Insider Activity
Key Ratios