Companies by Sector
More than 6000 listed
Communication Services
Telecommunication Services
Consumer Cyclical
Advertising & Marketing Services
Furnishings, Fixtures & Appliances
Homebuilding & Construction
Manufacturing - Apparel & Accessories
Manufacturing - Apparel & Furniture
Retail - Apparel & Specialty
Consumer Defensive
Beverages - Non-Alcoholic
Financial Services
Diversified Financial Services
Healthcare
Healthcare Providers & Services
Medical Devices & Instruments
Medical Diagnostics & Research
Medical Instruments & Equipment
Industrials
Farm & Heavy Construction Machinery
Transportation & Logistics
Utilities
Utilities - Independent Power Producers

Companies Developing Coronavirus Treatments - Clinical/Preclinical
(Note: companies that could be impacted by the content of this article are listed at the base of the story [desktop version]. This article uses third-party references to provide a bullish, bearish, and balanced point of view; sources are listed after the Balanced section.)
The War Against Coronavirus
The outbreak of the novel coronavirus disease COVID-19 rapidly spreads around the globe. The various biotechnology firms, scientists, and physicians have been racing to understand this new virus and the pathophysiology of this disease to uncover possible treatment regimens and discover effective therapeutic agents and vaccines. Selected treatment options are highlighted below.
The current treatment options
Antivirals
Antiviral drugs destroy the virus by targeting and inhibiting the viral replication. Various drugs and approaches -including generic antimalarial drugs, novel drugs, and repurposed drugs that were intended to treat similar viral diseases- are being investigated to find an effective treatment for COVID-19The World Health Organization (WHO) recently started the solidarity program to test four existing therapies. The program is an international clinical trial to help find an effective treatment for COVID-19. The trial will compare four treatment options against the standard of care, to assess their relative effectiveness against COVID-19. The trial is evaluating
Chloroquine and hydroxychloroquine
Remdesivir
Combination of lopinavir and ritonavir
The above two HIV drugs plus the anti-inflammatory small protein interferon beta
These drugs are also being investigated in separate clinical trials worldwide. Among all the antiviral agents that are under investigation, Gilead's remdesivir is the most advanced in the clinic. In a study published by NEJM, Gilead reports that in the compassionate study with 53 patients the drug resulted in the clinical improvement of 68% of these patients. However, the study result included small number of patients, and there was no randomized control group to compare against. On April 16th, The University of Chicago Medicine reported that it had recruited 125 people with COVID-19 into Gilead's two Phase 3 clinical trials. Of those people, 113 had severe disease. All the patients have been treated with daily infusions of remdesivir with nearly all patients discharged in less than a week and there were only two deaths. Placebo controlled Chinese trial data suggested no significant improvements in fatality of patients. Among 158 patients (79 in the control arm), 13.9% of the remdesivir patients had died compared to 12.8% of patients in the control arm after 1 month of treatment. Reports suggest that Gilead will present additional data from the first 400 patients in the trial with severe symptoms in May.
Antibodies
These drugs are engineered to trigger the immune system to attack the virus. A plethora of companies are pursuing this approach.
Immune system inhibitors
This group of treatment is charged with controlling the increased immune response known as the cytokine storm. Clinical evidence suggests that a frenzied immune response in COVID-19 patients make people severely ill or cause death. Several strategies are under investigation including cell therapies and small molecules.
Convalescent Plasma
This treatment method involves infusing COVID-19 patients with plasma from people who have recovered from the illness. The plasma is rich in antibodies that can fight Covid-19. Clinical studies are underway to evaluate this approach. A caveat of plasma therapy is that there isn't enough plasma from recovered patients to treat a large patient pool.
Exhibit 1. Companies Developing Coronavirus Treatment (Clinical/preclinical and alphabetical order)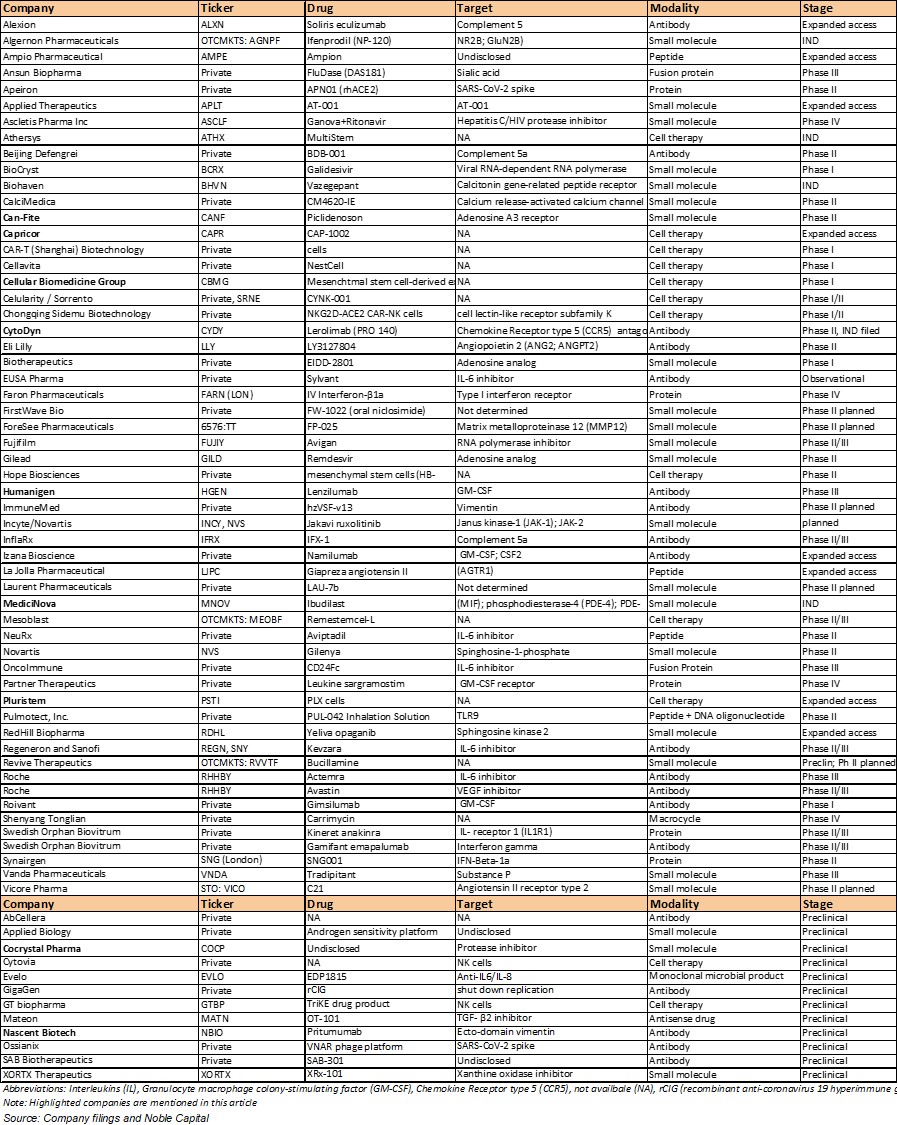 Several companies are pursuing programs to combat coronavirus as shown in Exhibit 1 including:
Antiviral
Cocrystal Pharma
Cocrystal Pharma is developing a protease inhibitor in collaboration with Kansas State University Research Foundation. Based on this collaboration Cocrystal Pharma will develop certain proprietary broad-spectrum antiviral compounds for humans to treat coronavirus infections. The company hopes to initiate preclinical studies in H2 2020.
Antibodies
CytoDyn
The acute respiratory distress syndrome (ARDS) of COVID-19 results from the accumulation of neutrophils within the pulmonary circulation and alveolar spaces. Leronlimab (PRO 140) inhibits the migration of Tregs into areas of inflammation, which can inhibit the innate immune response against pathogens and, most importantly, the migration of macrophages and release of pro-inflammatory cytokines in lungs. The CCR5 receptor appears to play a central role in modulating immune cell trafficking to sites of inflammation.
The company recently announced that it has treated the first patient with leronlimab, in a Phase 2b/3 study evaluating it in severe and critically ill COVID-19 patients. The study will evaluate the two-week administration of leronlimab in the patient population. The primary endpoint is the mortality rate at 28 days and secondary endpoint is the mortality rate at 14 days. The company plans to conduct an interim analysis of the data from 50 patients. The company will also evaluate leronlimab in a Phase 2b study in mild-to-moderate COVID-19 patients. CytoDyn has also administered leronlimab in about 30 patients, through hospitals and clinics, under Emergency Investigational New Drug (EIND) authorizations granted by the FDA. Data from patients under EIND has been promising. The first five patients with mild-to-moderate infection have been removed from oxygen. The data demonstrated that patients had encouraging immune restoration as well as a dramatic reduction in the critical cytokine storm after seven days of treatment. Particularly, restoration in the CD8 T-lymphocyte population, and a dramatic reduction in the critical cytokine storm cytokines IL-6, TNF-alpha. Patients are also benefiting from leronlimab treatment by being removed from external ventilation or extubated within seven days.
Humanigen
Humanigen is focused on preventing and treating cytokine storm with lenzilumab, the company's proprietary Humaneered anti-human GM-CSF monoclonal antibody. Humanigen has announced that FDA has permitted to commence a Phase 3 study of lenzilumab in patients with COVID-19. Humanigen is developing a neutralizing, IgG1, monoclonal antibody against human GM-CSF, the upstream initiator of cytokine stress. Lenzilumab has demonstrated a sufficient safety and tolerability profile in other diseases, including severe asthma. Humanigen plans to enroll patients in a multicenter, randomized, placebo-controlled, double-blinded clinical trial with lenzilumab for the prevention of respiratory failure and/or death in hospitalized patients with pneumonia associated with COVID-19 in patients.
Nascent Biotech
Nascent Biotech's lead product, pritumumab, is a fully natural human IgG antibody. Pritumumab is obtained by a proprietary technology from a B-cell isolation from a tumor-draining lymph node of a patient with cervical cancer. Pritumumab target is vimentin. Vimentin interacts directly with the coronavirus during its binding process to the non-infected cell and anti-vimentin antibodies can reduce the uptake of the coronavirus in pre-treated animals. Pritumumab is being studied to validate its inhibition of the virus to recognize, and therefore infect, the target cells.
Immune Modulators
Can-fite
Can-Fite recently received approval to initiate a pilot clinical study of its drug candidate piclidenoson for the treatment of moderate-to-severe symptoms COVID-19 infected patients. It is also being evaluated in a multinational Phase 3 studies as a first-line treatment for rheumatoid arthritis, and as a treatment for moderate-to-severe psoriasis. Piclidenoson exerts its mechanism of action by modulation of key signaling proteins, such as PI3K, GSK-3?, PKA, PKB/Akt, IKK, and NF-kB, thereby de-regulating the Wnt and the NF-kB pathways. Consequently, this results in apoptosis of inflammatory cells.
The company is conducting a pilot trial that is a randomized, open-label, 2-arm study of Piclidenoson plus standard supportive care, compared to standard supportive care alone. Forty hospitalized COVID-19 infected patients with moderate-to-severe symptomatic disease will be randomized in a 1:1 ratio to one of the trial arms and will be treated for up to 4 weeks.
Capricor
Capricor reported earlier this month that two patients were treated in Los Angeles, California with infusions of CAP-1002. The company also reported that they plan to treat additional patients and submitted an expanded access Investigational New Drug (IND) application to investigate the use of CAP-1002 in certain COVID-19 patients. CAP-1002 consists of allogeneic cardiosphere-derived cells, or CDCs, a type of cardiac cell therapy that has been shown in pre-clinical and clinical studies to exert potent immunomodulatory activity and is being investigated for its potential to modify the immune system's activity to promote cellular regeneration. The cells function by releasing exosomes that are taken up largely by macrophages and T-cells and begin a cycle of repair. CAP-1002 is also under clinical development for the treatment of Duchenne muscular dystrophy. In published pre-clinical data, the company reported that that CAP-1002 mitigates the release of anti-inflammatory cytokines as well as macrophage activation in several models of inflammatory diseases including sepsis and other autoimmune diseases. It is believed that COVID-19 induced ARDS pneumonia is a response to the cytokine storm and CAP-1002 could be a beneficial for the patients.
Cellular Biomedicine group
The Cellular biomedicine group is conducting a Phase 1 single-arm design, open-label, combined interventional clinical trial, to explore the safety and efficiency of exosomes derived from allogeneic adipose mesenchymal stem cells (MSCs-Exo) treatment for severe patients hospitalized with novel coronavirus pneumonia (NCP).
MediciNova
MediciNova will initiate clinical studies to investigate its drug, ibudilast (MN-166), to ARDS associated with Covid-19. The study will be conducted in collaboration with Yale's Advanced Therapies Group. Ibudilast's exerts its mechanism of action by inhibiting macrophage migration inhibitory factor (MIF) and phosphodiesterase (PDE) -4 and -10. In doing so it also inhibits pro-inflammatory cytokines and promotes neurotrophic factors. Furthermore, in previous human studies ibudilast demonstrated a significant decrease in serum MIF levels. Ibudilast's anti-neuroinflammatory and neuroprotective actions were shown in previous clinical studies.
Pluristem
Pluristem recently successfully treated one patient with PLX cells in the United States under the compassionate use program. Prior to this, the company reported 100% survival rate for all seven high-risk patients under treatment from their compassionate use program in Israel. Furthermore, of the 6 patients that completed one week follow up, 4 of the 6 (66%) patients demonstrated improvement in respiratory parameters and 3 of the 6 (50%) patients were in advanced stages of weaning from ventilators.
PLX cells are allogeneic mesenchymal-like cells that have immunomodulatory properties that induce the immune system's natural regulatory T cells and M2 macrophages, and thus may prevent or reverse the dangerous overactivation of the immune system. Therefore, PLX cells may potentially reduce the incidence and or severity of COVID-19 pneumonia and pneumonitis. Pluristem's main target is to initiate a multinational clinical trial as soon as possible for PLX cells in the treatment of patients suffering from complications associated with COVID-19.
Suggested Reading:
Vaccine Status – Which Companies are in What Stage
Post Pandemic Stock Market Investing
Where Investors Found Double-Digit Growth in Q1
Register for Channelchek Premium Content and Tools at No Cost!
Company
Ticker
Price
Previous
Mkt Cap
Volume
52wk Range
Pluristem Therapeutics Inc.
PSTI (Nasdaq)
$4.73
$149.13M
0
$3.14 - $13.29
MediciNova Inc.
MNOV (Nasdaq)
$4.74
$231.16M
0
$3.07 - $13.25
Humanigen Inc
HGEN (Nasdaq)
$17.25
$1.01B
0
$7.75 - $29.21
GT Biopharma Inc
GTBP (OTCQB)
$10.44
$223.07M
0
$0.27 - $10.87
CytoDyn Inc
CYDY (OTCQB)
$3.13
$1.87B
0
$1.63 - $10.02
Cellular Biomedicine Group Inc.
CBMG (NGS)
0
0
0
$11.48 - $19.76
Capricor Therapeutics Inc.
CAPR (Nasdaq)
$4.39
$100.08M
0
$1.30 - $12.32
Can-Fite Biopharma Ltd Sponsored ADR (Israel)
CANF (AMERA)
$2.38
$40.92M
0
$1.41 - $4.39
BioCryst Pharmaceuticals Inc.
BCRX (NGS)
$10.21
$1.81B
0
$2.00 - $14.24
Athersys Inc.
ATHX (Nasdaq)
$1.78
$383.14M
0
$1.53 - $3.59
Ampio Pharmaceuticals Inc.
AMPE (AMERA)
$1.82
$356.04M
0
$0.45 - $2.99
Algernon Pharmaceuticals Inc - Ordinary Shares - Class A
AGNPF (OTCQB)
$0.15
$21.35M
0
$0.14 - $0.49
Advanced Market Data
()
Detailed Quote
Charts
Statistics
Financials
Historical Quotes
Insider Activity
Key Ratios