Companies by Sector
More than 6000 listed
Communication Services
Telecommunication Services
Consumer Cyclical
Advertising & Marketing Services
Furnishings, Fixtures & Appliances
Homebuilding & Construction
Manufacturing - Apparel & Accessories
Manufacturing - Apparel & Furniture
Retail - Apparel & Specialty
Consumer Defensive
Beverages - Non-Alcoholic
Financial Services
Diversified Financial Services
Healthcare
Healthcare Providers & Services
Medical Devices & Instruments
Medical Diagnostics & Research
Medical Instruments & Equipment
Industrials
Farm & Heavy Construction Machinery
Transportation & Logistics
Utilities
Utilities - Independent Power Producers

For How Long Will the World's LNG projects Remain Frozen?
"…U.S. Energy firms alone are developing over 50 billion cubic feet per day (bcfd) of new export capacity - more than all the worldwide consumption of LNG in 2019…"
In recent months nearly half of the world's Liquid Natural Gas (LNG) exporting projects have been delayed. "Out of 45 major LNG export projects in pre-construction development globally, at least 20 – representing a capital outlay of some $292 billion – are now facing delays to their financing," according to the Global Energy Monitor. It is not unusual for multiple projects to be proposed to meet and compete for an identified need. In fact, U.S. Energy firms alone are developing over 50 billion cubic feet per day (bcfd) of new export capacity - more than all the worldwide consumption of LNG in 2019, according to Refinitiv Eikon data. As is often the case, not all projects will be completed. Still, the pace of delays in LNG constructions is unprecedented. So why are so many LNG terminals being delayed? As is usually the case, the answer is multifaceted.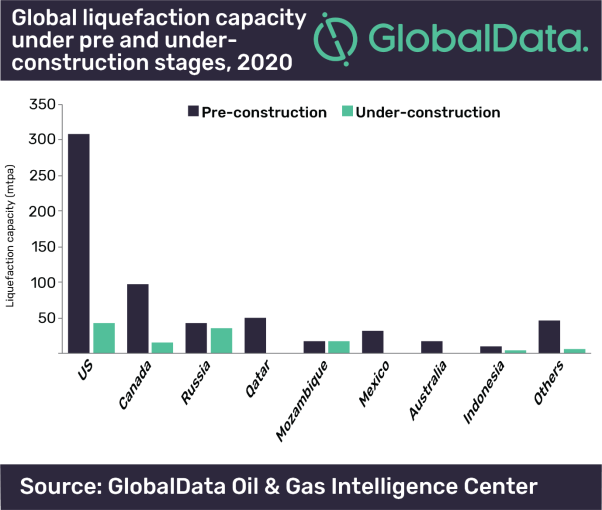 Global Economic Slowdown due to COVID is Sapping Demand. A global economic slowdown has decreased the demand for all fuels, including natural gas. Approximately 130 cargoes scheduled to be loaded between April and August at US LNG export terminals have been canceled by customers, according to Platts' latest tally based on information from market sources. Power generation is down due to individuals working from home and avoiding out-of-home recreation. This means less need for natural gas to power generators. It also means less need for natural gas to heat businesses and commercial sites. And less demand for natural gas means less demand for LNG cargoes.
Drop-in Oil and Gas Prices. Oil and natural gas prices declined dramatically this spring. A price war between Saudi Arabia and Russia cut oil prices in half, while a mild winter caused natural gas prices to decline. Shipping LNG overseas only makes sense if the price differential between the two points is enough to cover the costs of liquifying, storing, shipping, and unliquifying the gas. If energy prices drop, the differential often declines as well. Costs, however, tend to be fixed, often above $2 per mcf. In fact, when U.S. natural gas prices dropped below $2 per mcf, it cost more to ship the gas than it did to purchase the initial gas supply. This has made the attractiveness of LNG less favorable than purchasing the gas domestically.
Too Many Projects. As mentioned earlier, it is not unusual for multiple projects to be proposed to meet a single need. These projects play a game of chicken until one project investor backs down and cancels. That seems to be the situation in the case of proposed LNG projects. Soorya Tejomoortula, Oil and Gas Analyst at GlobalData, comments: "The global LNG sector was already witnessing an LNG supply glut and weak demand before the outbreak of COVID-19. The fall in gas prices and further weakening of LNG demand after the COVID-19 outbreak has accelerated this trend.
Growth of Renewable. The growth of renewable energy sources for power generation has also sapped the demand for LNG and the willingness of purchasers to make long-term commitments. LNG terminals cost billions of dollars and have long payback periods. Developers seek out partners who will take on long-term outtake capacity to assure project profitability. It is becoming increasingly difficult to find such partners, given an uncertain environment for natural gas. "Investing in new fossil fuel infrastructure like liquefied natural gas (LNG) terminals is increasingly an economically unsound decision," Andrew McDowell told Reuters in an email. The bank had announced in November that it would stop financing fossil fuel projects at the end of 2021. Natural gas is commonly viewed as the premier fossil fuel to bridge the gas from coal to renewables. Lately, that bridge is looking shorter.
Conclusion: The world energy market is dynamic. Decades ago, LNG terminals were built to import gas into the United States. In recent years, after the shale gas boom, exporting LNG terminals were built to ship gas overseas. Lately, the pendulum has swung back to a point where the profitability of long-term U.S. gas exports is in question. However, it would only take a resurgence in the global economy or a breakthrough in domestic gas production to make exporting natural gas profitable again.
Suggested Content:
Energy Industry Report - Exploration and Production Second Quarter Review and Outlook
Ruling Out Nuclear Energy Now Could Be a Mistake
Video Interview with Indonesia Energy Corp.
Enjoy Premium Channelchek Content at No Cost
https://www.reuters.com/article/us-climate-change-gas/global-lng-projects-jeopardized-by-climate-concerns-pandemic-delays-report-idUSKBN247303, Matthew Green, Reuters, July 6, 2020
https://www.spglobal.com/platts/en/market-insights/latest-news/natural-gas/062320-freeport-lng-delays-target-for-sanctioning-fourth-liquefaction-train-until-at-least-2021, S&P Global Platts, June 23, 2020
https://finance.yahoo.com/news/did-covid-kill-lng-natural-092358695.html
https://oilmanmagazine.com/covid-19-triggers-delays-in-projects-and-investment-decisions-in-global-lng-liquefaction-sector/, Oilman Editor, Oilman Magazine, May 13, 2020
https://www.gasworld.com/covid-19-triggers-delays-in-lng-projects/2019106.article, Joanna Sampson, Gas World, May 15, 2020
https://theenergymix.com/2020/07/07/global-gas-bubble-has-nearly-half-of-new-lng-projects-facing-pandemic-delays-nervous-investors/, The Energy Mix, July 7, 2020
https://www.csis.org/blogs/energy-headlines-versus-trendlines/how-much-does-us-lng-cost-europe
, Niko Tsafos, CSIS, July 5, 2019