Companies by Sector
More than 6000 listed
Communication Services
Telecommunication Services
Consumer Cyclical
Advertising & Marketing Services
Furnishings, Fixtures & Appliances
Homebuilding & Construction
Manufacturing - Apparel & Accessories
Manufacturing - Apparel & Furniture
Retail - Apparel & Specialty
Consumer Defensive
Beverages - Non-Alcoholic
Financial Services
Diversified Financial Services
Healthcare
Healthcare Providers & Services
Medical Devices & Instruments
Medical Diagnostics & Research
Medical Instruments & Equipment
Industrials
Farm & Heavy Construction Machinery
Transportation & Logistics
Utilities
Utilities - Independent Power Producers

Vaccine Status -- Which Companies are In What Stage
(Note: companies that could be impacted by the content of this article are listed at the base of the story [desktop version]. This article uses third-party references to provide a bullish, bearish, and balanced point of view; sources are listed after the Balanced section.)
Developing a vaccine against Covid19 is of obvious global importance. Vaccines stimulate immune systems to produce antibodies, similar to the subject being exposed to the disease. Production of antibodies and stimulation of immune systems help the human body to develop immunity against disease. This provides a preventative measure of protection. As it relates to the novel coronavirus, several approaches (Exhibit 1) are being investigated by scientists in the biotechnology and pharmaceutical industry, hospitals, and academic research institutes. Each approach holds different advantages and disadvantages. For example, the RNA and DNA-based vaccines are leading in their clinical advancement due to advantages in the speed of development. However, their safety profile is not well defined, and these vaccines could run into potential hurdles and face stricter regulatory approvals. Two US-based companies are currently in clinical trials, the first vaccine into the clinic was Moderna's mRNA-1273 on March 16th, followed by Inovio's DNA vaccine on April 6th.
Exhibit 1: Types of vaccines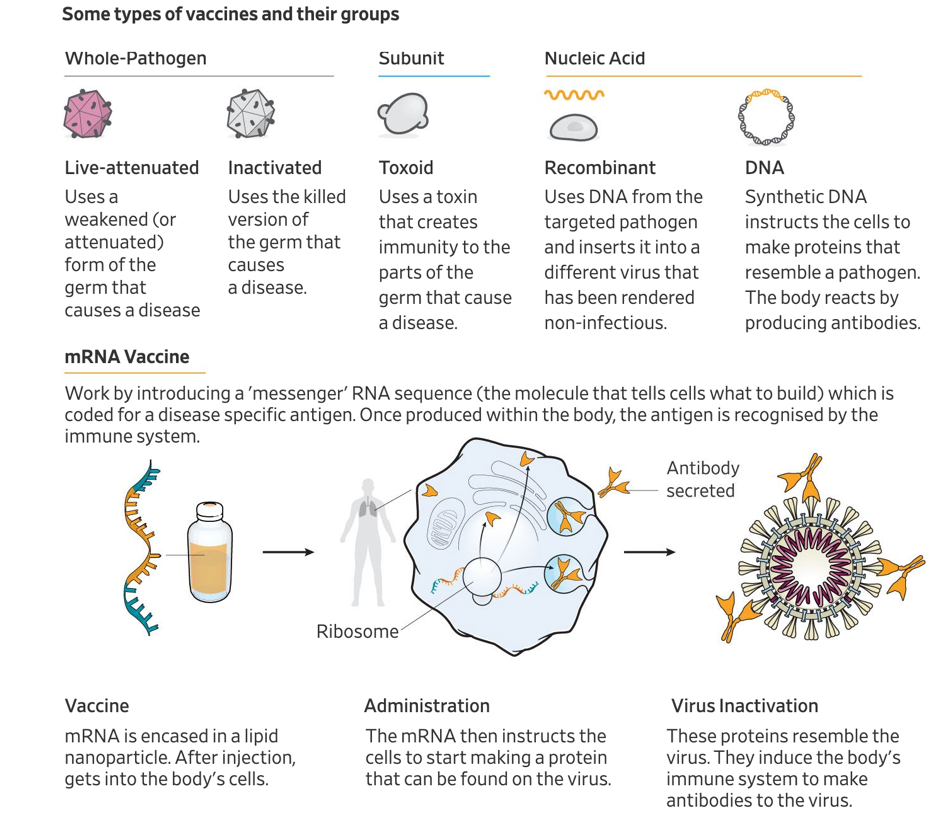 Source: Wall Street Journal
Upcoming trials include
Biontech/Pfizer – starting in April 2020
Novavax Inc – Mid-May 2020
Johnson & Johnson - September 2020
Vaxart/Emergent Biosolutions – H2 2020
Exhibit 2. Companies Developing Vaccine Against Coronavirus (Stage and alphabetical order)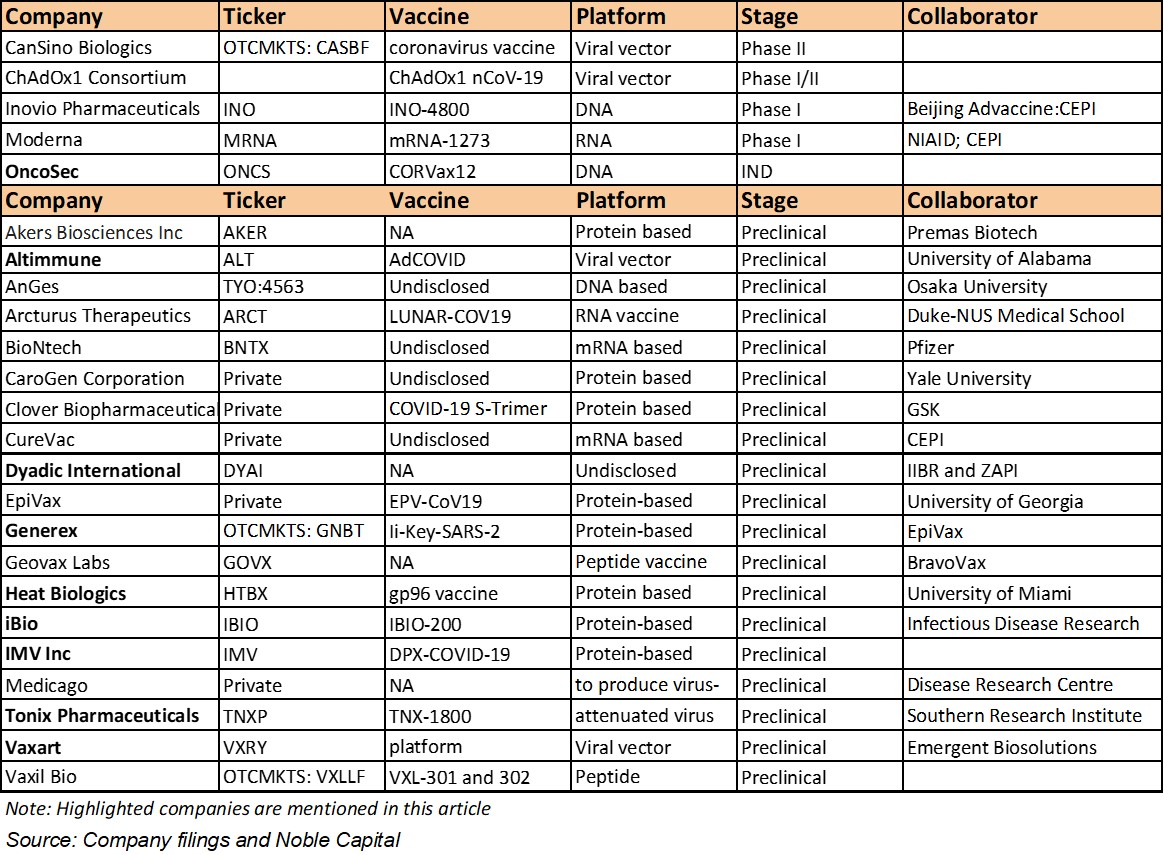 Selected companies below are currently developing vaccines against coronavirus:
Currently or soon in the clinic:
Inovio Pharmaceutical
Inovio Pharmaceutical in collaboration with Beijing Advaccine Biotechnology is investigating INO-4800 DNA vaccine in a Phase 1 clinical trial. The trial aims to enroll up to 40 healthy adult volunteers in Philadelphia, PA (at the Perelman School of Medicine at the University of Pennsylvania) and Kansas City, MO (at the Center for Pharmaceutical Research). Each participant will receive two doses of INO-4800 four weeks apart, and the initial immune responses and safety data from the study are expected by late summer.
Moderna
Moderna's mRnA-1273 was developed in 42 days and it remains on schedule to complete Phase 1 trials. The trials are being conducted by The National Institute of Allergy and Infectious Diseases (NIAID). The trial has so far enrolled 45 subjects and the company announced on April 14th that the trial had started recruiting for its highest dose. The trial has three arms that are administering doses of 25 mcg, 100 mcg, and 250 mcg. Data is expected in Q2-Q3 2020. On April 16th, Moderna's vaccine also received $483 million from the U.S. government to assist in the development and testing of the vaccine.
OncoSec
OncoSec is awaiting FDA approval for an IND application filed by Providence Cancer Institute to pursue a first-in-human Phase 1 clinical trial of OncoSec's novel DNA?encodable, investigational vaccine CORVax12. CORVax1 consists of OncoSec's existing product candidate, TAVO (interleukin-12 or IL-12 plasmid), in combination with an immunogenic component of the SARS-CoV-2 virus recently developed by researchers at NIAID and licensed to OncoSec on a non-exclusive basis.
Preclinical or discovery stage:
Dyadic
Dyadic is collaborating with The Israel Institute for Biological Research (IIBR) to develop therapeutics against Covid-19. As per the collaboration, IIBR will develop potential candidates and Dyadic will use their C1 technology to manufacture vaccines and monoclonal antibodies. C1 expression system is at the discovery stage to manufacture large volumes of low-cost biologic products such as enzymes and proteins.
Generex Biotechnology
Generex Biotechnology (GNBT) has signed a contract with EpiVax to use their computational tools to predict epitopes that can be used to generate peptide vaccines against the Covid-19 using the patented NuGenerex Immuno-Oncology (NGIO - Formerly Antigen Express) Ii-Key technology. The patented NuGenerex Immuno-Oncology (Formerly Antigen Express) Ii-Key technology uses synthetic peptides that mimic essential protein regions from a virus that is chemically linked to the 4-amino acid Ii-Key to robustly activate immune system. In particular, the Ii-Key ensures potent activation of CD4+ T cells, which in turn facilitates antibody production to ward off infection. This Ii-Key modification can be applied to any protein fragment of any pathogen to increase the potency of immune stimulation.
EpiVax has identified many "hotspots" in the amino acid sequences of the nCOV-2019 coronavirus proteins. Using the epitopes predicted by EpiVax, Generex will manufacture a series of synthetic amino acid peptides that mimic the epitopes of the virus and send them to China for testing
Heat Biologics
Heat Biologics (HTBX) is developing therapeutic vaccines in collaboration with the University of Miami to support the development of a vaccine leveraging Heat's proprietary gp96 platform designed to target the SARS-CoV-2 coronavirus that causes COVID-19.
iBIO
iBio is developing IBIO-200 a virus-like particle (VLP) based vaccine for the COVID-19 disease in collaboration with Texas A&M University. VLP based vaccines have a unique mechanism of action by which they interact with immune cells differently than soluble antigens and can stimulate both humoral and cellular responses. iBIO-200 has been designed to display enhanced vaccine uptake by antigen-presenting cells to increase the overall immune response.
IMV Inc.
IMV Inc. plans to develop of a DPX-based vaccine for COVID-19. DPX is the Company's proprietary lipid-based delivery platform with no aqueous components in the final formulation. The DPX platform can be formulated with peptide antigens. The Company is using sequences of the virus and immunoinformatics to predict antigens to generate neutralizing antibodies against SARS-CoV-2. IMV began manufacturing the peptide candidates targeting these epitopes. The company plans to conduct preclinical studies in collaboration with the University Laval in Quebec City. Simultaneously, in collaboration with the Canadian Center for Vaccinology and the Canadian Immunization Research Network the design of a Phase 1 clinical study in 48 healthy subjects has been completed. The clinical sites are identified in both Nova Scotia and Quebec.
Tonix
Tonix Pharmaceuticals announced a collaboration with Southern Research to develop a vaccine TNX-1800 against Covid-19. The company is using its proprietary horsepox virus vector platform for the development of TNX-1800. Tonix has previously reported that horsepox has efficacy as a vaccine and good tolerability in mice and cynomolgus macaques.
Vaxart
Vaxart uses a specific virus called adenovirus type 5 (Ad5) as part of its novel technology platform to help train the immune system to recognize and defeat dangerous invading pathogens. The Ad5 virus serves as a vector to deliver the antigen and booster molecules to stimulate immune responses. The antigen is the pathogen protein designed to trigger the targeted immune response and the booster molecule is an adjuvant that stimulates and adds to the immune response. Vaxart can use the same vector with different antigens to provide an effective standardized and scalable approach for vaccine development. Vaxart's approach to develop a vaccine for Covid-19 involves generating potential vaccine candidates based on the published genome of the 2019 Novel Coronavirus (2019-nCoV). Recently, Vaxart announced that it had produced five COVID-19 vaccine candidates for testing in its preclinical models. The company expects to advance the best performing vaccine to manufacturing for clinical trials.
Suggested Reading:
Covid-19, Where We Are Right Now
Company
Ticker
Price
Previous
Mkt Cap
Volume
52wk Range
Sinovac Biotech Ltd.
SVA (NGS)
$6.47
$639.90M
0
0 - 0
OncoSec Medical Incorporated
ONCS (Nasdaq)
$5.17
$192.05M
0
$1.46 - $8.16
Novavax Inc.
NVAX (NGS)
$179.74
$13.28B
0
$16.41 - $331.68
Inovio Pharmaceuticals Inc.
INO (NGS)
$8.72
$1.82B
0
$6.89 - $33.80
Heat Biologics Inc.
HTBX (Nasdaq)
$7.42
$188.54M
0
$3.50 - $30.11
Geovax Labs
GOVX (OTCQB)
$4.71
$29.75M
0
$0.20 - $8.72
Generex Biotechnology
GNBT (OTCQB)
$0.28
$31.69M
0
$0.17 - $0.86
Arcturus Therapeutics Holdings Inc.
ARCT (Nasdaq)
$37.00
$972.37M
0
$12.92 - $129.72
Altimmune Inc.
ALT (Nasdaq)
$12.90
$479.24M
0
$2.86 - $35.10
Advanced Market Data
()
Detailed Quote
Charts
Statistics
Financials
Historical Quotes
Insider Activity
Key Ratios