Companies by Sector
More than 6000 listed
Communication Services
Telecommunication Services
Consumer Cyclical
Advertising & Marketing Services
Furnishings, Fixtures & Appliances
Homebuilding & Construction
Manufacturing - Apparel & Accessories
Manufacturing - Apparel & Furniture
Retail - Apparel & Specialty
Consumer Defensive
Beverages - Non-Alcoholic
Financial Services
Diversified Financial Services
Healthcare
Healthcare Providers & Services
Medical Devices & Instruments
Medical Diagnostics & Research
Medical Instruments & Equipment
Industrials
Farm & Heavy Construction Machinery
Transportation & Logistics
Utilities
Utilities - Independent Power Producers

image credit: Jessica Cross (Flickr)
The Repeated Outperformance in June of the Small Cap Russell 2000 Index
"Sell in May and Go Away" is an investment axiom that suggests investors would do better to lighten their positions in stocks during the summer months. Is this good advice? It doesn't tell us when in May that we should take our chips off the table. Is it May 1, Memorial Day weekend, mid-month? And, is one sector or index more impacted than others? This May, the Nasdaq 100 was at its high for the month on May 1; it then dropped 6.02% through May 12 and finished May 2021 down only 2.09%. All the major stock indices were negative by May 12. However only the Nasdaq closed the month below its start. Unless you were in Nasdaq stocks, If you didn't sell, there's a good chance your portfolio is now higher.
What will June and the summer bring? I don't know of any market sayings for June. I guess you were supposed to have already reduced your positions in May. I do know, from my years on Wall Street, that the trading desks during the summer months are often controlled by the rookies and interns. They're often trying to demonstrate their abilities while the veterans are out playing golf or lying on a beach in South Hampton. Could this be the root of the "sell in May…" advice?
Serious investors don't care about sayings; they care about company data, economic numbers, trends, and probabilities. Last May/June, I looked back at performance in June as part of a discussion on the Russell Reconstitution. I decided to look back at the trends on each of the four major benchmarks again and share with readers what I find. Let's see if history provides a verifiable pattern across the most followed market indices.
June Results Since 2000
Out of the past 20 years, the Russell 2000 has returned positive results 12 times (57%). This doesn't sound overly impressive until you compare it to the Dow 30, which had been up in June for only 8 of the years (38%), the S&P 500 was up 11 of the 21 (52%), or the Nasdaq that was up 10 Junes (48%) over the past 21 years. So, over the period, only two indexes were up during June more than half the time. I should point out here that this 21-year period was not "cherry-picked" to compare performance history. A quick review of the data for the ten years prior to this and the ten years prior to that only reinforced this June "trend" with the small-cap index exceeding the others. (Data from provided by Koyfin, Closing Data May 31-June 30)
In terms of performance, the track record for the Russell 2000 is even more compelling. With a one-month return average of .33% in June since 2000, the small-cap Russell has returned more than 1% more than the next closest index which is Nasdaq (-.67%).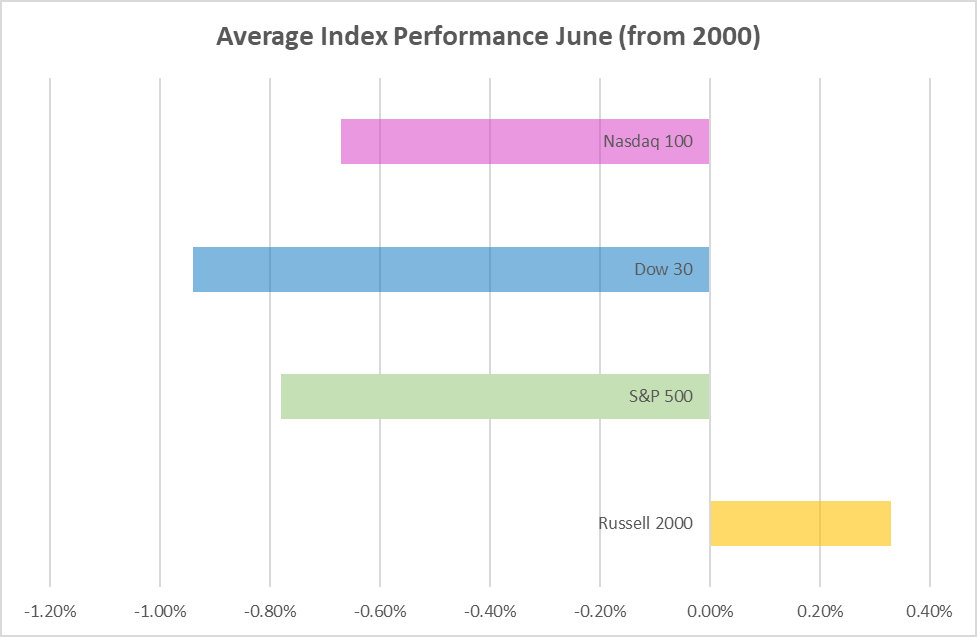 There May Be a Reason
Rather than caution that past history is not an indication of future performance, I'll instead make sure readers know that during this period, the best year was 7.40% (June 2019), and the worst June was negative 18.60% (June 2002). So, any particular year has its own circumstances. But there is probably something at play during June with this small-cap index. The Russell indexes are being reworked and this creates activity that could be providing a predictable tailwind. The added companies typically have a good amount of new interest surrounding them. This added interest causes fresh institutional buyers of the new stocks being included and often a rise in their value leading up to and for a short time after their inclusion.
Take Away
Investors should be aware of how the calendar impacts the Russell 2000 index, which measures the lower 2000 stocks of the 3000 largest capitalized companies. Small-cap stocks perform differently than large cap stocks and the various sectors have varied performance for their own reason. Understanding what some of those reasons are by following the analysts reports provided on Channelchek related to industries and individual companies, as well as articles on the Reconstitution, SPACs, Biotech, Energy, Mining and more, help pave the way to increased probabilities of being in the right stocks at the right time.
Paul Hoffman
Managing Editor, Channelchek
Suggested Reading:
Stay up to date. Follow us: