Companies by Sector
More than 6000 listed
Communication Services
Telecommunication Services
Consumer Cyclical
Advertising & Marketing Services
Furnishings, Fixtures & Appliances
Homebuilding & Construction
Manufacturing - Apparel & Accessories
Manufacturing - Apparel & Furniture
Retail - Apparel & Specialty
Consumer Defensive
Beverages - Non-Alcoholic
Financial Services
Diversified Financial Services
Healthcare
Healthcare Providers & Services
Medical Devices & Instruments
Medical Diagnostics & Research
Medical Instruments & Equipment
Industrials
Farm & Heavy Construction Machinery
Transportation & Logistics
Utilities
Utilities - Independent Power Producers


  Image: Ron Frazer (Flickr)
How the Cost of Owning a New EV Could Also Climb Quickly
Ford (F) recently decided to split off its electric vehicle division (EV). It said it will spend $50 billion over the next five years and expects to build 2 million electric cars in 2026. General Motors (GM) announced that they are building a facility in Canada to produce cathode-active material for EV batteries. Tesla's total 2021 sales were up 87% over the prior year. This would all seem to be occurring at a time when cheaper to operate cars are needed most, as the cost of fueling internal combustion vehicles has risen so much. But have price increases to owning EVs also climbed to the point of increasing the cost of operation?
Background
For Tesla (TSLA), Rivian (RIVN), Lucid (LCID) and other EV companies, higher oil prices would seem to add demand for their alternative products. But natural resources used in car manufacturing, especially EVs have been driven higher. Increased prices for nickel, steel, lithium, and other metals and minerals critical to car manufacturing impact EV production costs. Crude for weight-reducing plastics that are especially important in EVs, along with the chip supply shortage, makes the math favoring EVs less appealing than it may appear on the surface.
Skyrocketing crude oil prices have made it make it instantly more expensive for gas and diesel vehicles to travel each mile relative to anytime over the past 21 years. Does this make EVs much more attractive for cost-conscious drivers?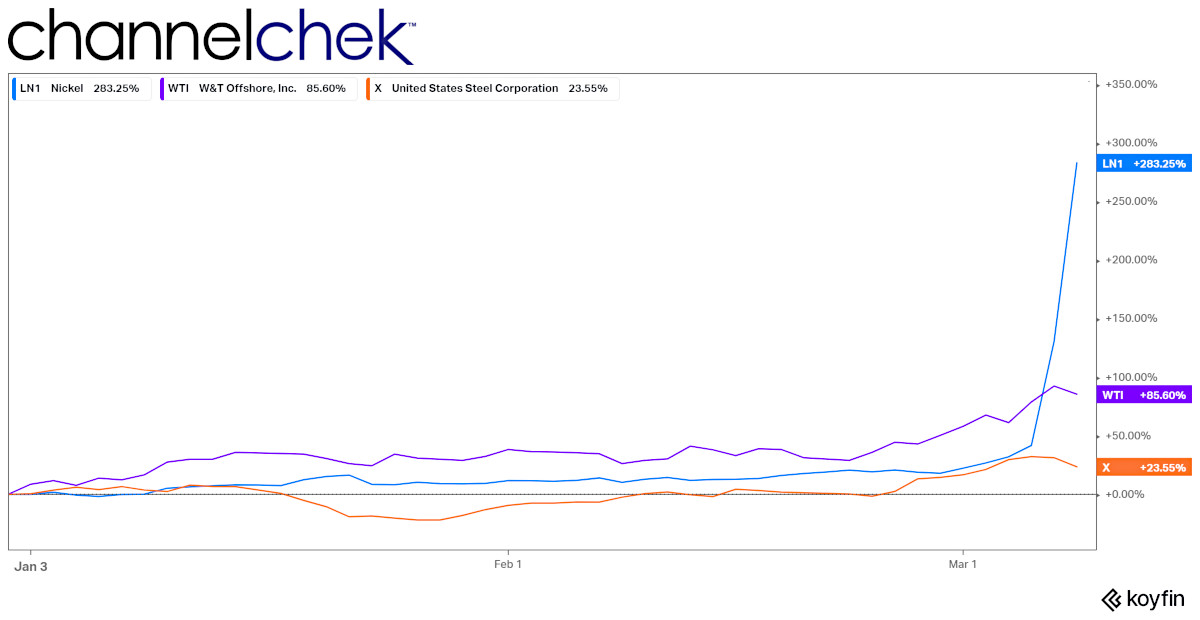 As U.S. crude is now well over $100 per barrel, with prices continuing to rise, U.S. average gasoline prices in early March exceeded $4.17 a gallon. These are the highest levels since 2001.
If one is considering selling their traditional car and purchasing an EV, the sticker price of the EV may be increasing quite a bit over the previous year, and likely much quicker than gas-powered cars.
Inflation Problem
The blue line in the chart above marked LN1 represents the percentage increase in Nickel. The futures price for LN1 has risen 283% year-to-date. The cost of nickel accounts for a third of the price of a battery. The orange line is steel used in both traditional autos and EVs, and the purple line is crude prices, it reflects the cost of the raw materials for lightweight plastic, which is relied upon in EVs more than traditional cars.
Other critical metals used in a lithium-ion battery are also skyrocketing. Benchmark lithium prices have gained about 75% this year. Cobalt prices are up more than 10%. And, depending on the type of battery, iron could also be used.
Minerals inflation has added roughly $2,000 to the average price of an EV so far in 2022, according to Barron's. Their analysts tried to quantify the cost to EV margins a/o March 8). The Barron's analysts concluded nickel prices alone could pull 2% off gross profit per car (based on spot prices).
Prices are higher, EVs are heavily impacted, and it is something buyers and manufacturers will have to grapple with. Additionally, investors need to pay attention. EV manufacturer Rivian Automotive (RIVN) announced a large price hike on March 1, the stock then sold off 13.5% on a day when the S&P 500 rose 1.9%.
Take-Away
The economics of running out and selling an internal combustion engine vehicle for a new electric car is constantly changing and a little less appealing than it had been. In addition to all the shared components between traditional and EVs, the cost of batteries is heading higher, and so are the prices of steel, aluminum, copper, and other things that go into any car. Raising prices may decrease sales, and this is a concern for investors.
Managing Editor, Channelchek
Suggested Reading
Sources
https://www.barrons.com/articles/rivian-raises-prices-increase-hike-stock-51646230528?mod=md_stockoverview_news&mod=article_inline
https://www.barrons.com/market-data/stocks/rivn
https://www.barrons.com/articles/things-to-know-today-51646648813

Stay up to date. Follow us: