Companies by Sector
More than 6000 listed
Communication Services
Telecommunication Services
Consumer Cyclical
Advertising & Marketing Services
Furnishings, Fixtures & Appliances
Homebuilding & Construction
Manufacturing - Apparel & Accessories
Manufacturing - Apparel & Furniture
Retail - Apparel & Specialty
Consumer Defensive
Beverages - Non-Alcoholic
Financial Services
Diversified Financial Services
Healthcare
Healthcare Providers & Services
Medical Devices & Instruments
Medical Diagnostics & Research
Medical Instruments & Equipment
Industrials
Farm & Heavy Construction Machinery
Transportation & Logistics
Utilities
Utilities - Independent Power Producers


	Image Source: James Wheeler (Pexels)
All Products Get to their Final Destination by Land, How Freight Costs are Adding to Inflation
It's no secret that freight and shipping have been stuck on a rocky road for almost two years. This is from the challenges that have now led to increases in shipping costs. These include spikes in demand or reduced transportation availability - this is a recipe for increased prices for any service. So, it's no surprise that the increase that shippers are paying to transportation companies is dramatic and breaking records. The extent of it is shocking. The data included below provides a picture , the source of all data is Cass Information Systems, and eia.gov.
Freight Cost Increases
According to the Cass Freight Index® for expenditures, there was a spike of 43.6% in the cost of shipping goods within the U.S. in December 2020, and by 62.3% from the previous December (2019). The index takes into consideration shipment volume and freight rates. It's centered on overland shipments including trucking (over half the dollar amount), rail, partial truckload, and parcel services. Bulk commodity shipments are not part of the index.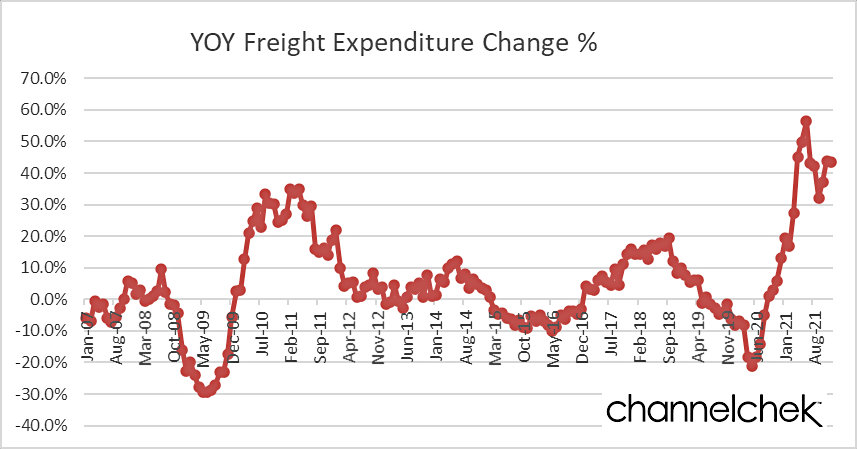 Data Source: Cass
The rates for freight service increased by 33.4% in December 2021 from the previous December.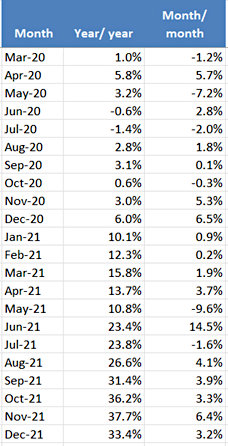 The freight system had trouble operating with any logistical normalcy with containers stranded on ships and shipyards, chassis shortages for moving the containers, railyards backed up, driver shortages, warehouse worker shortages, and state to state regulatory issues concerning emissions and licensing. With all this, shipment volume was constrained and the system fell apart.
In December 2020 the Freight Index for Shipments rose by 7.7% over the previous year and by 14.8% from December 2019. This caused a new high for December, a period when shipping normally experiences a lull. The December slowdown not only did not occur, there was an acceleration.
Trucking Rates Up
The average national spot rate for flatbed trailers spiked by 24% year-over-year in 2020 to $3.07 per mile. It has leveled out since last summer after it peaked in June at $3.15 per mile. Regionally, the average rate ranged more than 10% from $2.98 in the Southwest to $3.35 in the Midwest.
Fuel Costs
At the end of last year, the average price of diesel at the pump was $3.61 per gallon. This was a dollar higher or a 27% increase over the previous December. It had been higher in October of last year but a dip in the cost of WTI crude oil brought diesel prices down in November and December. Crude prices have risen since the end of the year, diesel prices are again rising along with oil.
Take-Away
Every product or raw material in the US travels by land, truck or rail before it moves over the road to its final destination. With demand for shipping still high, during what is typically a lull in the industry, and fuel prices rising, freight costs are likely to remain high. These costs work their way into pricing goods and materials and are therefore inflationary. Consumers expecting relief from rising prices will not get any from shipping costs.
Managing Editor, Channelchek
Suggested Reading:

Sources:
https://www.cassinfo.com/freight-audit-payment/cass-transportation-indexes/cass-freight-index
https://www.eia.gov/petroleum/gasdiesel/
Stay up to date. Follow us: