Companies by Sector
More than 6000 listed
Communication Services
Telecommunication Services
Consumer Cyclical
Advertising & Marketing Services
Furnishings, Fixtures & Appliances
Homebuilding & Construction
Manufacturing - Apparel & Accessories
Manufacturing - Apparel & Furniture
Retail - Apparel & Specialty
Consumer Defensive
Beverages - Non-Alcoholic
Financial Services
Diversified Financial Services
Healthcare
Healthcare Providers & Services
Medical Devices & Instruments
Medical Diagnostics & Research
Medical Instruments & Equipment
Industrials
Farm & Heavy Construction Machinery
Transportation & Logistics
Utilities
Utilities - Independent Power Producers


	
One Week After Robinhood's Debut, the Stock Takes Flight
When Robinhood's IPO failed to impress last week, news stories poked fun at the company that is known for having disrupted the brokerage business. The initial public offering was called "a flop" and the biggest "IPO disappointment" of the year. But, as with most stocks, the story continues. Following today's trading session, the same media outlets that were critical of the initial lackluster IPO enthusiasm may have to write rosier headlines.
Background
Robinhood Markets, Inc. ($HOOD) leaped by 65% just after the market opened Wednesday. This increase should make today the fourth straight session of gains for $HOOD. After it rose by 24% yesterday (Aug. 3) it managed to climb past its initial $38 offering price. Support by Cathie Wood of Ark Invest, which was then followed up on by retail traders, many of whom congregate on the Reddit WallStreetBets page, have created a situation where the price skyrocketed in the first minutes of trading. A half-hour later the stock stood at up 38% on the day. Trading was temporarily halted amid the volatile price swings.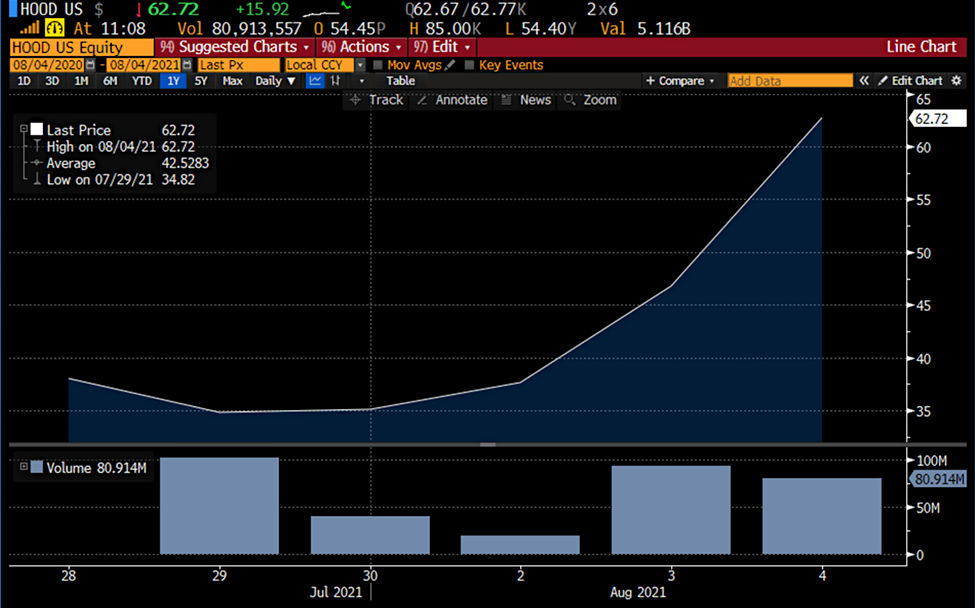 Source: Bloomberg Terminal
The impetus for much of the enthusiasm is being attributed to Wood who was very vocal about her initial interest last week. After the post IPO, sell-off Wood's Ark Fintech Innovation ETF waved in another 89,622 shares of $HOOD. The stock now represents 0.9% of the portfolio. Overall, the flagship ARK Innovation ETF has accumulated nearly 5 million Robinhood shares, worth about $230 million.
The clamor around Robinhood shares Tuesday attracted today's aggressive retail investors. This group has over the past year, demonstrated itself to be a significant market mover. The communication through online social media such as Stocktwits and Reddit allows an almost coordinated move by individuals that have been known to overwhelm even the large institutional managers.

Source: reddit.com/r/wallstreetbets/
According to the stock market sentiment tracking website, Swaggy Stocks, Robinhood was the most mentioned stock on Reddit over the past day. The stock now officially has both "meme stock" status and large Fintech funds investing in it.
$HOOD which had an IPO price of $38 a week ago is now trading between $60 and $65. For now, investors seem to have hit a bullseye with Robinhood.
Suggested Reading:
Sources:
https://ark-funds.com/wp-content/fundsiteliterature/holdings/ARK_INNOVATION_ETF_ARKK_HOLDINGS.pdf
https://finance.yahoo.com/news/robinhood-opens-at-38-per-share-giving-the-company-a-32-billion-valuation-162829771.html
https://www.barrons.com/articles/robinhood-stock-rockets-19-higher-51628006922?mod=article_inline
Stay up to date. Follow us: