Companies by Sector
More than 6000 listed
Communication Services
Telecommunication Services
Consumer Cyclical
Advertising & Marketing Services
Furnishings, Fixtures & Appliances
Homebuilding & Construction
Manufacturing - Apparel & Accessories
Manufacturing - Apparel & Furniture
Retail - Apparel & Specialty
Consumer Defensive
Beverages - Non-Alcoholic
Financial Services
Diversified Financial Services
Healthcare
Healthcare Providers & Services
Medical Devices & Instruments
Medical Diagnostics & Research
Medical Instruments & Equipment
Industrials
Farm & Heavy Construction Machinery
Transportation & Logistics
Utilities
Utilities - Independent Power Producers


	Image: UAL, United's Boeing 737 MAX 8 on the tarmac at O'Hare, Dec. 1.
Drop-In, Net Zero-Carbon Aircraft Fuels are Now Flying Passengers
While there is heightened attention to cars and their transition to carbon-neutral fuel alternatives, and we see more and more windmills and solar panels in our daily lives, there has also been great progress in the air as well. The development and implementation of sustainable aviation fuels (SAF) have been achieving exciting new firsts. The most recent history-making flight occurred this week when a commercial flight carried 115 passengers, 800 miles with one of its two engines fueled entirely by SAF.
The United Airlines Boeing 737 MAX 8 used drop-in sustainable aviation fuel. "Drop-in" implies no changes have to be made to the aircraft's engines. The SAF used is interchangeable with conventional fuels. "Today's SAF flight is not only a significant milestone for efforts to decarbonize our industry, but when combined with the surge in industry commitments to produce and purchase alternative fuels, we're demonstrating the scalable and impactful way companies can join together and play a role in addressing the biggest challenge of our lifetimes," said United CEO Scott Kirby, who was aboard the flight from Washington DC – Chicago flight.
Another person on board the flight was GE Aviation's CEO, John Slattery. The 737 used a pair of LEAP-1B engines developed by CFM International, a 50-50 joint company including GE and Safran Aircraft Engines. GE has also been researching the use of SAF in its engines.
United was able to circumvent international standards and comply with ASTMN standards. These rules permit airlines to use a maximum of 50% SAF on commercial flights. On this historic flight, United operated one of the plane's two engines on 100% conventional jet fuel and the other one on 100% SAF — about 500 gallons in each engine. This allowed for an adequate test of the fuel's ability to operate under "real-life" conditions while still adhering to the standard.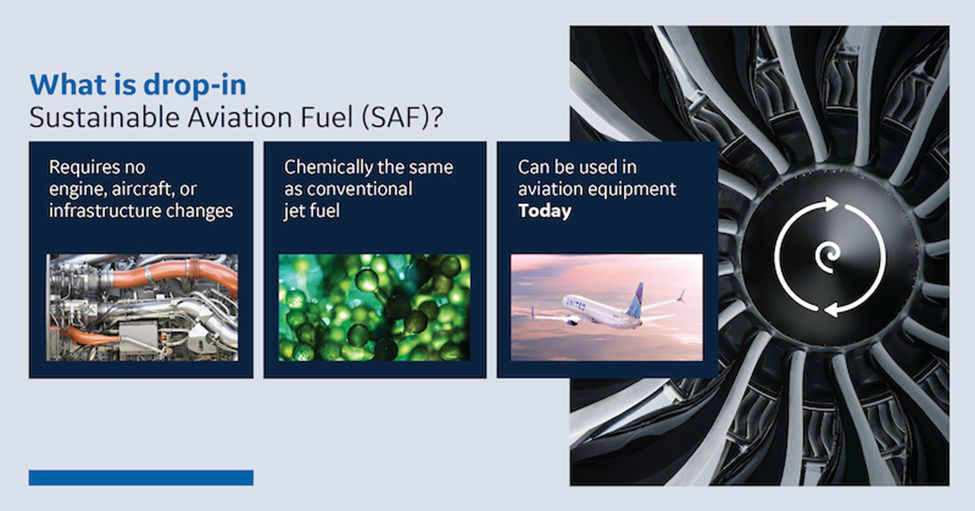 Source: GE Aviation
According to General Electric, SAF can be made from any of 60 different feedstocks. These include plant oils, algae, greases, fats, waste streams, alcohols, sugars, captured CO2, and others. An article in Scientific American, biofuel made from used cooking oil could also be used to cut aviation-related carbon emissions. A blended form has been tested in both an Airbus A319neo plane and an Airbus 225 helicopter.
Providing Additional Thrust to Sustainability
Other progress on SAF comes from smaller companies like GEVO ( GEVO). Gevo has made substantial progress transforming plant-based liquid hydrocarbons into drop-in transportation fuels, including jet fuel and diesel substitutes. The standard of success is that when burned, the fuels can yield net-zero greenhouse gas emissions when measured across the full life cycle of the products.
Gevo's products are reported to perform as well or better than traditional fossil-based fuels, but with substantially reduced greenhouse gas emissions.
Electric planes may soon become a reality too. In July, United Airlines announced its intention to purchase up to 100 19-seat electric planes from Swedish startup Heart Aerospace. The airline has conditionally agreed to purchase the ES-19 electric planes once the aircraft meet United's safety, business, and operating requirements.
In addition, the carrier recently established a venture capital arm. United Airlines Ventures (UAV) announced that it is investing in the startup, along with Breakthrough Energy Ventures, and Mesa Airlines.
UAV is building a portfolio of companies that focus on innovative sustainability concepts and create the technologies and products necessary to build a carbon-neutral airline and reach United's net-zero greenhouse gas emissions goals. With this new agreement, United is building on its commitment to reduce its greenhouse gas emissions by 100% by 2050 without relying on traditional carbon offsets, as well as enabling the growth of Heart Aerospace and participating in the development of aircraft that will reduce greenhouse gas emissions from flying.
Take-Away
Advancements toward a more carbon-neutral planet are occurring with more fanfare on the ground than they are in the air. But the advancement in some aeronautical areas has been historic and serves to validate air carriers' plans to substantially reduce or eliminate net-carbon fuels and do so without aircraft engine modification or redesign.
Managing Editor, Channelchek
Suggested Reading:

Sources:
https://aviationbenefits.org/environmental-efficiency/climate-action/sustainable-aviation-fuel/
https://www.ge.com/news/reports/united-flies-worlds-first-passenger-flight-on-100-sustainable-aviation-fuel-supplying-one
https://www.pnas.org/content/118/13/e2023008118
https://sustainabilitymag.com/sustainability/united-airlines-expects-disruption-sustainable-aviation
https://www.statista.com/statistics/655057/fuel-consumption-of-airlines-worldwide/
Stay up to date. Follow us:
Company
Ticker
Price
Previous
Mkt Cap
Volume
52wk Range
Gevo Inc.
GEVO (Nasdaq)
$4.80
$969.55M
0
$2.79 - $10.03
Fundamental Analysis
Advanced Market Data
()
Detailed Quote
Charts
Statistics
Financials
Historical Quotes
Insider Activity
Key Ratios