Image Credit: Diverse Stock Photos (Flickr)

Individual Investors are Finding Investment Styles to Match Today's Market Landscape

In a research note last week, JP Morgan (JPM) wrote that Self Directed Investors influence over the direction of stocks, and the overall market is declining. A decline in trading activity was confirmed by the number of transactions at Robinhood and other brokers and even r/wallstreetbets activity. The accounts are still exposed to the stock market according to JPM, their exposure however has shifted.
Past Circumstance
While other venues of "entertainment" or "past times" were idle, the stock market never closed in response to the reality of coronavirus. This helped create over a year of focused retail trading. The booming stock market rewarded its participants and even became a source of entertainment for some. Many who had free time at home with their stimulus checks, perhaps deferring their mortgage or rent payments, joined the online trading craze that included social media interaction, and meme stock potential riches. This set of circumstances is now unwinding, and retail investors are doing less "me too" trading and investing their assets using more hands-off, long-term methods.
The JPM research note reported that the online trading app Robinhood experienced a decline in stock market transactions in December. The level of trading approached the pre-pandemic activity level. While Robinhood is a focus of many newer market participants, a decline in trading activity was also observed at other retail brokerage firms, including E*Trade and Charles Schwab.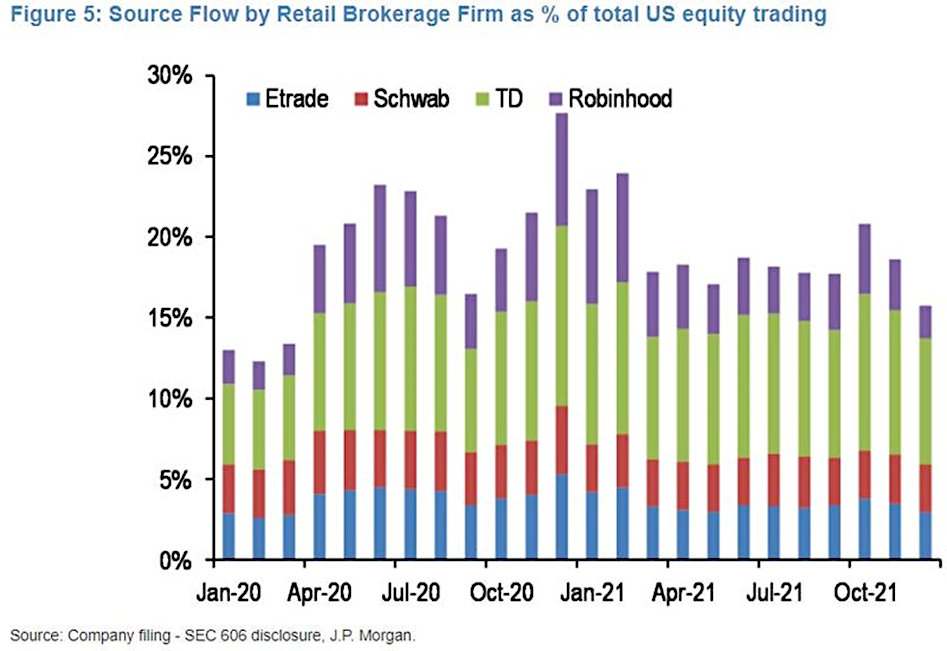 The note also points to reduced activity on popular stock market social media forums like those on Reddit. The Reddit WallStreetBets community boomed from about 1.5 million Redditors in 2020 to more than 11 million current subscribers. JPM says that growth has plateaued, and the daily number of comments has fallen well below the peak one year ago.
The decline in trading and sharing stock ideas (and memes) coincides with the decline in value of high-flying stocks that drew the attention of investors with their spectacular growth in 2020/21. Many of these stocks that retail investors helped drive to dizzying levels have since given up all of their gains. These include Netflix, Peloton, and PayPal. "Whether one looks at the proportion of retail investors in total US stock trading or the number of stocks traded by retail investors, it is clear that US retail activity had peaked at the beginning of 2021 with diminishing peaks since then," JPMorgan said.
Take-Away
While retail investors are abandoning the type of trades they put on in 2020 and 2021, they are still sticking with equity funds, with strong 2021 inflows into equity ETFs and mutual funds continuing into 2022, the JPM said. It's unclear if this is due to less time to be involved, or market softness providing fewer hyped stocks. At Channelchek we have noticed a surge in traffic to our research and articles. In January 2022 we experienced a record number of visitors to our sight, presumably searching for more fundamental analysis and actionable opportunities.
Channelchek is a no-cost distribution platform for small and microcap equity research. These are the stocks that have the potential to reward investors that have a longer time horizon. Given the information provided by JPM, it is no wonder Reddit WSB traffic which has been more short-term trading oriented has declined, while Channelchek continues to see new sign-ups and is breaking records with the pace of visitors.
Managing Editor, Channelchek
Suggested Reading
Sources
https://am.jpmorgan.com/content/dam/jpm-am-aem/global/en/insights/portfolio-insights/ltcma/ltcma-full-report.pdf
https://www.thestreet.com/investing/jp-morgan-stocks-far-from-over
https://markets.businessinsider.com/news/stocks/retail-investors-influence-over-stock-market-declining-meme-stock-mania-2022-2?utm_medium=ingest&utm_source=markets

Stay up to date. Follow us: