Companies by Sector
More than 6000 listed
Communication Services
Telecommunication Services
Consumer Cyclical
Advertising & Marketing Services
Furnishings, Fixtures & Appliances
Homebuilding & Construction
Manufacturing - Apparel & Accessories
Manufacturing - Apparel & Furniture
Retail - Apparel & Specialty
Consumer Defensive
Beverages - Non-Alcoholic
Financial Services
Diversified Financial Services
Healthcare
Healthcare Providers & Services
Medical Devices & Instruments
Medical Diagnostics & Research
Medical Instruments & Equipment
Industrials
Farm & Heavy Construction Machinery
Transportation & Logistics
Utilities
Utilities - Independent Power Producers


  Image Credit: Parag Deshmuk
How Much is Spent Saying 'I Love You' on Valentine's?
While the gift-giving season may be in full bloom between Thanksgiving and Christmas, gifts of the blooming variety are often given on Valentine's Day. Many businesses rely on their piece of the $22 billion that will be spent for the most romantic of holidays. Gifts include everything from jewelry to dinner, Valentine's Day cards, and stuffed animals. Below are some staggering statistics from the Nat'l Retail Federation and 1(800)FLOWERS.com (FLWS) that show the heart-thumping magnitude of February 14th.
Last February 14th, which was as much virus-times as it was Valentine's, Americans spent about $21.8 billion showing they care. That's around 508,000 Bitcoins!
Spending is expected to be close to the same for 2022.
The highest dollar category of Valentine's Day commerce is jewelry. Last year $4.1 billion was spent on jewelry. While gold has fluctuated from up 5.50% to down 7% since then, the current price per ounce is in line with last year's price.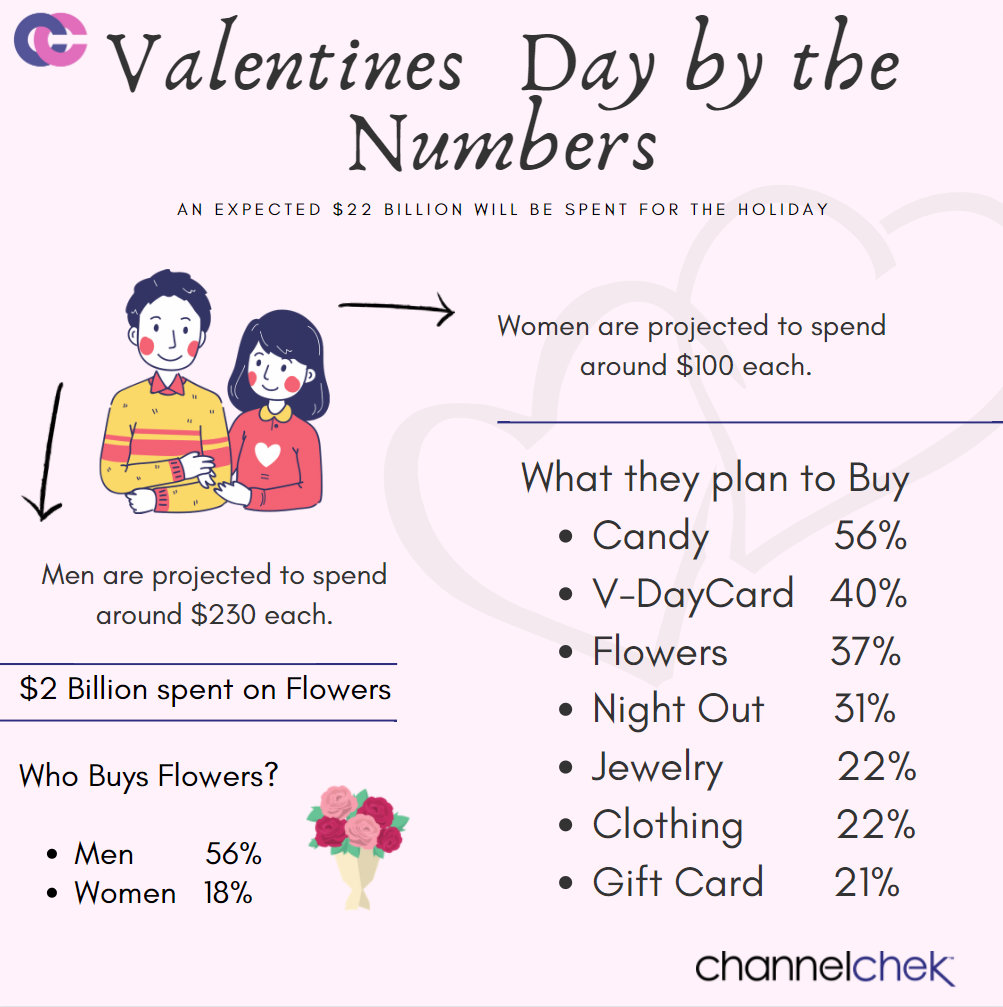 In 2021, men were figured to spend approximately $230 each, while women were believed to have parted with close to $100.
Sweets are the most popular Valentine's Day gift. A survey showed 54% of participants plan to give candy. This adds to around $2 billion in spending. Americans will buy 58 million pounds of chocolate (give or take) for Valentine's Day!
Approximately 150 million cards are expected to be presented which may be why V-Day is considered a "Hallmark Holiday."
Valentine's Day Facts on flowers
For many men, Valentine's Day starts with checking the price of a dozen roses. According to CNBC, the price may have increased by 22% over last year. This is approximately the same level of inflation experienced at Dollar Tree (DLTR).
More than a third, or 36% of people anticipate buying flowers. The total spent on those flowers will be about $2 billion.
Men are far more likely to buy flowers than women — 56% versus 18%.
Younger people purchase more Valentine's Day flowers than their elders. 48% of those 18-24 years old plan to
buy flowers, compared to only 28% of those 65 and over.
Roses are the most popular Valentine's Day flower, with over 250 million produced exclusively for the holiday each year.
Take-Away
While many retailers wait all year for the period of Black Friday through the Christmas season. Many earn a sizeable portion of their annual revenue from the tens of billions spent on Mother's and Father's Day, and of course, Valentine's.
Suggested Reading
Sources
https://www.1800flowers.com/blog/flower-facts/valentines-day-fun-facts/
https://nrf.com/media-center/press-releases/valentines-day-spending-total-218-billion
https://www.cnbc.com/2022/02/04/inflation-means-price-jumps-for-dinner-and-roses-this-valentines-day.html
Stay up to date. Follow us:
Company
Ticker
Price
Previous
Mkt Cap
Volume
52wk Range
Advanced Market Data
()
Detailed Quote
Charts
Statistics
Financials
Historical Quotes
Insider Activity
Key Ratios