Companies by Sector
More than 6000 listed
Communication Services
Telecommunication Services
Consumer Cyclical
Advertising & Marketing Services
Furnishings, Fixtures & Appliances
Homebuilding & Construction
Manufacturing - Apparel & Accessories
Manufacturing - Apparel & Furniture
Retail - Apparel & Specialty
Consumer Defensive
Beverages - Non-Alcoholic
Financial Services
Diversified Financial Services
Healthcare
Healthcare Providers & Services
Medical Devices & Instruments
Medical Diagnostics & Research
Medical Instruments & Equipment
Industrials
Farm & Heavy Construction Machinery
Transportation & Logistics
Utilities
Utilities - Independent Power Producers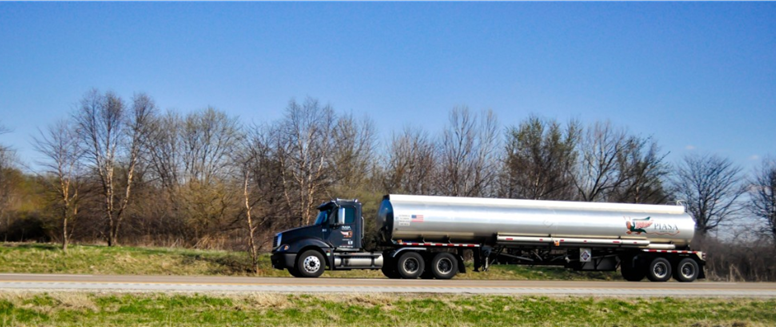 Improving Economy with Production Cuts are Pushing Oil Prices Higher
(Note: companies that could be impacted by the content of this article are listed at the base of the story [desktop version]. This article uses third-party references to provide a bullish, bearish, and balanced point of view; sources are listed after the Balanced section.)
WTI Crude prices have mounted a rally over the last 80 days, slowly rising from a price of $53 per barrel at the end of September to a current price above $60 per BBL. There are many reasons for recent strength, some supply related and some demand related. However, oil prices are not simply a function of supply and demand. Note that the rise in oil prices has occurred at the same time oil inventories have also risen. Instead, oil prices are set by investors who are speculating about future demand and future supply, and investor sentiment is not always easy to measure. Does the rise in oil prices support the bull's arguments for further increases in oil prices? Or, is the rise based on temporary factors that support the bear's argument that the rise in prices will be short-lived?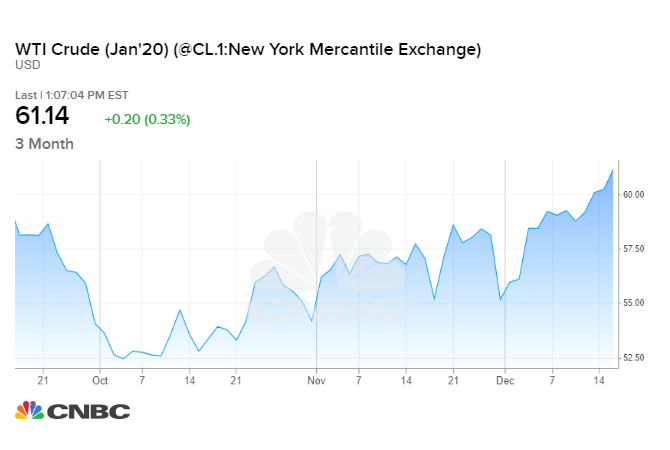 Economic conditions are improving. The rise in oil prices can be attributed to an improved global economic outlook. Eugen Weinberg, head of commodities research at Commerzbank, points to the announcement between the United States and China of a "phase one" agreement to reduce tariffs as a factor behind the rise in oil prices. Business and consumer sentiment have also been improving. Higher economic activity is likely to result in increased demand for oil, supporting higher prices.
OPEC announces a production cut. On December 6, OPEC and a group of other producers announced they were deepening production cuts by 1.7 million barrels per day versus a previous target of 1.2 MMBBLS/day. Production continues to grow in the United States, but the growth rate is slowing due to decreased capital expenditures. EIA expects U.S. crude oil production to increase 0.9 MMBBL/day in 2020, offsetting only part of the OPEC cuts.
Oil prices were depressed in 2019 due to weather conditions that won't continue. Flooding and monsoon activity in 2019 had an adverse effect on global economic growth and the demand for oil according to S&P Global Platts' annual outlook. Assuming extreme weather conditions are not a growing trend, 2020 should show improved demand for oil.
Technological improvements that have lowered the cost of production are not going away. Horizontal drilling and fracking have meant oil can be produced in the United States at a lower cost. That has led to a large increase in domestic production. It is worth noting that the United States exported more crude oil and petroleum products in September than it imported, the first month on record. Higher production in the U.S. will offset any cut in OPEC production
Futures prices are below spot prices. The current WTI Crude Oil futures curve peaks at current prices and declines steadily to the low fifties over the next two years. While all futures prices have risen in recent months, the curve's backwardation indicates that the market believes higher prices won't last.
Inventories are still high. U.S. Crude Oil inventories continue to rise and, at 448 million barrels, are about 4% above the five-year average for this time of year. Until this excess inventory is drawn down, oil prices are unlikely to rise by any meaningful measure.
The dollar has weakened but is now stabilizing. Oil prices and the U.S. dollar are negatively correlated. The rise in oil prices since the end of September matches a decline in the dollar. The lower dollar may reflect the Fed's efforts to lower interest rates or trade concessions by China to improve the US-China trade imbalance. With the fed indicating its intent to hold interest rates steady and trade negotiations taking a break, further declines in the dollar (and thus improvements in oil prices) seem unlikely.
There are many explanations for the rise, some of which are more fundamental in nature and some of which could prove to be temporary boosts to prices. The rise in near-term oil prices seems justified but only moves oil prices to the midpoint of a three-year trading range of $45-$75 per barrel. The jump in pricing will help improve near-term cash flow for energy companies, but it is not enough to excite energy investors. We would note that the XLE energy index has underperformed the S&P 500 index since the end of September. Nor do we expect the slight rise in prices to start a new wave of drilling that will increase supply and drive oil prices down. Instead, we see oil prices continuing in a tight trading pattern surrounding current prices.
Sources
https://www.eia.gov/outlooks/steo/, EIA, December 10, 2019
https://www.kiplinger.com/article/business/T019-C000-S010-energy-price-forecast.html, Jim Patterson, Kiplinger, December 10, 2019
https://www.cnbc.com/2019/12/16/oil-markets-us-china-trade-deal-in-focus.html, CNBC, December 16, 2019
https://www.ttnews.com/articles/oil-reaches-three-month-high-above-60-us-china-trade-pact, Transport Topics, December 13, 2019
https://www.marketwatch.com/story/extreme-weather-seen-impacting-oil-prices-in-2020-as-well-as-geopolitics-2019-12-11, Clive McKeef, MarketWatch, December 11, 2019
http://ir.eia.gov/wpsr/wpsrsummary.pdf, EIA, December 6, 2019
Company
Ticker
Price
Previous
Mkt Cap
Volume
52wk Range
Torchlight Energy Resources Inc.
TRCH (Nasdaq)
$0.78
$78.20M
0
$0.22 - $1.09
Fundamental Analysis
Genie Energy Ltd. Class B Stock
GNE (NYSE)
$7.31
$191.67M
0
$4.60 - $9.61
Rosehill Resources Inc.
ROSE (Nasdaq)
0
0
0
0 - 0
Ring Energy Inc.
REI (AMERA)
$0.73
$59.28M
0
$0.44 - $3.31
Panhandle Oil and Gas Inc
PHX (NYSE)
$2.54
$56.87M
0
0 - 0
Nuveen Credit Opportunities 2022 Target Term Fund of Beneficial Interest
JCO (NYSE)
$8.04
$223.18M
0
$5.41 - $10.17
Jones Energy Inc. Class A
JONE (NYSE)
0
0
0
0 - 0
Jadestone Energy
JADSF (GREY)
$0.70
$322.70M
0
$0.21 - $1.21
Halcon Resources
HK (OTO)
0
0
0
0 - 0
Earthstone Energy Inc. Class A
ESTE (NYSE)
$6.53
$425.89M
0
$1.45 - $7.24
Contango Oil & Gas Company (TX)
MCF (AMERA)
$2.49
$432.48M
0
$0.84 - $4.56
Advanced Market Data
()
Detailed Quote
Charts
Statistics
Financials
Historical Quotes
Insider Activity
Key Ratios