Companies by Sector
More than 6000 listed
Communication Services
Telecommunication Services
Consumer Cyclical
Advertising & Marketing Services
Furnishings, Fixtures & Appliances
Homebuilding & Construction
Manufacturing - Apparel & Accessories
Manufacturing - Apparel & Furniture
Retail - Apparel & Specialty
Consumer Defensive
Beverages - Non-Alcoholic
Financial Services
Diversified Financial Services
Healthcare
Healthcare Providers & Services
Medical Devices & Instruments
Medical Diagnostics & Research
Medical Instruments & Equipment
Industrials
Farm & Heavy Construction Machinery
Transportation & Logistics
Utilities
Utilities - Independent Power Producers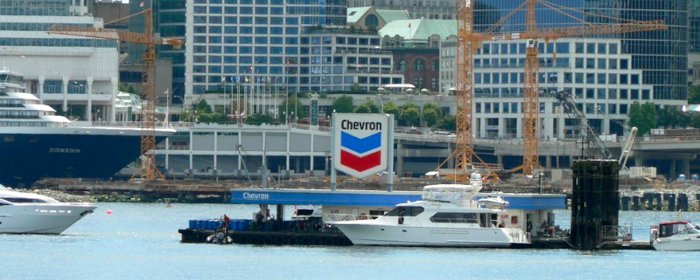 Chevron Announces the Acquisition of Noble Energy
Will Other Oil and Gas Producers Follow?
On July 20, Chevron Corporation announced it would buy oil and gas producer Noble Energy Inc for $5 billion in stock. Noble is a highly leveraged company with $8 billion of debt that will be assumed by Chevron. The shares of Noble have been weak this year along with most leveraged energy companies, having begun the year with a market capitalization near $12 billion. Noble's assets will expand Chevron's shale presence in Colorado and the Permian Basin. Chevron was close to adding Permian Basin assets last year when it attempted to acquire Anadarko Petroleum. The Noble acquisition is the largest energy acquisition to be announced in 2020. As is usually the case, the acquisition begs the questions, "will the acquisition lead to other acquisitions?"
Why Merger Activity Picks Up
The energy industry has always been cyclical, and we remain in the down part of the cycle. When energy prices are high, managements often take on additional leverage to expand drilling efforts because returns look so attractive. When prices drop like we have seen this year, the return on those assets is not as attractive, but management is still saddled with the debt they have taken on. Selling assets is always an option, but there are few takers when everyone is in the process of cutting back, and asset returns are low. Often, smaller, leveraged energy companies are forced to issue stock at low prices or face the risk of being forced into bankruptcy.
Another option is to sell the entire company. It is not unusual to see a pickup in merger activity when energy prices have fallen. Major oil companies, which built up large cash positions during the upcycle, are more than willing to pounce on companies during times of desperation. Of course, the major oils are not going to waste their time on small acquisitions that will not have an impact on top-line growth. They want mid-sized companies that will take them into new areas of production, which is why a combination like Chevron and Noble makes sense – a major oil buying a mid-sized energy company.
Expectations for the Months Ahead
S&P Global Market Intelligence concludes that the biggest oil deals have come following oil price crashes. They point out that since 1995, more than 50 deals have been completed, valued at over $10 billion.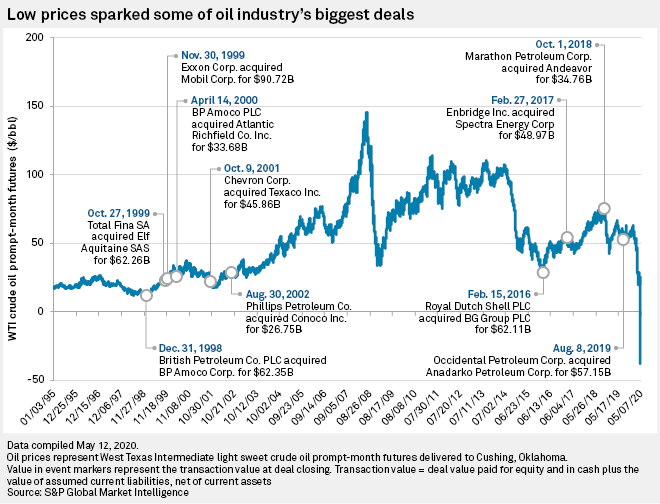 So, will Chevron's acquisition of Noble push the other major oils to follow suit? Probably not. In some ways, Chevron was still playing catch up the merger activity completed by the other majors in recent years. The $13 billion acquisition of Noble still pales in comparison to the $33 billion attempted acquisition of Anadarko last year. In fact, it would not be surprising for Chevron to announce additional acquisitions, albeit once it has had the time to digest the Noble acquisition. In our opinion, the events surrounding the acquisition are unique in that Chevron was a uniquely motivated buyer seeking to make a major splash to expand in the Permian Basin.
Take-Away
Chevron's acquisition of Noble probably speaks more to the validity of the Permian Basin than it does to the energy consolidation environment. Recall that the Permian Basin has become one of the world's most prolific oil fields following years of falling operating costs due to improved drilling technology. That came to a bit of a halt this spring when a global economic downturn drove down oil demand forecasts, and an oil price war between Saudi Arabia and Russia flooded the market with additional supply. With oil prices dropping into the twenties, it became difficult for energy companies to justify drilling new wells in the Permian Basin. Most experts think producers need an oil price in the forties to justify drilling in the Permian. Although oil prices have risen back into the forties, the threat of further global weakness or the ending of a contentious detente between Saudi Arabia could mean lower oil prices. Chevron's acquisition, then, is a sign that they believe in the long-term viability of drilling in the Permian Basin.
Suggested:
Energy Industry Report - Second Quarter Review and Outlook
Will There be an Explosion in New Acquisitions
C-Suite Interview, Indonesia Energy
Enjoy the Benefits of Premium Channelchek Content at No Cost

Each event in our popular Virtual Road Shows Series has maximum capacity of 100 investors online. To take part, listen to and perhaps get your questions answered, see which virtual investor meeting intrigues you here.
Sources:
https://finance.yahoo.com/news/chevron-buy-noble-energy-5-111125456.html, Jennifer Hiller, Reuters, July 20, 2020
https://www.spglobal.com/marketintelligence/en/news-insights/latest-news-headlines/consolidation-coming-oil-companies-set-to-party-like-it-s-1999-58753567, S&P Global Market Intelligence, May 28, 2020
https://www.bizjournals.com/houston/news/2020/02/06/energy-analyst-expects-consolidation-deals-in-2020.html, Joshua Mann, Houston Business Journal, February 6, 2020
https://seekingalpha.com/article/4358468-energy-stocks-breakout-following-healthy-consolidation-just-global-oil-inventories-start-to, Seeking Alpha, Juley 14, 2020
https://www.reuters.com/article/us-global-oil-shale-bust-insight/oil-in-the-age-of-coronavirus-a-u-s-shale-bust-like-no-other-idUSKCN21X0HC
, Jennifer Hiller, Liz Hampton, Reuters, April 15, 2020