Companies by Sector
More than 6000 listed
Communication Services
Telecommunication Services
Consumer Cyclical
Advertising & Marketing Services
Furnishings, Fixtures & Appliances
Homebuilding & Construction
Manufacturing - Apparel & Accessories
Manufacturing - Apparel & Furniture
Retail - Apparel & Specialty
Consumer Defensive
Beverages - Non-Alcoholic
Financial Services
Diversified Financial Services
Healthcare
Healthcare Providers & Services
Medical Devices & Instruments
Medical Diagnostics & Research
Medical Instruments & Equipment
Industrials
Farm & Heavy Construction Machinery
Transportation & Logistics
Utilities
Utilities - Independent Power Producers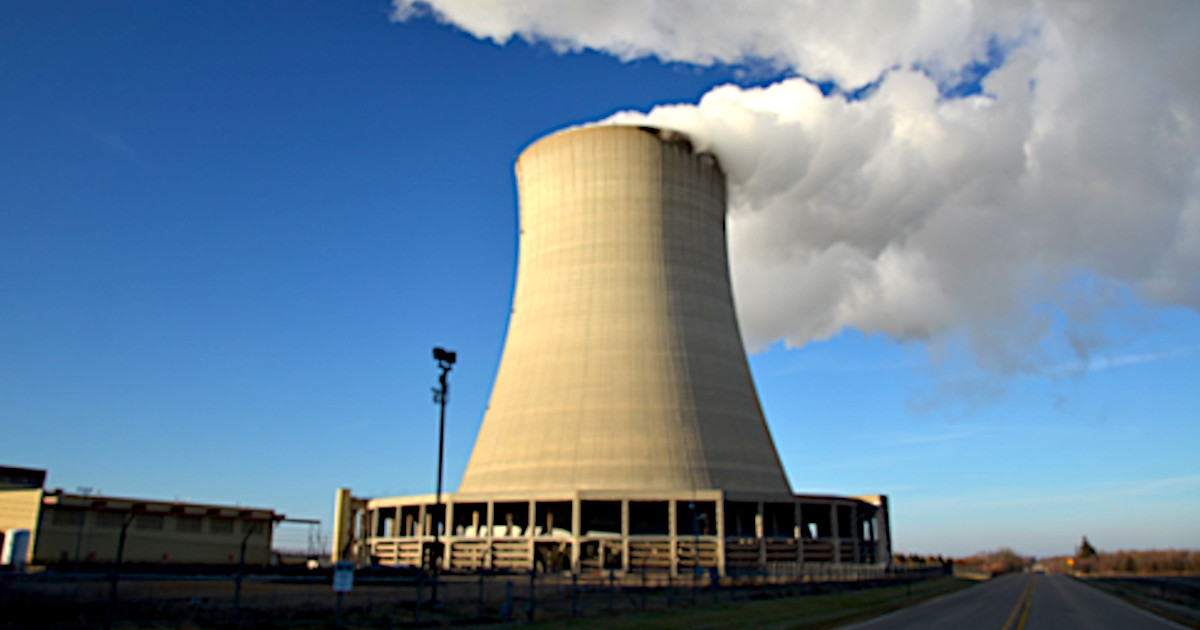 Higher Uranium Prices Could Result from New Supply and Demand Pressures
The last decade has not been favorable for uranium pricing. The Fukushima nuclear plant disaster in 2001 shut down power plants. Kazakhstan flooded the market with cheap uranium in the middle of the decade. Canada increased production by 50% between 2016-2018. In response, uranium spot prices, which began the decade near $80/lb., dropped below $20/lb. Producers reduced exploration efforts to find new reserves. As a result, uranium production has not kept up with uranium demand for many years and only provided 84% of demand in 2019. The gap between demand and mining supply was filled by inventory drawdown, the downgrading of weapons-grade material, and enrichment underfeeding (taking low uranium tail assays and re-enriching the assays).
Looking Forward:
As we enter the next decade, the outlook for uranium prices is beginning to look much more favorable. Spot prices have climbed to $30/lb. and show signs of going higher. There are more nuclear power plants in operation and in construction than prior to the Fukushima accident. Demand is growing as Japanese power plants come back online, new ones are being built in China, India and the Middle East, and existing plants are being relicensed at higher capacities. At the same time, supply is decreasing as Kazakhstan and Canada pulls back production and major mines in Australia and Niger come to the end of their reserve life. The gap between demand and supply is growing and the steps taken to fill the gap in recent years are short-term plugs.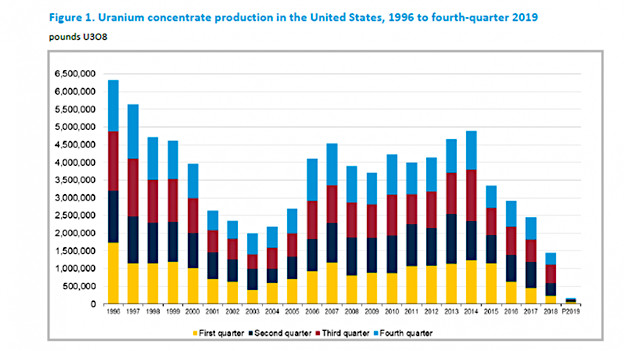 US production of uranium concentrate declined dramatically over the five years ended 2019.
The world has substantial reserves, but few mines can produce uranium profitably at prices below $40/lb. An analysis by SRK Consulting of existing wells in 2018 shows that global world demand of 150-160 million can not be met unless prices rise above $70/lb. Such a sharp rise has happened before in the '70s and '00s. In fact, uranium prices started to spike in 2010-11 right before the Fukushima accident. Noble Capital Market analyst, Michael Heim, believes we are approaching another spike. "The basic economic laws of supply and demand can only be put off for so long. Eventually prices are going to rise to grow supply to meet demand. Unfortunately, it may take 5-10 years for new supply to arrive."
Impact on Utilities
For utilities buying uranium, a sudden rise in uranium prices may come as a shock. Utilities are notorious for not taking risks. Utility regulation tends to punish utilities for making missteps but does not reward them for taking risks that are successful. There isn't much incentive for a utility to sign a long-term supply contract at $40/lb. when spot prices are at $30/lb. even if they think prices are about to rise. Consequently, most uranium buyers hold a portfolio of long-term contracts at $40/lb. that are beginning to expire. A rush to sign new contracts if spot prices rise could add to uranium price volatility and push prices even higher.
National Uranium Reserve
And as a final wild card, the U.S. Government has begun discussing the need for a national uranium reserve. Details regarding the size of the reserve or the price that would be paid for the uranium are not known at this time. However, it is reasonable to assume a reserve large enough to meet U.S. annual demand of 55 million pounds. If the reserve is supplied from domestic producers, it would represent more than 8 years of peak U.S. uranium production. The result could be a domestic uranium industry that is many times larger than what we have seen in the past.
Suggested Reading:
Will Solar Panels Continue to be Subsidized?
Will M&A Activity Spread to Canada?
Mergers Within the energy Industry are Heating Up


Company
Ticker
Price
Previous
Mkt Cap
Volume
52wk Range
Advanced Market Data
()
Detailed Quote
Charts
Statistics
Financials
Historical Quotes
Insider Activity
Key Ratios