Companies by Sector
More than 6000 listed
Communication Services
Telecommunication Services
Consumer Cyclical
Advertising & Marketing Services
Furnishings, Fixtures & Appliances
Homebuilding & Construction
Manufacturing - Apparel & Accessories
Manufacturing - Apparel & Furniture
Retail - Apparel & Specialty
Consumer Defensive
Beverages - Non-Alcoholic
Financial Services
Diversified Financial Services
Healthcare
Healthcare Providers & Services
Medical Devices & Instruments
Medical Diagnostics & Research
Medical Instruments & Equipment
Industrials
Farm & Heavy Construction Machinery
Transportation & Logistics
Utilities
Utilities - Independent Power Producers

Will Broadcast Mergers and Acquisitions Surge?
It can be numbing how dramatically industries change in a decade. The fast-paced merger and acquisition (M&A) environment caused broadcast groups to become significantly larger. A Broadcast group ten years ago had, on average, 84 TV stations. The average has climbed dramatically, and today, the largest broadcast groups have an average of 147 TV stations.
As streaming services online grew, competition for TV advertising revenue became heated. One area of sales growth for the TV industry is retransmission revenue. These are fees that a station charges the cable operator to carry the local broadcast signal. The agreements extended to alternative video providers, including streaming services and satellite providers. To gain bargaining power to protect this growing revenue stream from television networks, which charge the stations to carry its programming, and from the large cable and satellite providers, and multiple video program distributors (MVPDs), broadcast groups needed to get bigger. This caused a surge of mergers and acquisitions of TV stations.
M&A Guidelines

There is a limit on how many television stations a company can own. The FCC limits the number of television households a broadcaster can cover, arbitrarily set at 39%. Broadcasters could skirt those limits by owning UHF frequency stations. These are stations that could be found on over the air channels ranging from channels 14 to 83. The FCC counted the only ½ of the television households covered with a UHF signal. The theory was that UHF over the air signals were weaker and, for the most part, did not cover the entire area. Forget that cable and satellite providers that retransmit the UHF stations cover the entire area. Consequently, a broadcaster could theoretically cover 78% of total US households if 100% of the stations were UHF. The FCC lacked the Political will to lift the 39% ownership cap, even though it could not find enough reasons to justify the current cap. It decided to keep the UHF discount rule, even though that rule doesn't hold water. This provided enough cover for broadcasters to continue the M&A wave and extend the reach of US Television households beyond 39%.
Current Conditions

Where do we stand now? Is this frequency of TV Station Sales sustainable? Will acquisition prices come down or go up as the available pool of acquisition targets diminish? Will the FCC lift ownership restrictions, which could reignite M&A activity? If television station acquisitions are not likely, where will broadcasters seek growth?
In short, the M&A of TV Stations can not continue at the pace enjoyed over the past ten years. Most station groups are near the ownership cap. For instance, the top 5 station group owners are at an average of 29.6% of their allowed 39% FCC coverage. Nexstar, the largest TV broadcaster, has already hit the 39% mark. As a result, it is likely that we are in the final stretch of M&A activity in Television, for now. At least until, and if, the FCC would lift ownership caps. This does not appear likely given the political environment in Washington
The top 30 TV station groups own approximately 1,234 US TV stations, and of that, 68% are owned by the top ten largest broadcasters. The two larger group owners with room to grow under the ownership caps are Gray Television and E.W. Scripps currently with 17% and 22% of US TV household coverage, respectively. But there are fewer attractive targets, save Graham Holdings and the broadcast segment of Meredith. Following those station groups, there is a long tail of owners with only a handful of stations.
Notably, the revenue of those station groups is significantly smaller, averaging $117.5 million, which implies that acquisitions would not significantly move the needle for a larger group owner. Why is that important? In the go-go M&A environment of the 2005 to 2015 era, public market cash flow multiples expanded significantly. Acquired stations and station group cash flow multiples increased from 7.5 to a high of roughly 9 in 2019. While 2020 has been an extraordinary year, deal multiples have come down to roughly seven this year.
Looking Forward

So what about acquisitions moving forward? It appears that there will be acquisitions of less-significant companies that hold smaller market TV stations. Smaller market TV stations typically do not have favorable growth profiles, do not get meaningful retransmission fees, or may not benefit from a huge upswing in Political advertising. While a broadcaster may benefit from acquired clauses that step up the target television station to its current Retransmission rate, but that assumes that the acquirer has a deal with the cable provider in the area of the acquired televisions station. With FCC ownership caps, the lack of availability of large companies for sale, and the stretched balance sheets of some larger broadcasters that recently acquired stations, it appears likely that station multiples will trend lower and that the age of the booming TV Station M&A is coming to an end.
TV station groups throw off a lot of cash flow. As such, it is possible that a non-industry player may look to TV ownership as a platform for its other business lines. Think Amazon buying Nexstar, for instance. Such a move would jump-start Amazon's recent decision to enter the market with Live TV and linear programming. Acquisition targets for large station group owners likely will diverge, some focusing on original programming and other OTT and Digital platforms. So, just because there are a limited number of TV stations for sale, don't think that the broadcast industry M&A is dead. It is likely that the industry will transform itself over the next ten years, much as it did over the past 10.
Source:
Amazon Prime Videos' Move To Go Linear
Will there be an Explosion of New Acquisitions?
Self-Directed Investors Get Unexpected Benefit from Lockdown
Join Great Lakes Dredge & Dock CEO & President, Lasse Petterson and SVP & CFO, Mark Marinko for this exclusive corporate presentation, followed by a Q & A session moderated by Poe Fratt, Noble's senior research analyst, featuring questions taken from the audience. Registration is free, but attendance is limited to 100.
Register Now | View All Upcoming Road Shows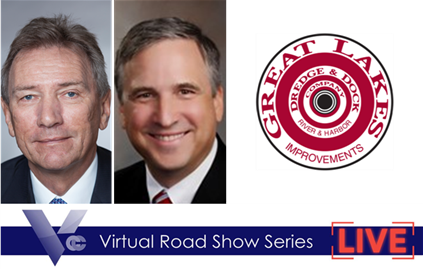 (No Cost) Virtual Road Show Series - Wednesday, July 15th @ 11am EDT