Metals and Mining Review and Outlook - Noble Capital Markets Natural Resources Sector Review - Q2 2021

Metals & Mining Second Quarter 2021 Review and Outlook
Noble Capital Markets Natural Resources Sector Review - August 2021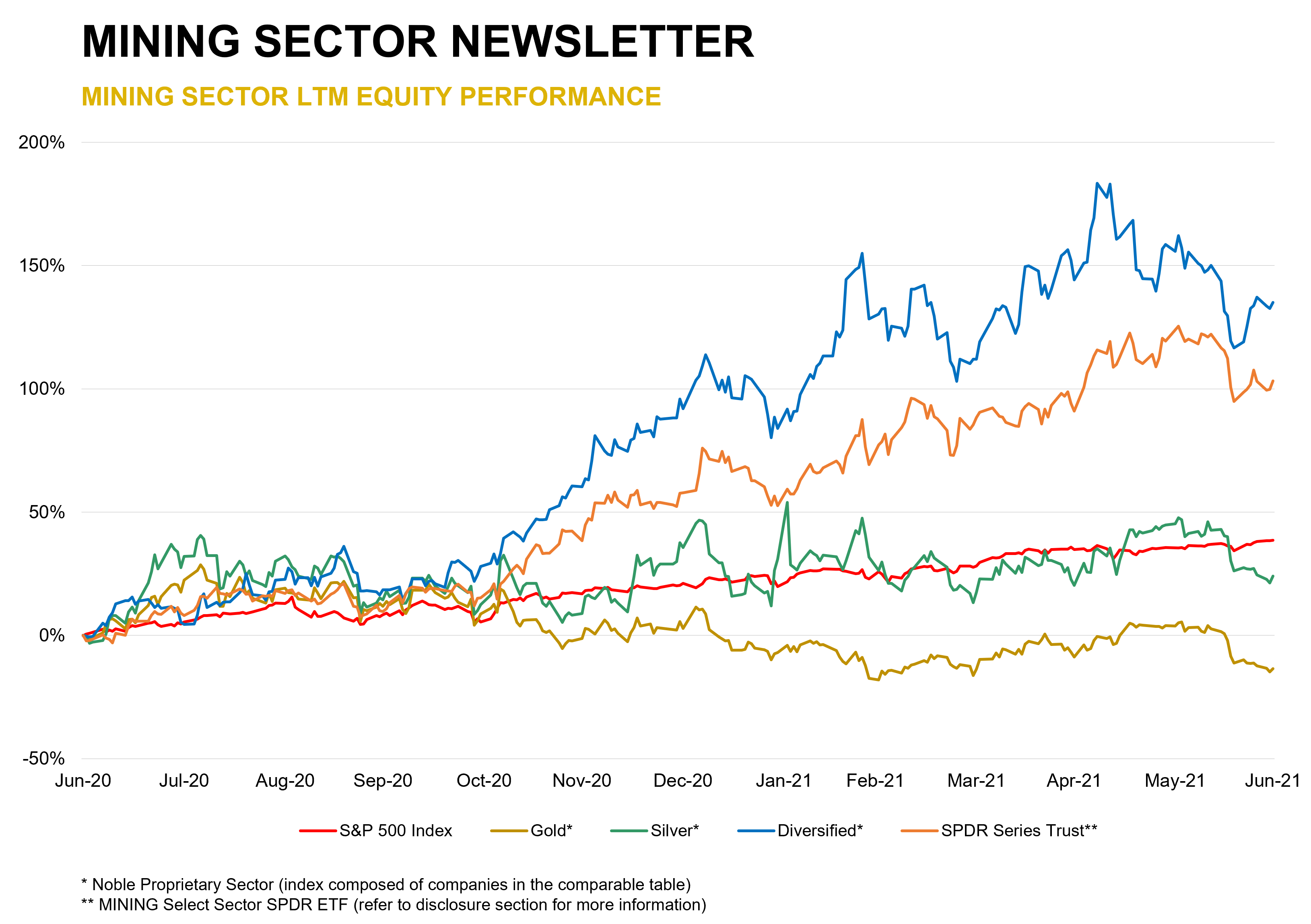 Source: Capital IQ as of 06/30/2021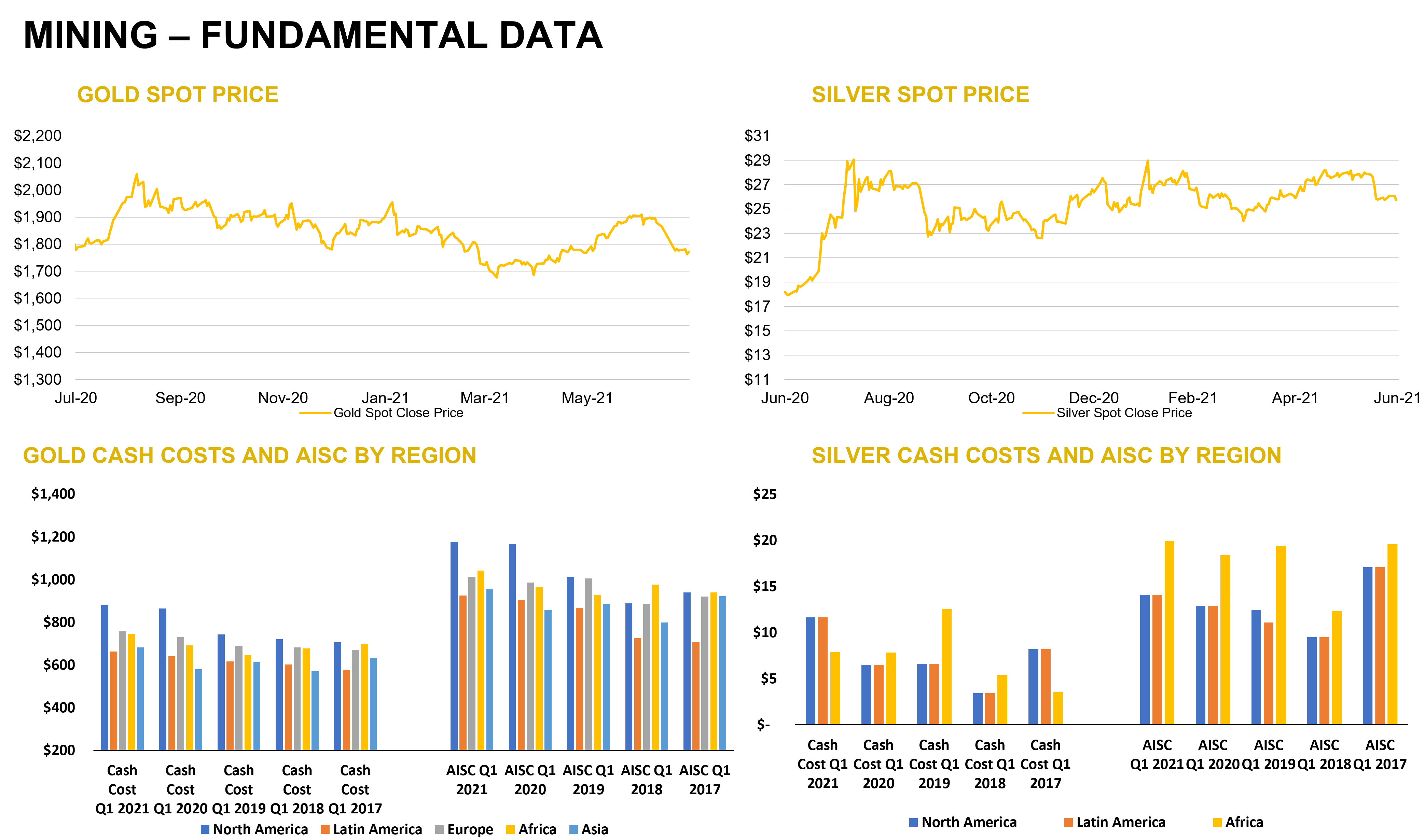 Source: Capital IQ as of 06/30/2021; Company Filings
METALS AND MINING INDUSTRY OUTLOOK
Metals & Mining Second Quarter 2021 Review and Outlook
Mining companies modestly trailed the broader market
During the second quarter of 2021, mining companies (as measured by the XME) gained 7.9% compared to 8.2% for the broader market as measured by the S&P 500 index. The VanEck Vectors Gold Miners (GDX) and Junior Gold Miners (GDXJ) ETFs were up 4.6% and 3.9%, respectively. During the second quarter, gold, silver, copper, lead, and zinc futures prices were up 3.2%, 6.4%, 7.4%, 3.5%, and 9.5%, respectively. While gold and silver recovered some of their first quarter losses, prices were still down year-to-date through June 30, while copper, lead and zinc prices were up 21.8%, 13.7%, and 12.0%, respectively. While the U.S. Dollar Index rose 2.7% year-to-date through June 30, it was down under 1% during the second quarter.
Reading the Fed's tea leaves
The Federal Reserve threw some cold water on the reflation trade during their Federal Open Market Committee (FOMC) meeting in June with economic projections that led investors to worry that the Fed could increase rates sooner than previously expected. While the FOMC will meet again in July, investors will have to wait until the FOMC meeting in September for the next set of economic projections. In the interim, commentary at the Jackson Hole Economic Policy Symposium in August may provide more clues about the Fed's direction.
We remain constructive on the sector
We think gold and silver could remain somewhat range-bound for the remainder of 2021 with silver offering modestly higher upside due to growing industrial demand and where it trades relative to gold. Much will depend on inflation expectations, U.S. dollar strength, and other uncertainties. This is not a bad thing, in our view, given that precious metals prices should be profitable for producers at current levels. Demand for base metals will likely benefit from global economic growth and infrastructure spending and we think prices could go higher. Additionally, secular themes, including trends toward electrification, favor metals used in electric vehicle batteries, infrastructure, and solar and renewable power technologies.
Taking the long view
Investors should consider gaining exposure to precious and base metals through mining stocks. Real interest rates are likely to remain low for the foreseeable future, despite potential increases in nominal rates, and gold could remain attractive as a store of value. Presently, we do not view volatile cryptocurrencies as a credible substitute for this function. Importantly, metals prices could have an upward bias given relatively modest levels of reinvestment in new reserves and resources in recent years.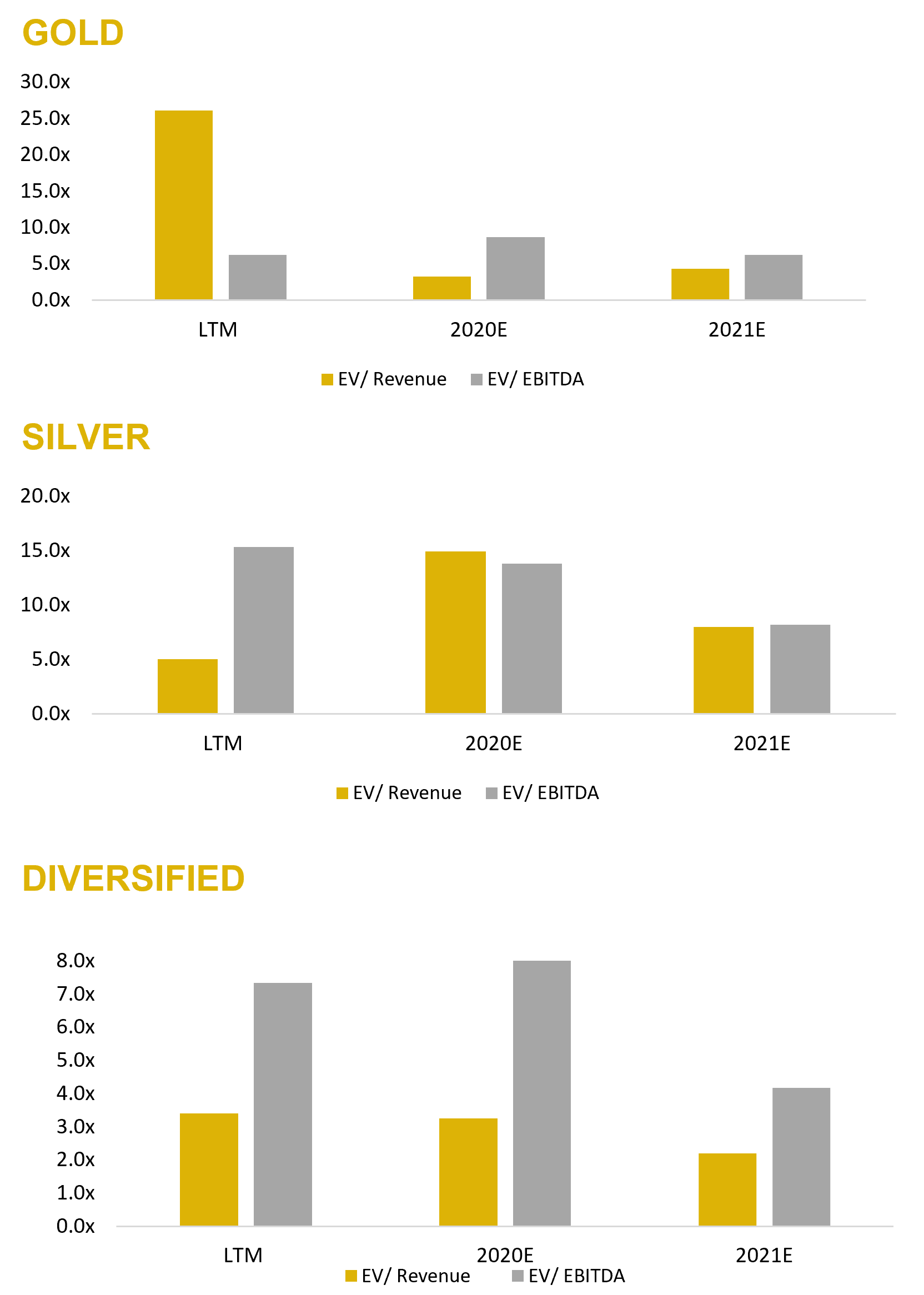 Source: Capital IQ as of 06/30/2021
Gold Mining - Comparable Tables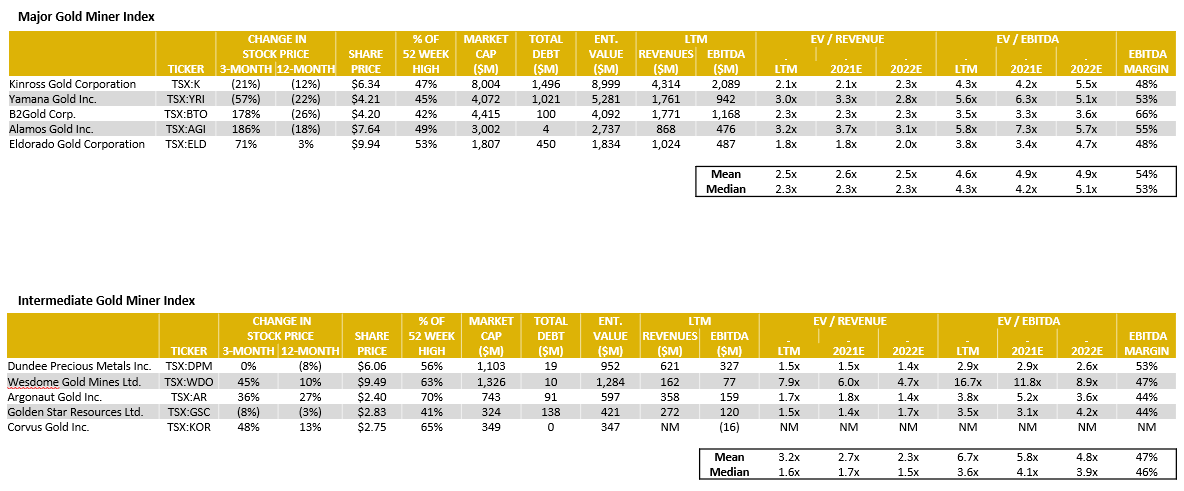 Source: Capital IQ as of 06/30/2021
Gold Mining - LTM Equity Performance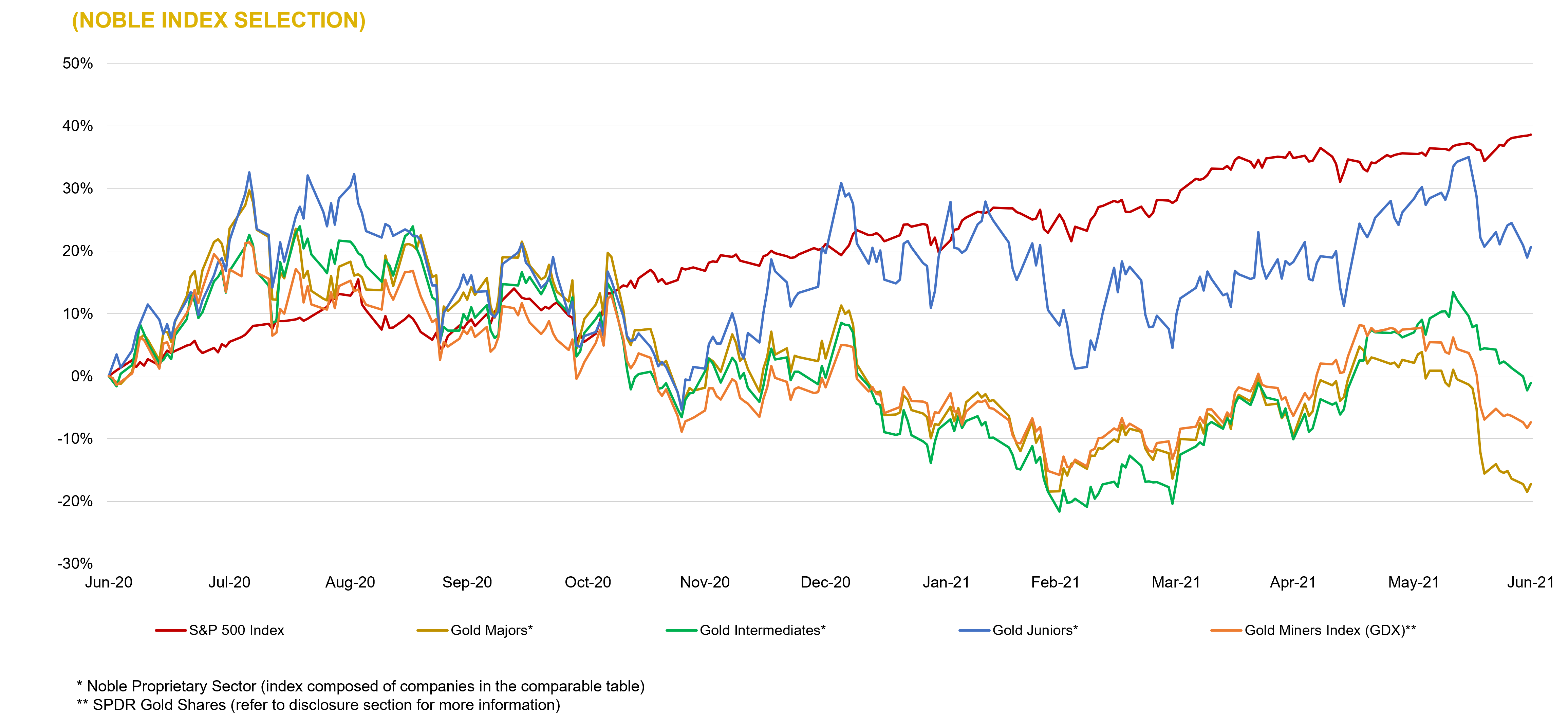 Source: Capital IQ as of 06/30/2021
Silver Mining - Comparable Tables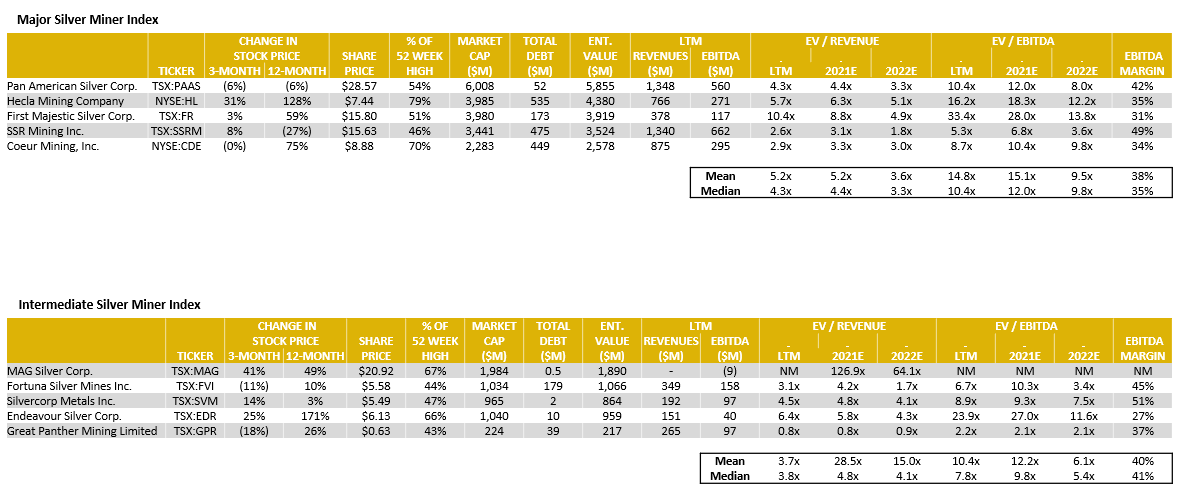 Source: Capital IQ as of 06/30/2021
Silver Mining - LTM Equity Performance
Source: Capital IQ as of 06/30/2021
Gold & Silver - LTM Global M&A Activity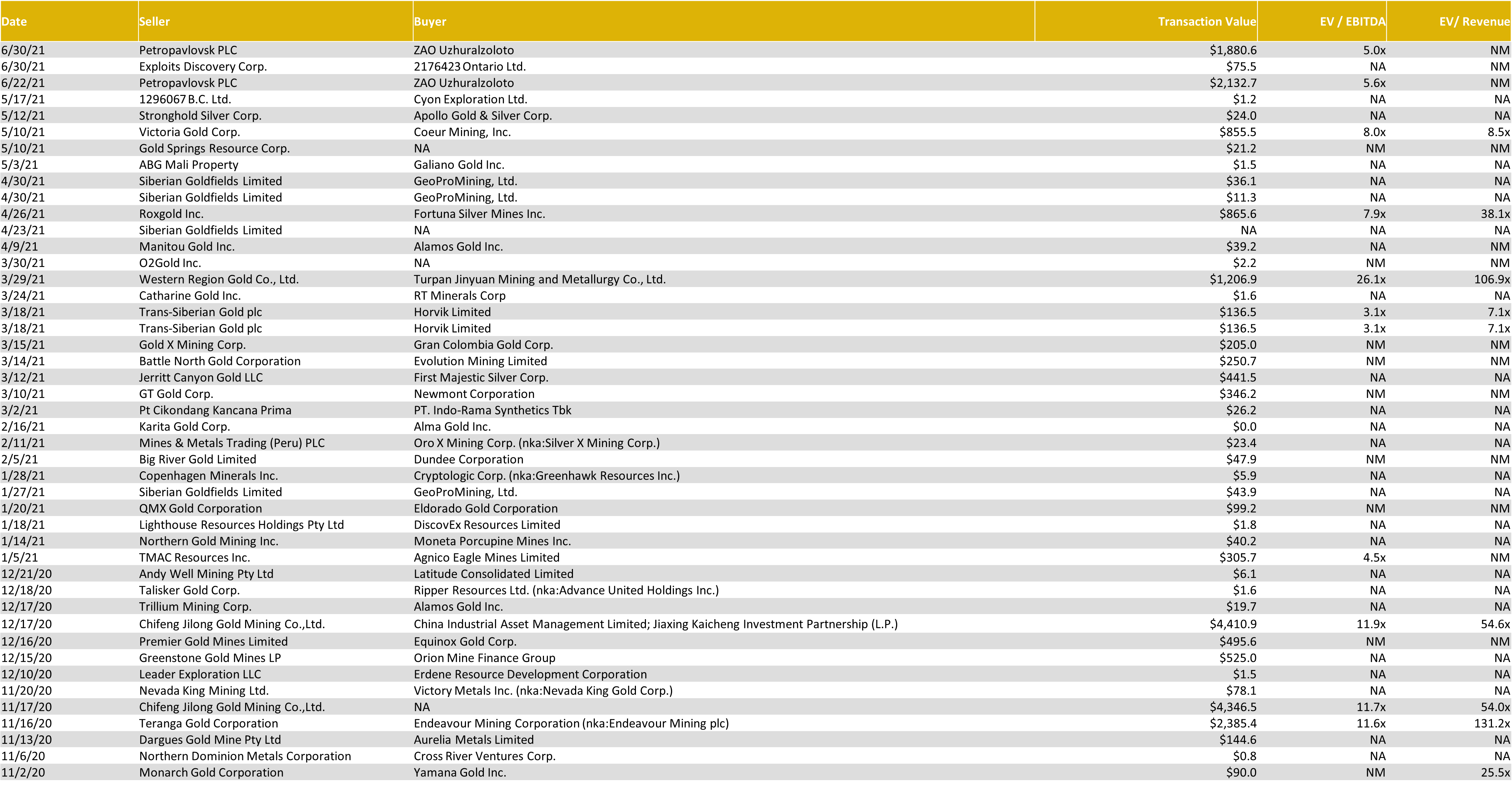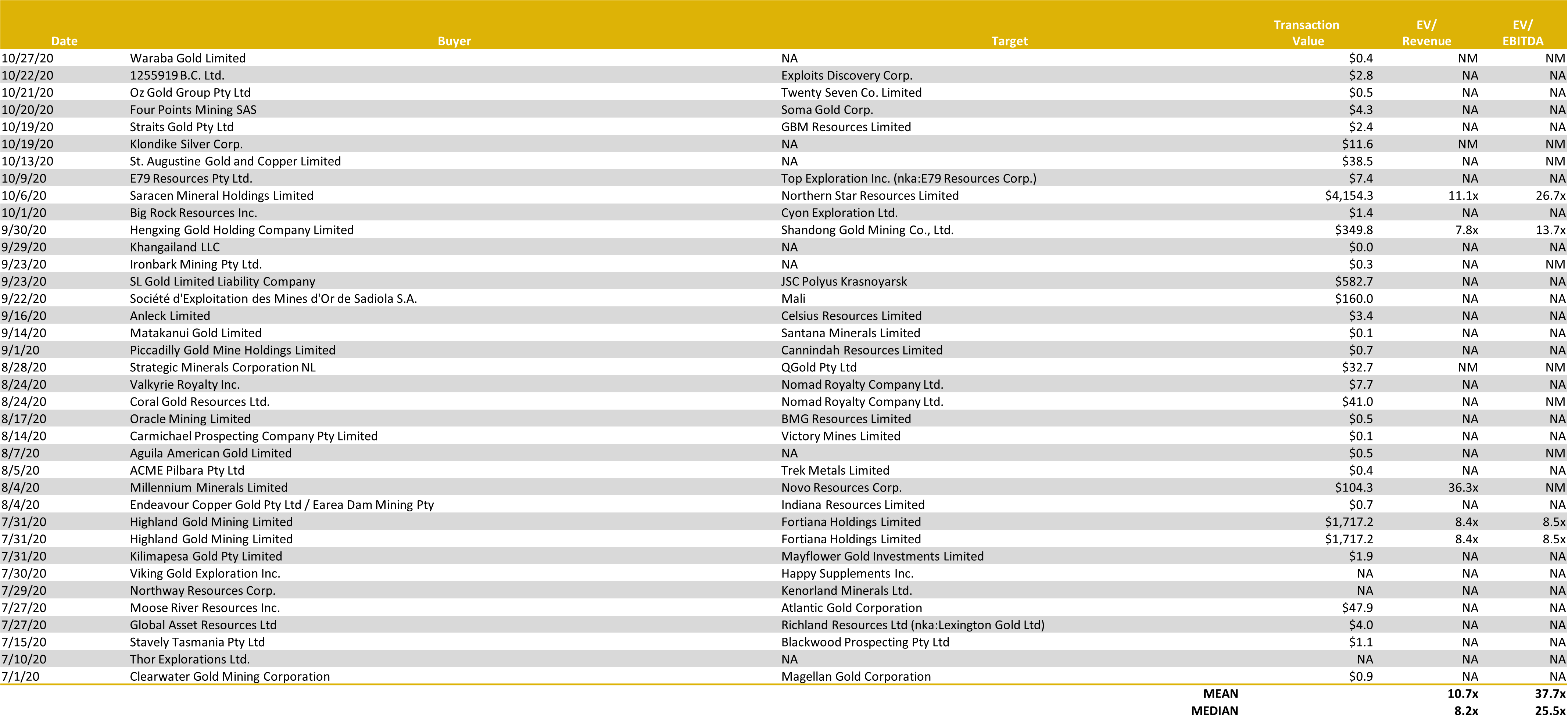 Source: Capital IQ as of 06/30/2021
Diversified Mining - Comparable Tables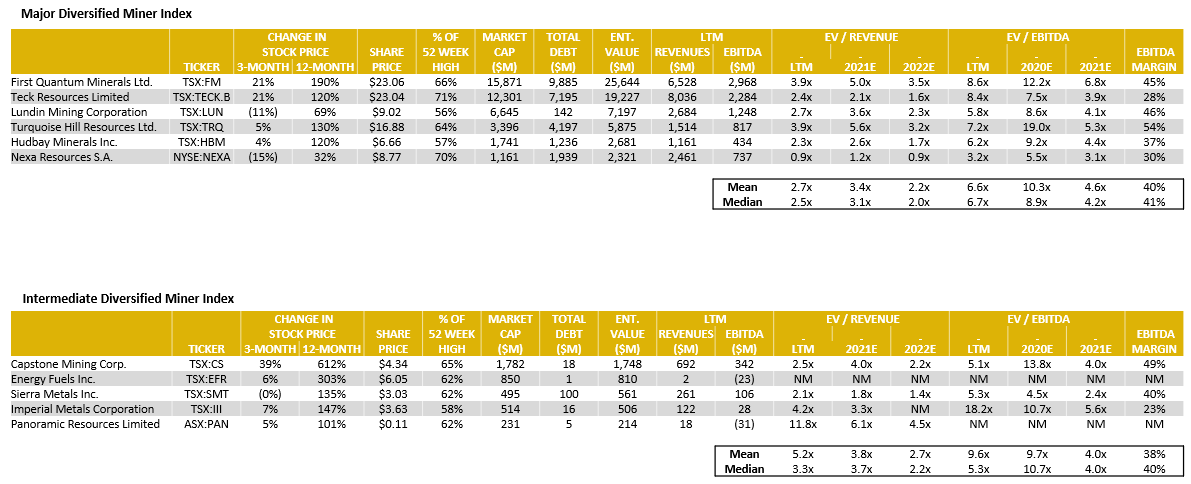 Source: Capital IQ as of 06/30/2021
Diversified Mining - LTM Equity Performance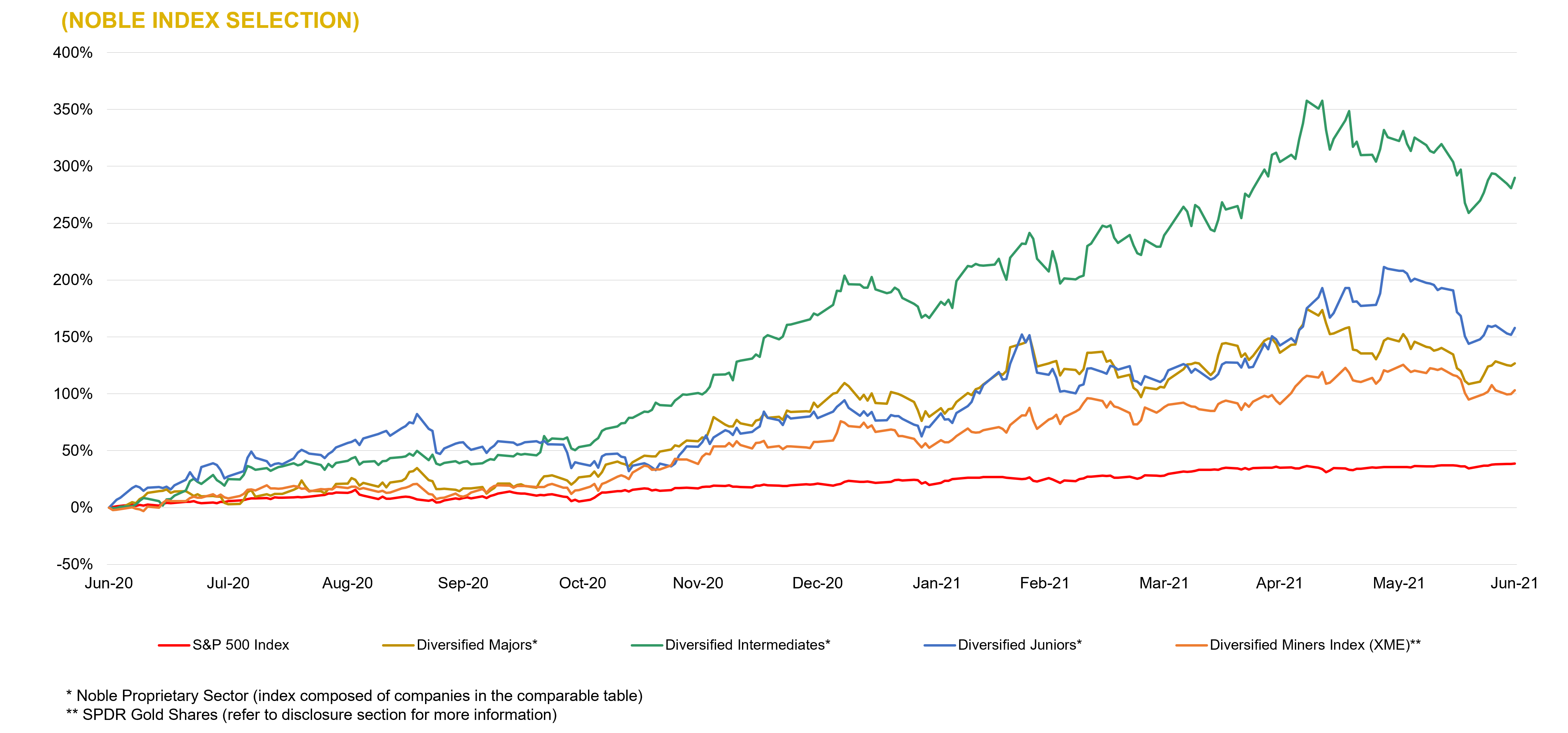 Source: Capital IQ as of 06/30/2021
Diversified Mining - LTM Global M&A Activity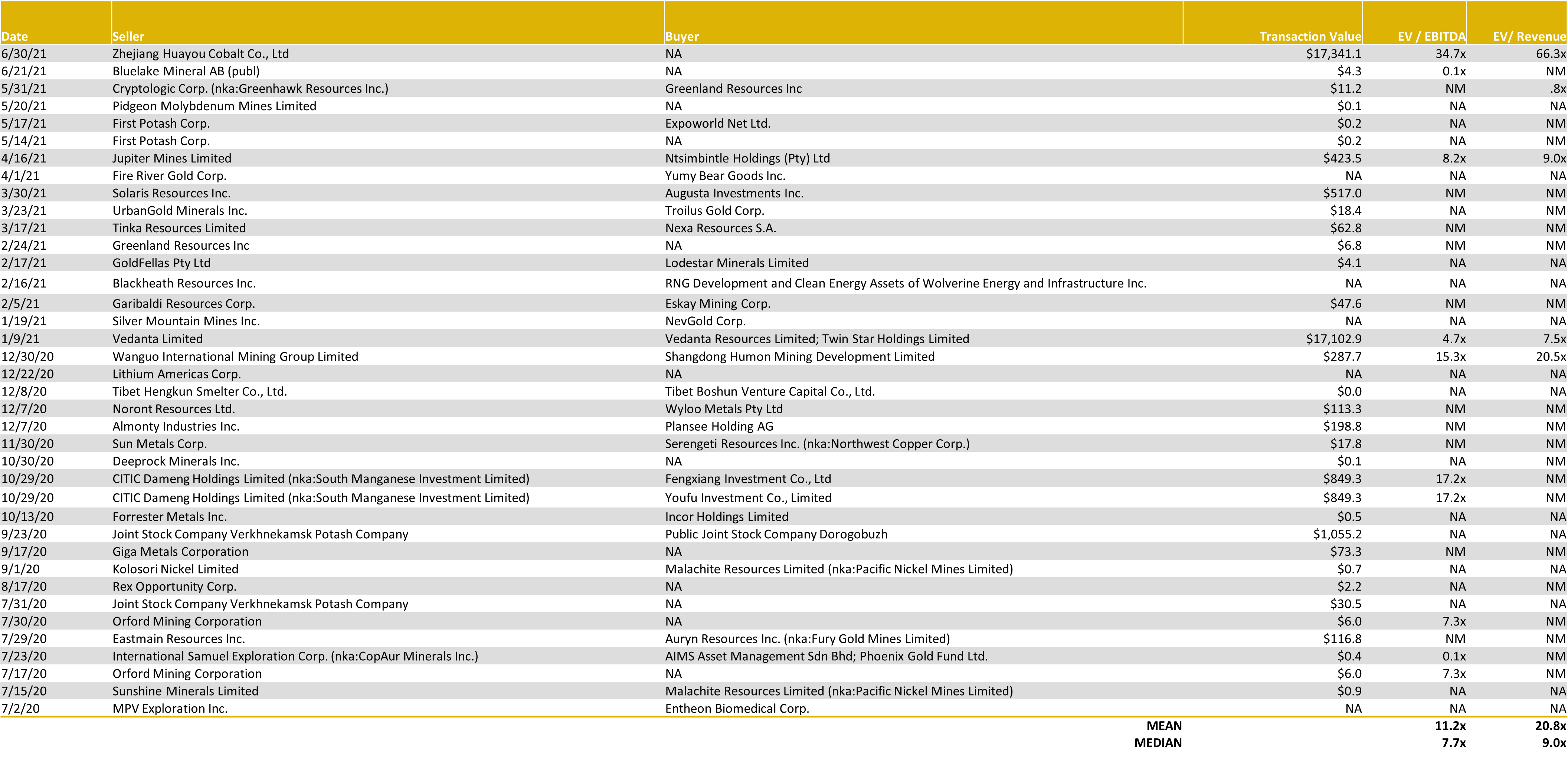 Source: Capital IQ as of 06/30/2021
LTM Mining Industry M&A Summary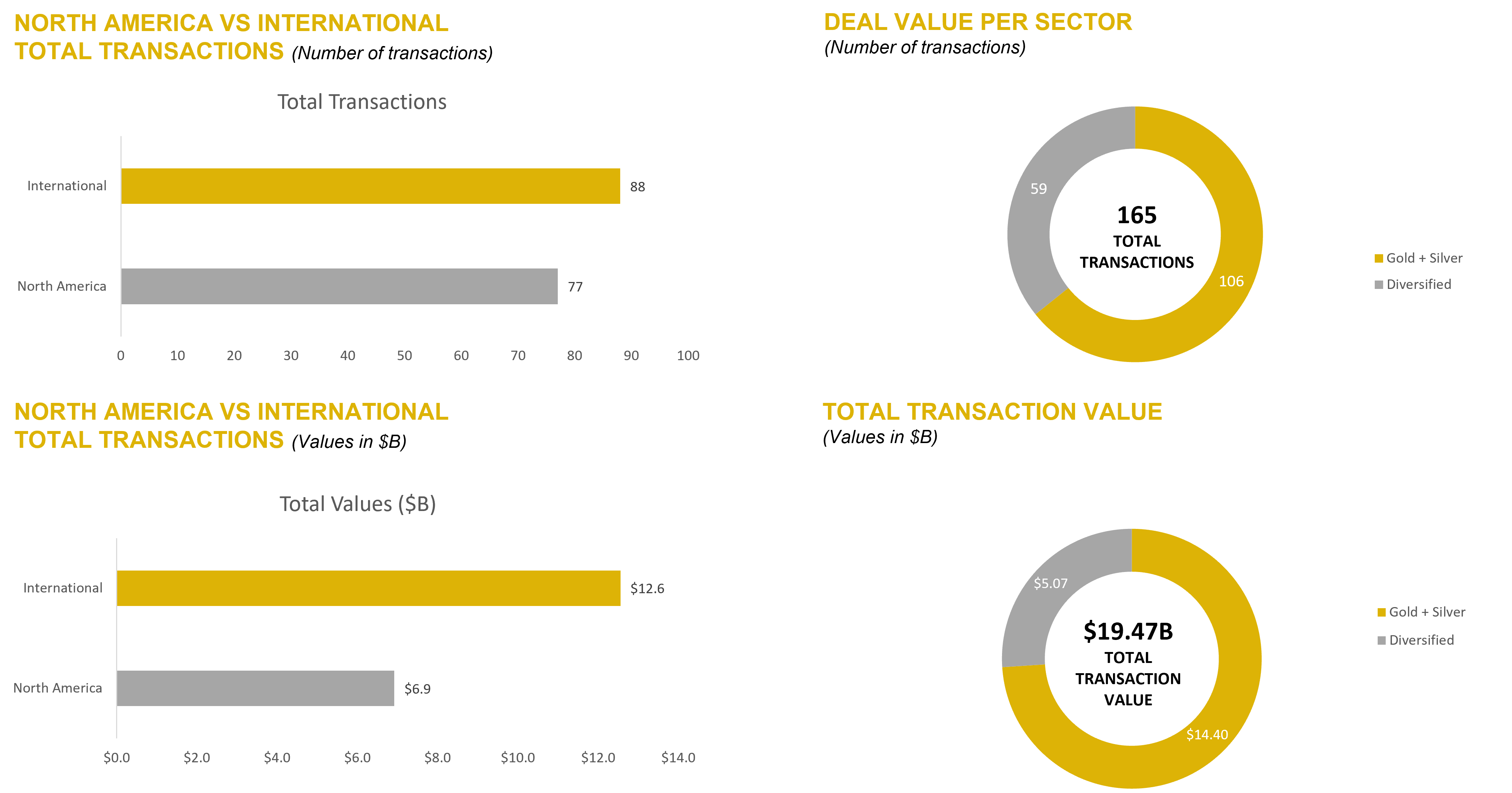 Source: Capital IQ as of 06/30/2021
NOBLE QUARTERLY HIGHLIGHTS
Sailfish Royalty Corp. - CDX: FISH
Industry: Metals and Mining – Precious metals; Gold & Silver
Sailfish is a precious metals royalty and streaming company. Within Sailfish's portfolio are three main assets on advanced stage projects in the Americas: a gold stream equivalent to a 3% NSR on the San Albino gold project (~3.5 sq. km) and a 2% NSR on the rest of the area (~134.5 sq. km) surrounding San Albino in northern Nicaragua; an up to 2.75% NSR on the Tocantinzinho gold project in the prolific Tapajos district of northern Brazil; and an up to 3% NSR on the multi-million-ounce Spring Valley gold project in Pershing County, Nevada.
2nd Quarter News Highlights:
May 12, 2021: Sailfish received the remaining US$3 million from the monetization of a portion of the NSR on the Tocantinzinho Gold Project, located in northern Brazil, and receives first delivery from the San Albino Gold stream, which is in northern Nicaragua. The company's CEO stated that, "the receipt of the final cash payment from the Transaction and the first delivery from the San Albino gold stream will further bolster the Company's balance sheet and provide the means to continue repurchasing shares, facilitate the planned spinout of the Gavilanes silver property and explore paying a dividend."
Great Bear Resources Ltd. - OTCQX: GTBAF
Industry: Metals and Mining – Precious metals; Gold
Great Bear Resources Ltd. is a well-financed gold exploration company managed by a team with a track record of success in mineral exploration. Great Bear is focused in the prolific Red Lake gold district in northwest Ontario, where the company controls over 330 km2 of highly prospective tenure across 5 projects: the flagship Dixie Project (100% owned), the Pakwash Property (earning a 100% interest), the Dedee Property (earning a 100% interest), the Sobel Property (earning a 100% interest), and the Red Lake North Property (earning a 100% interest) all of which are accessible year-round through existing roads.
2nd Quarter News Highlights:
April 7, 2021: The Company announced the addition of a 6th drill to the flagship Dixie Project located at Red Lake district of Ontario. Great Bear's primary focus remains infill and expansion drilling of the LP Fault zone at 25 – 75 metre centres. However, there remain large undrilled gaps of 100 – 400 metres between existing drill holes in several areas of the LP Fault, and within the other Dixie Project gold zones where step-out and step-down drilling have already successfully expanded the zones, all of which remain open to extension.
Garibaldi resources Corp. - OTC: GGIFF
Industry: Metals and Mining – Diversified metals and mining
Garibaldi Resources Corp. is an active Canadian-based junior exploration company focused on creating shareholder value through discoveries and strategic development of its assets in some of the most prolific mining regions in British Columbia and Mexico.
2nd Quarter News Highlights:
June 11, 2021: Garibaldi Resources announced the addition of key claims expanding the Company's Otter Creek lode gold prospect to 8,704 total hectares within the Atlin Gold fields. The Otter Creek claims are located 12 kms east of Atlin in northwest British Columbia. Atlin has been a rich placer gold mining district since the Klondike gold rush from the mid 1800's to the present day, rivalling Barkerville during the Cariboo gold rush. Until recently, the source of Atlin's coarse gold placers had remained elusive. Significantly, Garibaldi's geology team considers the expanded claims package covering the Otter Creek placers as an important exploration priority.
Source: Company Press Releases
DOWNLOAD THE FULL REPORT (PDF)
Noble Capital Markets Metals & Mining Newsletter Q2 2021

This newsletter was prepared and provided by Noble Capital Markets, Inc. For any questions and/or requests regarding this newsletter, please contact >Francisco Penafiel
DISCLAIMER
All statements or opinions contained herein that include the words " we"," or " are solely the responsibility of NOBLE Capital Markets, Inc and do not necessarily reflect statements or opinions expressed by any person or party affiliated with companies mentioned in this report Any opinions expressed herein are subject to change without notice All information provided herein is based on public and non public information believed to be accurate and reliable, but is not necessarily complete and cannot be guaranteed No judgment is hereby expressed or should be implied as to the suitability of any security described herein for any specific investor or any specific investment portfolio The decision to undertake any investment regarding the security mentioned herein should be made by each reader of this publication based on their own appraisal of the implications and risks of such decision This publication is intended for information purposes only and shall not constitute an offer to buy/ sell or the solicitation of an offer to buy/sell any security mentioned in this report, nor shall there be any sale of the security herein in any state or domicile in which said offer, solicitation or sale would be unlawful prior to registration or qualification under the securities laws of any such state or domicile This publication and all information, comments, statements or opinions contained or expressed herein are applicable only as of the date of this publication and subject to change without prior notice Past performance is not indicative of future results.
Please refer to the above PDF for a complete list of disclaimers pertaining to this newsletter