Companies by Sector
More than 6000 listed
Communication Services
Telecommunication Services
Consumer Cyclical
Advertising & Marketing Services
Furnishings, Fixtures & Appliances
Homebuilding & Construction
Manufacturing - Apparel & Accessories
Manufacturing - Apparel & Furniture
Retail - Apparel & Specialty
Consumer Defensive
Beverages - Non-Alcoholic
Financial Services
Diversified Financial Services
Healthcare
Healthcare Providers & Services
Medical Devices & Instruments
Medical Diagnostics & Research
Medical Instruments & Equipment
Industrials
Farm & Heavy Construction Machinery
Transportation & Logistics
Utilities
Utilities - Independent Power Producers


Michael Burry Tweets Advice on Cryptocurrencies, Stocks, Inflation, and Government Bailouts – Then Bails Out
Following Michael Burry on Twitter as well as other market movers like Elon Musk and The White House has allowed for turns in investment trends to be caught early, or at least at the source. Some of the volatile and quick shifts in thinking on stocks, cryptocurrencies, and even US Treasuries can at times be traced back to a Tweet by well-followed individuals, or government entity.
Michael Burry, made famous by his big short of real estate debt before the mortgage crisis is among the favorites at Channelchek. He's usually understated, often shares his thoughts by retweeting someone elses, and he's also favored because for most of 2020 one of our most read articles was written about Dr. Michael J. Burry's tweets.
Yesterday, (June 21) Michael Burry deleted his Twitter account. I've followed him long enough to know that he will be back, but that may take months. Leading up to his cutting himself off he discussed inflation risks by tweeting excerpts from Dying of Money: Lessons of the Great German and American Inflations. It's a book released in February about the circumstances leading to inflationary eras.
Below are a few of the excerpts tweeted just a day before Burry cut himself off.
"Speculation alone, while adding nothing to Germany's wealth, became one of its largest activities. The fever to join in turning a quick mark infected nearly all classes. Everyone from the elevator operator up was playing the market."
"The volumes of turnover in securities on the Berlin Bourse became so high that the financial industry could not keep up with the paperwork...and the Bourse was obliged to close several days a week to work off the backlog" #robinhooddown
"all the marks that existed in the world in the summer of 1922 were not worth enough, by November of 1923, to buy a single newspaper or a tram ticket. That was the spectacular part of the collapse, but most of the real loss in money wealth had been suffered much earlier."
Last-Minute Investment Advice from Burry
As part of what his followers are calling a tweet-storm where he warned of a colossal bubble in asset prices and predicted the worst crash in history, he also gave less alarmist advice on cryptocurrencies, stocks, inflation, and government bailouts.
Burry, who is the head of Scion Asset Management, cautioned that bitcoin was overpriced and that a dangerous borrowing binge had fueled the crypto boom. He described the Federal Reserve as a "misguided monster" relaying its job is not to prop up markets. And he showed news reports of supply shortages and hoarding as evidence of a mounting inflation threat.
Among his investment tip tweets he wrote:
"Analyze, think independently, be informed, find the data, and you'll know a lot that no one else does,"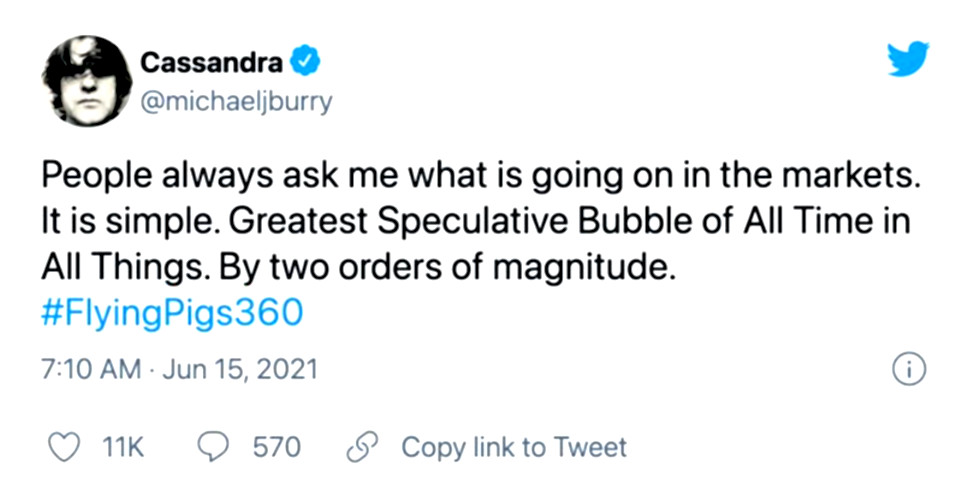 Monday's last tweet before closing his account, under the blue check-marked name Cassandra, was his loudest warning.
"People always ask me what is going on in the markets. It is simple. Greatest Speculative Bubble of All Time in All Things. By two orders of magnitude. #FlyingPigs360"
We look forward to him returning when he's ready.
Paul Hoffman
Channelchek, Managing Editor
Suggested Reading:
Sources:
https://markets.businessinsider.com/currencies/news/big-short-michael-burry-deletes-twitter-predicts-epic-market-crash-2021-6-1030542360
https://www.amazon.com/Books-Jens-O-Parsson/s?rh=n%3A283155%2Cp_27%3AJens+O.+Parsson
Stay up to date. Follow us: