Image: BJClayborn (Flickr)

Pelosi's Recent Investment Portfolio Tweaks

House Speaker Nancy Pelosi's husband, financier Paul Pelosi, has had remarkable stock-picking success. This hasn't gone unnoticed by coattail investors and others that peruse the couple's investment transactions for ideas. Nancy Pelosi's wealth, in part because of her spouse's investment track record, is now listed as 13th among the wealthiest members of Congress. This is why others look to see where they are committing assets.
Background
So-called coat tail or copycat investors that follow hedge fund managers and other professional investors often have to wait 45 days for a quarterly filing to be made public. This makes some of the listed transactions as ancient as 135 days old by the time they become public information. Perhaps too old to act on, the positions may no longer even be held in the portfolio.
Congress and close family members are required to release information concerning their transactions within 45 days of the trade execution. This provides much more current information on a member of Congress' account than a quarterly 13F filing by Ark Invest or Scion Capital does. The most recent Periodic Transactions Report of the Pelosi's is comprised of investments all made in late January.
Holdings Changes
From January 21- January 27 there was $2.9m of large tech and financial firms added to Pelosi's assets. They were Alliance Bernstein (AB), American Express (AXP), Apple (AAPL), Paypal (PYPL), and Walt Disney (DIS). There was nothing reported to suggest that they lowered their holding in previous high flyers, Slack (WORK), Tesla (TSLA), Alphabet (GOOGL), Facebook (FB), or Netflix (NFLX)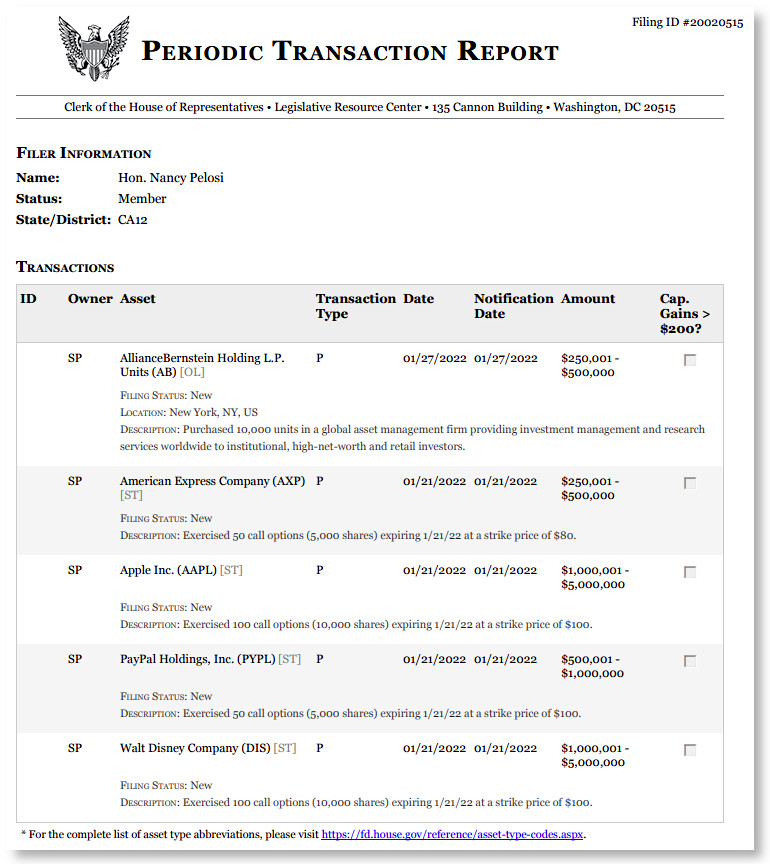 Image: Paul Pelosi's Stock Act filing (January 2022)
Related News
The latest transaction report comes at a time when actions are being discussed by lawmakers that could require members of Congress and their spouses to be barred from trading individual stocks. A House panel is meeting on March 16th to debate the merits of a Congressional ban on trading and what any trading rules should include. Similar restrictions have been placed on officials at the Federal Reserve.
Representative Lofgren chairs the House Administration Committee; he has been compiling recommendations on how best to enact a ban. The House leadership, steered by Speaker Pelosi, will then have the final decision on how to proceed. Other laws covering members and staff, such as the Ethics in Government Act, are expected to be reviewed as well.
Take-Away
Copycat investing is easiest if you're mimicking a lawmaker as their reporting is more frequent than SEC-regulated money managers. One of the most successful accounts in Congress is that of the Pelosis. The opportunity to follow lawmakers' trades may one day come to an end as lawmakers are looking to ban themselves from trading in stocks. Should this ever come to be, this method for self-directed traders to discover ideas will come to an end.
Managing Editor, Channelchek
Suggested Reading
Sources
https://www.investopedia.com/terms/c/coattailinvesting.asp
https://email.punchbowl.news/t/ViewEmail/t/FA92DBE67DB478132540EF23F30FEDED/BCD22D0840B16355A0F01D70678E0DEE
https://www.businessinsider.com/nancy-pelosi-discloses-stock-trades-amid-calls-trading-ban-congress-2022-3

Stay up to date. Follow us: