Platinum and Palladium Pricing for the Foreseeable Future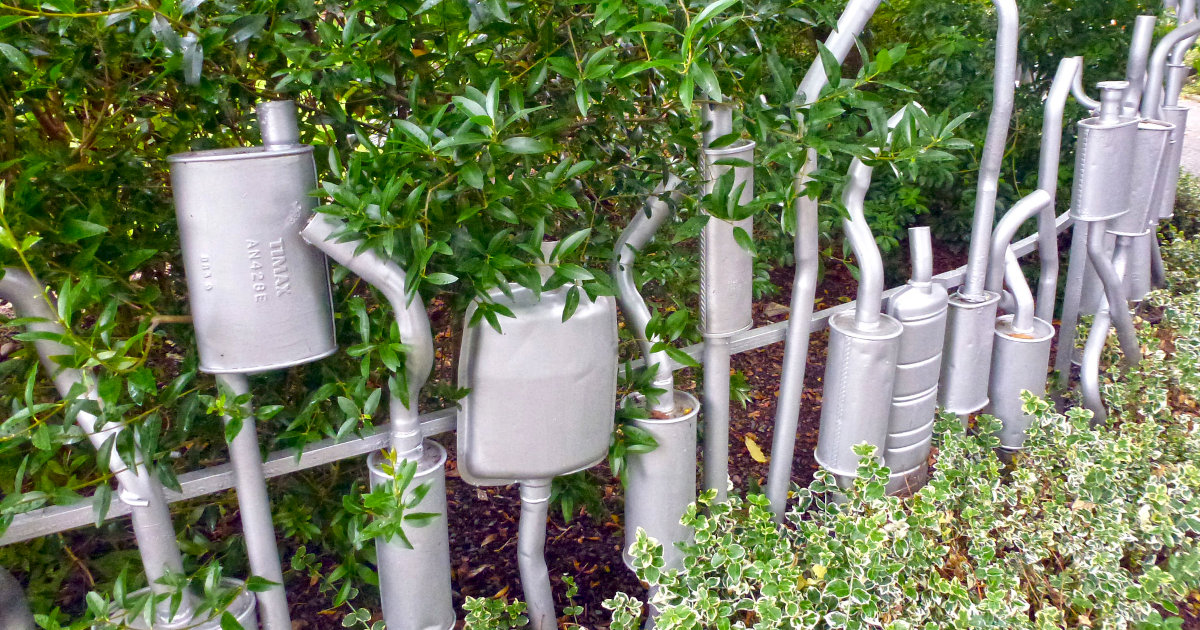 Supply and Demand Fundamentals for Platinum and Palladium
What are Platinum Group Metals?
Platinum group metals include platinum, palladium, rhodium, ruthenium, osmium, and iridium. Efforts to reduce carbon-dioxide emissions are boosting demand for platinum group metals, including palladium and platinum, for use in autocatalysts. In 2020, platinum and palladium futures prices rose 11.1% and 28.4% to finish the year at $1,079.50 and $2,455.50 per ounce, respectively. Year-to-date through March 26, 2021, platinum futures prices increased 10.3% to $1,191.10 per ounce, while palladium futures prices increased 9.1% to $2,680.00 per ounce. Notably, palladium is experiencing a multi-year supply deficit. Palladium is mined primarily in Russia and South Africa and mostly extracted as a by-product from mining other metals, including platinum and nickel. Platinum's share of the autocatalyst market has fallen over the last fifteen years due to the adoption of palladium-rhodium catalysts in most cars that use gasoline and a move away from diesel automobiles that use platinum. However, given the price differential, some switching may occur, although car manufacturers seem more focused on advancing electric vehicles than making changes to a catalytic converter's cost. Most realize that such a switch is just likely to result in higher platinum prices, and the burdens of making the change may not be worth the cost savings.
Supply and Demand Fundamentals
Johnson Matthey, a global leader in sustainable technologies and the largest fabricator and recycler of platinum group metals, publishes a monthly supply and demand outlook for platinum group metals. The company recently formed a strategic partnership with Sibanye-Stillwater, a leading precious metals mining company, to identify and develop solutions to propel decarbonization and the more efficient use of critical metals such as platinum group metals and metals used in battery technology. The partnership is expected to support the development of technologies for new products and markets to underpin sustainable supply chains for a low carbon future, including hydrogen production and fuel cells.
Johnson Matthey expects supply and demand for platinum group metals to recover towards pre-pandemic levels during 2021, assuming COVID-19 disruption eases. With respect to demand, automotive platinum group metals demand is expected to increase 13%, reflecting a strong recovery in light vehicle production and the implementation of China VI legislation enforcing the use of platinum group metal catalysts on heavy-duty diesel trucks. Furthermore, industrial demand is expected to remain strong, with chemical manufacturers expected to reach record levels. Johnson Matthey expects the palladium and rhodium markets to remain in deficit, while the market balance for platinum may hinge on jewelry and investment demand. Additionally, platinum's discount to gold may spur greater demand, along with greater use in gasoline autocatalysts and fuel cells.
The table below illustrates the supply and demand for platinum and palladium for the years 2018 through 2020.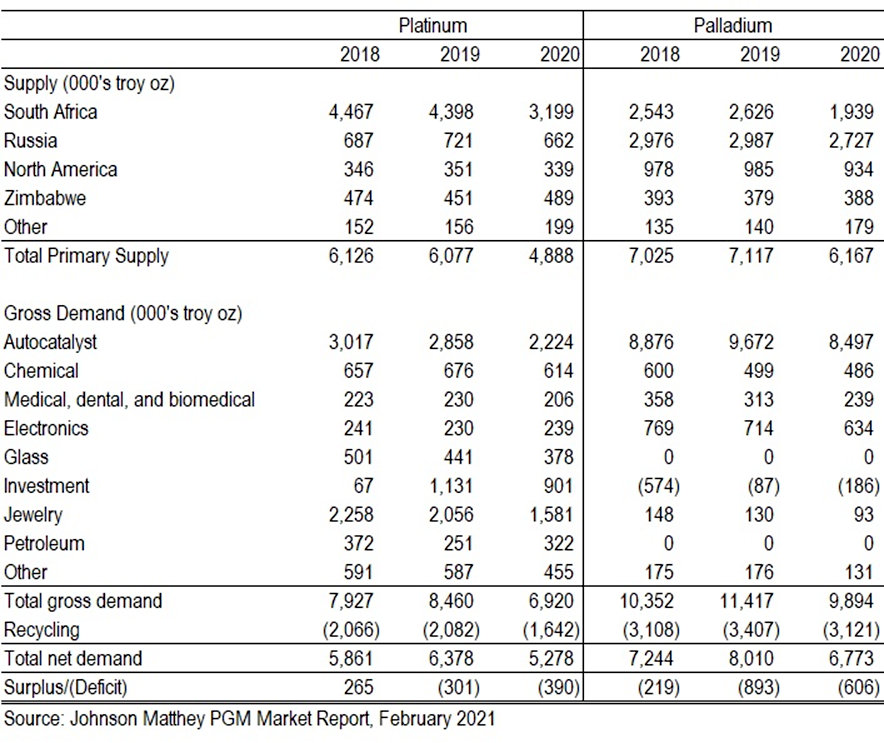 What is evident from the table is that both metals are in supply deficit and that demand for palladium as a material for autocatalysts materially exceeds total supply. End-use markets are still largely dependent on supplies from South Africa and Russia for supplies, although for manufacturers of emissions control equipment, palladium supplies are more readily available from North American sources than platinum. Given the expected growth in demand and the long lead time for bringing new supply to the market, prices could remain strong for the foreseeable future.
Electric Vehicles Represent a Threat?
The evolution to carbon-free vehicles will likely take some time and investors should expect twists and turns when it comes to predicting the winning technology. For now, it seems that internal combustion engine vehicles may be with us for a while, along with hybrid vehicles, and both use palladium and platinum. Battery technology is making rapid advances, although the materials used in those batteries are likely to continue to evolve. What does seem likely is that due to the expected growth in demand for platinum group metals juxtaposed against limited sources of supply, pricing appears durable for the foreseeable future.
While metals associated with batteries for electric vehicles do not include palladium or platinum, demand for platinum could benefit from advancements in fuel cell technology. An interesting article in the Wall Street Journal raised the question of whether hydrogen fuel cells could become more mainstream as a low carbon power source for vehicles. Hydrogen fuel cell technology uses platinum, given its ability to withstand higher temperatures than other metals. According to the article, a fuel cell needs platinum for the catalyst that separates hydrogen into protons and electrons, which then generate the electrical current, making it an alternative to battery-powered vehicles. Of course, much like materials used for batteries, fuel cell companies will seek to hit on a combination of materials that optimize performance and lower cost, which may result in efforts to either reduce or eliminate the use of platinum in favor of lower-cost or more widely available materials.

Take-Away
The supply and demand fundamentals for platinum group elements remain quite attractive. Large and high-grade deposits are becoming more difficult to find, particularly in favorable mining jurisdictions. As a result, new sources of palladium supply are needed to meet demand and help achieve stricter air quality standards. Thinking more broadly, the long-term outlook for platinum group metals, along with battery metals such as cobalt, copper, lithium, and nickel demand remains favorable due to increasingly more stringent emissions standards and expected usage associated with the move toward electrification and clean energy technologies, including electric vehicles, solar power, and fuel cells.
More to Discover on Channelchek:
Sources:
Johnson Matthey and Sibanye-Stillwater form a Strategic Partnership to Secure Critical Metals and Accelerate New Technologies for a Low Carbon Future, Press Release, Johnson Matthey, March 19, 2021.
Pgm Market Report, Johnson Matthey, Alison Cowley et al., February 2021
Fuel Cell Technology Lets Platinum Miners Shine Again, The Wall Street Journal, Alexandra Wexler, March 25, 2021.
For Hydrogen Fuel Cells, Mundane Materials Might be Almost as Good as Pricey Platinum, Princeton University, Office of Engineering Communications, Jen A. Miller, June 17, 2019.
New Catalyst Resolves Hydrogen Fuel Cell Cost, Longevity Issues, The Source, Washington University in St. Louis, December 3, 2020.
Stay up to date. Follow us:
Company
Ticker
Price
Previous
Mkt Cap
Volume
52wk Range
Palladium One Mining Inc
NKORF (OTO)
$0.18
$46.31M
0
$0.13 - $0.31
Fundamental Analysis
Rating
Wellgreen Platinum Ltd
NCPCF (OTCQB)
$0.08
$29.48M
0
$0.05 - $0.13
Platinum Group Metals Ltd. (Canada)
PLG (AMERA)
$2.07
$198.50M
0
$1.44 - $5.34
Grid Metals Corp.
MSMGF (OTCQB)
$0.17
$18.04M
0
$0.07 - $0.23