Companies by Sector
More than 6000 listed
Communication Services
Telecommunication Services
Consumer Cyclical
Advertising & Marketing Services
Furnishings, Fixtures & Appliances
Homebuilding & Construction
Manufacturing - Apparel & Accessories
Manufacturing - Apparel & Furniture
Retail - Apparel & Specialty
Consumer Defensive
Beverages - Non-Alcoholic
Financial Services
Diversified Financial Services
Healthcare
Healthcare Providers & Services
Medical Devices & Instruments
Medical Diagnostics & Research
Medical Instruments & Equipment
Industrials
Farm & Heavy Construction Machinery
Transportation & Logistics
Utilities
Utilities - Independent Power Producers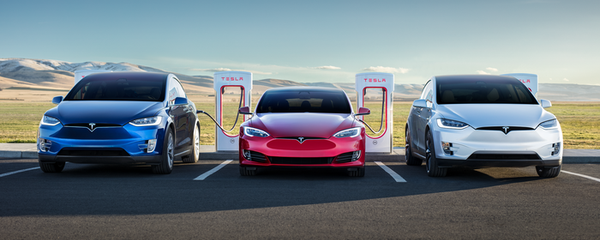 BATTERIES INCLUDED – Tesla's EV Revolution and Materials Suppliers
While Tesla is perhaps best known for its electric cars, its solar panel, solar roof, and Powerwall product offerings make it a leader in advancing and commercializing distributed energy technologies. The key to its products is raw materials. Because batteries are a central part of the electric car revolution, Tesla has been working to optimize the design of its batteries to achieve high energy density at decreasing costs while maintaining safety, reliability, and increasing longevity. At the company's Gigafactory in Nevada, Tesla works with suppliers to integrate battery material, cell, module, and battery pack production in one location. The company may scale up its factories using automated manufacturing processes to reduce labor costs and increase scale. While electric vehicles are in their infancy, improved battery technology could be key to increased customer adoption, much as improved battery technology helped expand the market for mobile communications.
What are the Components of an EV Battery?
Most electric vehicle batteries are lithium-based and include a mix of cobalt, manganese, nickel, graphite, and other components. Based on the growth potential, many companies are researching different battery chemistries to optimize battery technologies using components that are the most widely available at the lowest cost. For example, the Democratic Republic of Congo supplies roughly 60% of the global supply of cobalt. This is problematic for many companies, given that the DRC has a poor human rights track record. Many companies, including Tesla, are thinking hard about the importance of securing future supplies of raw materials and how their supply chains are configured. In the past, Tesla has committed to sourcing materials only from North America for its battery production facility. Battery supplier LG Chem claims to have stopped using conflict-sourced cobalt and seeks to produce cathodes with lower proportions of cobalt such as 80% nickel and 10% cobalt, known as NMC 811. Tesla now produces nickel-cobalt-aluminum (NCA) batteries with Panasonic in Nevada and purchases NMC batteries from LG Chemical. Tesla's first Model S, launched in 2012, was built with an average of 11 kilograms of cobalt per vehicle. The Model 3, launched in 2018, used about 4.5 kilograms of cobalt. The reduction was achieved using nickel-cobalt-aluminum chemistry. Earlier this year, Tesla executed an agreement with Contemporary Amperex Technology Co. Ltd. (CATL) to supply batteries for the Model 3 produced at the company's Gigafactory in Shanghai where cars are produced for the local market.
What Could Disrupt Tesla's Vision?
The United States is increasingly dependent on imports to meet its raw materials. China now dominates the production of many critical minerals, including graphite and magnesium. China is the third-largest supplier of natural resources to the United States behind Canada and Mexico. While Australia accounts for over 40% of global lithium production, China has been increasing its influence in the global lithium market by making deals to secure future supplies. As mentioned earlier, the DRC is the largest source of cobalt supplies. As part of a strategy to ensure secure and reliable supplies of critical minerals, the U.S. Department of the Interior identified 35 critical minerals, including aluminum (bauxite), cobalt, graphite, and lithium. Tesla executives have expressed concerns about underinvestment in the mining sector and its impact on future supplies of nickel, copper, and other electric-vehicle battery components. Securing long-term supplies of critical raw materials will help protect both the United States and Tesla's ability to lead in distributed energy advancements.
What Will Be Tesla's Big Reveal?
While we expect Tesla to showcase advancements in its battery and powertrain technologies, we think investors will also want the company to address its plans for sourcing key raw materials and designing its supply chain to avoid disruption. Tesla's products use various raw materials, including aluminum, steel, cobalt, lithium, nickel, and copper. The prices for these materials fluctuate, and supplies may be unstable depending on market conditions and global demand for these materials. Assuring reliable supplies of raw materials while meeting ethical considerations with respect to sourcing, meanwhile advancing a battery design that minimizes environmental impact, may be just as important as the battery's commercial aspects. Recycling may also be a theme in addition to integrating the car battery with the electric grid and Tesla's other products, including the Powerwall. Tesla's "Battery Day" (September 15), which should unveil new battery technologies, could also be the catalyst for investors to begin paying more attention to long-term supply and demand trends for the materials that underpin its products.
Suggested Reading:
Virtual Power Plants and Tesla Car Batteries
Is Elon Musk's Battery Day Losing its Charge?
Cobalt and Rare Earth Metals from the Ocean Floor Eyed to Meet Growing Battery Demand
Enjoy Premium Channelchek Content at No Cost
Sources:
Annual Report, Form 10-K, Tesla, Inc., Fiscal Year Ended 2019.
Electric Vehicle Batteries: Materials, Cost, Lifespan, Union of Concerned Scientists, March 9, 2018.
The World's Biggest Cobalt Producing Countries, NS Energy Staff Writer, May 4, 2019.
A Million Mile Battery from China Could Power Your Electric Car, Bloomberg, John Liu, Chunying Zhang, Martin Ritchie and David Stringer, June 7, 2020.
A Federal Strategy to Ensure Secure and Reliable Supplies of Critical Minerals, Executive Office of the President, December 20, 2017.
Final List of Critical Minerals 2018, Office of the Secretary, Interior, May 18, 2018.
The New Energy Era: The Impact of Critical Minerals on National Security, Markets Insider, Nicholas LePan, April 28, 2020.
Cutting Battery Industry's Reliance on Cobalt will be an Uphill Task, The Guardian, Jasper Jolly. January 5, 2020.
Tesla Expects Global Shortage of Electric Vehicle Battery Minerals, Reuters, Ernest Scheyder, May 2, 2019.
Tesla's Secret Batteries Aim to Rework the Math for Electric Cars and the Grid
, Reuters, Norihiko Shirouzu and Paul Liebert, May 14, 2020.
Company
Ticker
Price
Previous
Mkt Cap
Volume
52wk Range
Lithium Corp
LTUM (OTCQB)
$0.30
$30.36M
0
$0.18 - $0.52
Advanced Market Data
()
Detailed Quote
Charts
Statistics
Financials
Historical Quotes
Insider Activity
Key Ratios