Companies by Sector
More than 6000 listed
Communication Services
Telecommunication Services
Consumer Cyclical
Advertising & Marketing Services
Furnishings, Fixtures & Appliances
Homebuilding & Construction
Manufacturing - Apparel & Accessories
Manufacturing - Apparel & Furniture
Retail - Apparel & Specialty
Consumer Defensive
Beverages - Non-Alcoholic
Financial Services
Diversified Financial Services
Healthcare
Healthcare Providers & Services
Medical Devices & Instruments
Medical Diagnostics & Research
Medical Instruments & Equipment
Industrials
Farm & Heavy Construction Machinery
Transportation & Logistics
Utilities
Utilities - Independent Power Producers

Red-hot Biotech Stocks Boosting Small Cap Indexes in Q4
(Note: companies that could be impacted by the content of this article are listed at the base of the story [desktop version]. This article uses third-party references to provide a bullish, bearish, and balanced point of view; sources are listed after the Balanced section.)
Redhot Biotech Stocks Boosting Small Cap Indexes in Q4
As of December 3, Russell 2000 Index (RUT, +7.3), which is a benchmark for small-cap stocks, is outperforming the S&P 500 (SP50, +5.2%) and Russell 3000 (RUA, +5.5%) benchmark indices in Q4 2019 (Exhibit 1). The Russell 2000 Index is a market-capitalization weighted index measuring the performance of approximately 2,000 small cap American companies in the Russell 3000 Index, which includes 3,000 largest cap U.S. stocks (adjusted annually).
Exhibit 1: Russell 2000 Relative Price Performance, Q4 2019 (as of 12/3/2019)

Source: CapitalIQ
The Russell 2000 index achieved a new 52-week high on November 27 (1,634.1). The strong performance is primarily attributed to the strength in the biotechnology and financial sectors. Biotechnology is a major driver for recent gains. These sectors are heavily weighted in the Russell 2000 index with 26% for financials and 15% healthcare (Exhibit 2).
Exhibit 2: Sector Weightings for The Russell 2000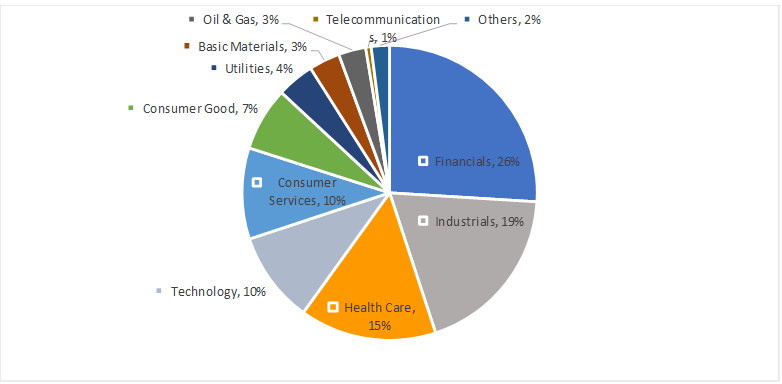 Source: New York University Stern School of Business, FTSE Russell
Thus far, the data demonstrates a positive change in sentiment by biotechnology investors as the sector surged in Q4, in stern contrast with the relative underperformance seen in the first three quarters of 2019. Both NYSE Arca Biotechnology (BTK, 20.6%) and NASDAQ Biotechnology (NBI, +21.7%) indices have outperformed the S&P 500 (SP50, +5.2%) and Russell 3000 (RUA, +5.5%) indices by a significant margin in Q4 2019 (as of December 3, 2019) (Exhibit 3).
Exhibit 3: Biotechnology Relative Price Performance Q4 2019 (as of 12/3/2019)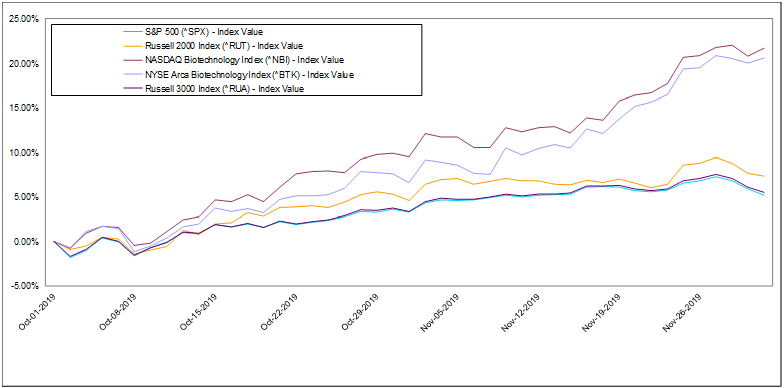 Source: CapitalIQ
As the biotechnology sector soared and small-cap stocks outpaced the broader markets, picking the next gemstone in small/micro-cap biotechs could generate high cumulative returns for investors.
Small cap biotechs have been at the forefront of the majority of medical breakthroughs. Historically, small-cap biotechnology companies have been instrumental in the discovery and initial development of many medical breakthroughs and innovations. For example, multiple small-cap gene-editing companies are developing novel gene therapies for the treatment of rare debilitating orphan diseases for which there are no available therapies. As biotech stocks were reaching their peak in the middle of this decade, innovative drugs reached the market to fight common, serious diseases such as lung cancer and hepatitis C.
Increased M&A activity has lured investors back to the sector. The total M&A deals in the first three quarters of 2019 have exceeded the full year 2018 transaction volume and deal count. The transaction volume reached $250 billion with 1,105 deals in Q1-Q3 2019 compared to $236 billion with 1,080 deals in the full year of 2018. This spike in M&A activity reflects big pharma increased appetite for innovative technologies developed by small biotechs. Investors are starting to place their bets to take advantage of this M&A momentum.
Potential high returns on investments. Small cap biotech companies are often a few years from commercializing their first product. Despite their risky nature, biotech stocks could run up significantly as they prove the potential of their candidate medicines. For biotech investors, finding the next gemstone could result in substantial cumulative returns on their investments. As an example, Ardelyx (ARDX) has gained over 325% YTD 2019 (as of December 3) in value of market capitalization following positive data readout from Phase 3 study, which resulted in the FDA approval of tenapanor for the treatment of irritable bowel syndrome (IBS).
Drug development risks are too high for bearish investors. Drug development is a risky, expensive and lengthy process. Developing a new drug takes typically 8½ years before commercialization. It takes several years for small cap biotech firms to reach profitability. Small caps are seen riskier with limited optionality under their portfolio compared to large-cap companies.
Current momentum might dissipate going forward. Historically, rallies in the biotech sector have not lasted long unless generalist investors buy into it. If shares of biotechnology companies are only being bought by healthcare specialized funds, the rally will lose steam. Generalist investors are needed to participate in order to support the rally. Bearish investors continue to argue that the biotechnology sector has recently focused on treatments of rarer diseases, such as spinal muscular atrophy or a form of hereditary blindness. There is no question these drugs are of high value for patients and individual companies. However, they generally don't reach enough patients to boost the entire sector's fortunes. Meanwhile, clinical trials in large potential markets for treatments of Alzheimer's disease or certain liver conditions continue to disappoint.
The prevailing view in the capital markets is that the biotechnology sector represents a great opportunity for growth investors willing to understand the risks inherent to the sector. The biotechnology industry is a highly specialized area with no shortage of innovative technologies and investment opportunities. As large pharmaceutical companies persist under pressure by drug pricing, small biotechnology companies continue to develop medical breakthroughs for the benefit of patients. In recent weeks, investors are feeling more optimistic about prospects for the U.S. economy and the economically sensitive stocks have outpaced the broad-based large-cap benchmark. Small and microcap biotechnology companies with strong development pipelines and differentiating assets have the potential to grow faster than already established companies and emerge as the industry leaders.
References
Bloomberg Business Intelligence Biotechnology
Capital IQ
Wall Street Journal
Company
Ticker
Price
Previous
Mkt Cap
Volume
52wk Range
Onconova Therapeutics Inc.
ONTX (Nasdaq)
$0.83
$153.51M
0
$0.20 - $1.56
Fundamental Analysis
Dyadic International Inc.
DYAI (Nasdaq)
$5.42
$148.95M
0
$2.51 - $10.98
Fundamental Analysis
Tyme Technologies Inc.
TYME (Nasdaq)
$1.38
$179.64M
0
$0.86 - $2.04
Salarius Pharmaceuticals
SLRX (Nasdaq)
$1.04
$20.64M
0
$0.56 - $3.89
Immutep Limited
IMMP (Nasdaq)
$3.12
$202.15M
0
$0.53 - $7.95
Advaxis Inc.
ADXS (NGS)
$0.53
$58.21M
0
$0.27 - $1.49
Advanced Market Data
()
Detailed Quote
Charts
Statistics
Financials
Historical Quotes
Insider Activity
Key Ratios