Companies by Sector
More than 6000 listed
Communication Services
Telecommunication Services
Consumer Cyclical
Advertising & Marketing Services
Furnishings, Fixtures & Appliances
Homebuilding & Construction
Manufacturing - Apparel & Accessories
Manufacturing - Apparel & Furniture
Retail - Apparel & Specialty
Consumer Defensive
Beverages - Non-Alcoholic
Financial Services
Diversified Financial Services
Healthcare
Healthcare Providers & Services
Medical Devices & Instruments
Medical Diagnostics & Research
Medical Instruments & Equipment
Industrials
Farm & Heavy Construction Machinery
Transportation & Logistics
Utilities
Utilities - Independent Power Producers


  Image Credit: Slices of Light (Flickr)
Institutional Shorts of Meme Stocks Reduced While Top Hedge Fund Adds Long Positions
It's the premise of many movies; two unlikely partners fighting for a common goal.
In their quarterly SEC filing, it was discovered that Renaissance Technologies (RenTech), considered one of the best-performing giant hedge funds in history, added substantially to its AMC Entertainment (AMC) position and GameStop (GME) holdings. Meanwhile, hedge fund Citadel LLC., is further reducing its shares in a short fund managed by Melvin Capital that was near collapse early last year after suffering substantial difficulties with short positions including AMC and GME.
According to The Wall Street Journal, Citadel LLC is further reducing its once $2 billion investment in Melvin Capital Management's Short Fund. During late January, Citadel asked to redeem half the firm's remaining position in Melvin. It had previously halved the investment late last year after Melvin produced double-digit losses for the second January in a row. The Journal reported the recent redemption request would be paid out at the end of March.
Shares in GameStop and AMC were severely underperforming the S&P 500 year-to-date 2022. As of Thursday (February 24), the S&P 500 averaged -10.34%, while GME had a negative return of -18.49% and AMC dropped more substantially with a -33.33% return on the year.
This may have turned around this week. As the market traded off in response to Russia invading Ukraine, reporting by RenTech showed they are aggressively adding to their positions, this helped push the two stocks up. During the fourth quarter they nearly doubled their holding of AMC to 4.7 million shares and the fund has also gotten back involved with Gamestop with a 2600 share position at year-end.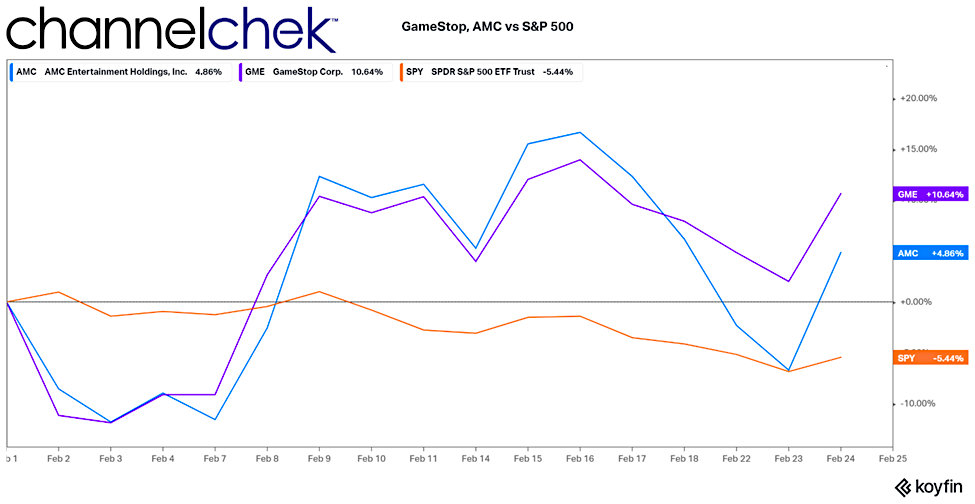 The recent advance of AMC and Gamestop creates curious allies. RenTech is a huge hedge fund. It was founded by Jim Simons, a former NSA codebreaker and MIT math professor. The quantitative fund relies on algorithms to decide many of its trades. The retail investing "Apes" said to derive their decisions from social media and stock memes owned 80% of AMC by November 2021. The social media-driven positions of the retail accounts and the Renaissance Technologies PhDs developing sophisticated models make for peculiar allies. But together, they are causing the likes of Citadel to continue its retreat. The more those that are short, give up ground, the more likely the stocks will trade up. For now, the PhDs and the "Apes" seem to control the "battlefield." The proof is in the price movement of AMC and GME.
Managing Editor, Channelchek
Suggested Reading
Sources
https://markets.businessinsider.com/news/stocks/jim-simons-renaissance-technologies-rentech-amc-entertainment-gamestop-tesla-stock-2022-2
https://www.marketwatch.com/story/meme-stocks-soar-on-bad-news-for-melvin-capital-and-russias-invasion-of-ukraine-11645744516
https://www.cnbc.com/video/2021/10/29/how-the-amc-apes-are-taking-on-wall-street.html
https://www.wsj.com/articles/citadel-is-further-paring-back-2-billion-melvin-investment-11645710666?mod=rss_markets_main--


Stay up to date. Follow us:
Company
Ticker
Price
Previous
Mkt Cap
Volume
52wk Range
GameStop Corporation
GME (NYSE)
$153.59
$11.72B
0
$77.58 - $344.66
Advanced Market Data
()
Detailed Quote
Charts
Statistics
Financials
Historical Quotes
Insider Activity
Key Ratios