Companies by Sector
More than 6000 listed
Communication Services
Telecommunication Services
Consumer Cyclical
Advertising & Marketing Services
Furnishings, Fixtures & Appliances
Homebuilding & Construction
Manufacturing - Apparel & Accessories
Manufacturing - Apparel & Furniture
Retail - Apparel & Specialty
Consumer Defensive
Beverages - Non-Alcoholic
Financial Services
Diversified Financial Services
Healthcare
Healthcare Providers & Services
Medical Devices & Instruments
Medical Diagnostics & Research
Medical Instruments & Equipment
Industrials
Farm & Heavy Construction Machinery
Transportation & Logistics
Utilities
Utilities - Independent Power Producers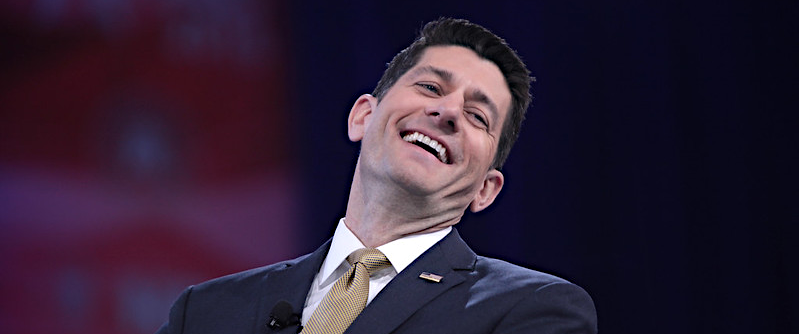 SPAC Candidates, Blank Checks, and Leaving More to Investors
Former House Speaker Paul Ryan knows a lot about being a candidate. The former Speaker of The House was Mitt Romney's vice-presidential running mate. He won elections for The House of Representatives eight times by defeating challenger Jeffrey C. Thomas in 2000, 2002, 2004, and 2006 elections. In the 2008 election, Ryan defeated Democrat Marge Krupp. He just announced he's creating a special purpose acquisition company (SPAC). The IPO shell will be among the latest in the torrent of SPACS popping up this year. Paul Ryan will soon be aggressively looking for an acquisition candidate as part of his newly formed business.
Organization of the SPAC
Ryan is expected to serve as chairman of the soon to be formed Executive Network Partnering Corp. (ENPC). ENPC will look to attract roughly $300 million in an initial public offering (based on demand).
The new vehicle's ticker symbol will be ENPC. Relative to traditional shell IPO vehicles, ENPC will provide longer-term incentives for its stakeholders and scaled-down fees for underwriters. Founders of ENPC won't be permitted to sell any of their shares for three years after any merger. Similar vehicles allow for sale when shares trade above a certain level or after a year from closing.
SEC Filing
ENPC is expected to file documents with the Securities and Exchange Commission in the coming days. This filing will outline the structure specifics. They've chosen the acronym CAPS to refer to the vehicle whose terms are supposed to be more investor-focused. The underlying reason for choosing "CAPS" is it is a palindrome for SPAC and can mean "capital which aligns and partners with a sponsor."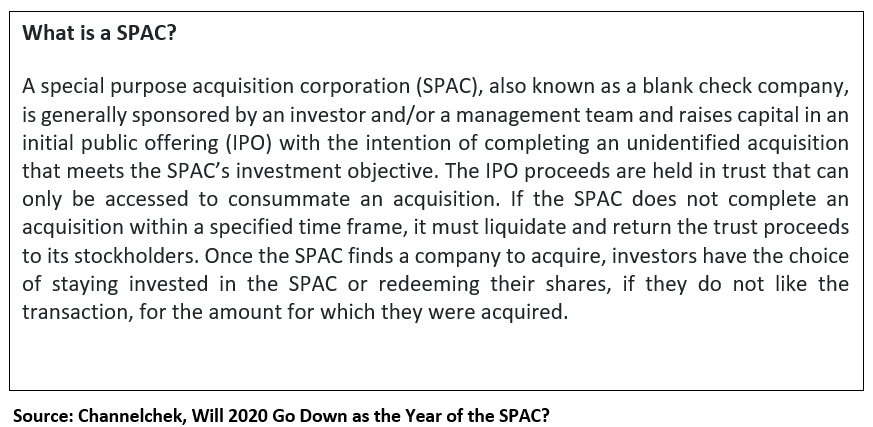 More Competitive
Management competence and what their experience brings to getting a worthwhile deal completed is the main component investors look for when investing in this form of IPO. Terms are also high on the list of what should be analyzed before any monetary commitment.
Typically, SPAC founders are awarded shares equivalent to roughly 25% of what is raised when the initial IPO closes. As you might imagine, that becomes an above-average payday for their efforts. Under the expected ENPC terms, Ryan and the other creators will have the right to buy roughly 5% of the shares and then reap another 20% of the stock appreciation if share price increases by more than 10%.
They also plan to slash fees to Wall Street banking organizations. Evercore Inc. is the sole underwriter of the blank-check fund. They agreed to be paid 1% of the size of the vehicle; this is half of the usual 2% upfront of other SPACs. When a merger deal is struck, the same underwriters typically receive another 3.5%. With Paul Ryan's SPAC, Evercore will get a separate, smaller advisory payment. ENPC is free to work with other advisers on any subsequent merger deal.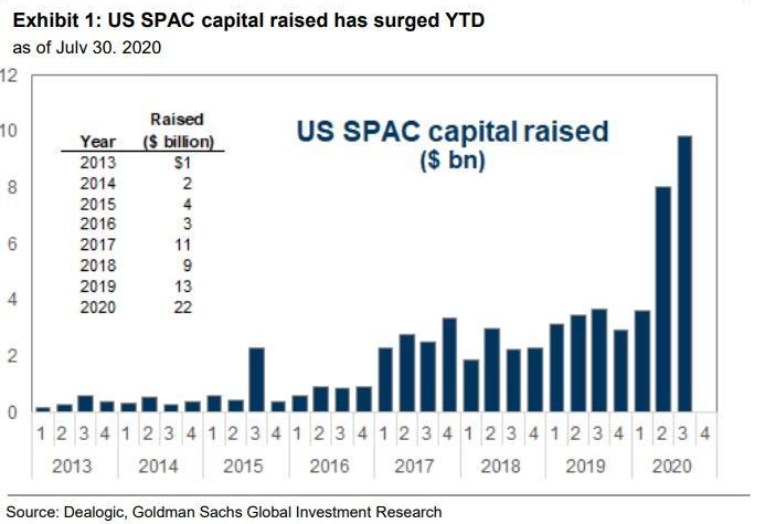 The Year of the SPAC
So far, in 2020, 75 new SPACs have been listed, with a total raised adding to $29.9 billion. This is more than twice what was raised during all of last year. There is no telling when or why this pace may begin to slow, but over the past eight months, SPACs have already attained the highest volume ever in one year. They have accounted for approximately 43% of IPO volume in 2020.
Earlier this Summer hedge fund billionaire William Ackman raised $4 billion for the largest SPAC ever created. Last month, health-care-services provider MultiPlan, Inc. announced it was merging with a blank-check company run by Michael Klein in the largest transaction ever at $11 billion.
Take-Away
The appetite for investors eligible to participate in a SPAC is still very high. The sheer number of "blank check" companies being formed is starting to push their founders to provide more to investors and negotiate better deals with banks and other service providers and consultants. "Big names," including Paul Ryan, who sits on the board of FOX Corp., which owns The Wall Street Journal and other large media outlets, help bring attention to their intended deals.
Suggested Reading:
Special Purpose Acquisition Corporations (SPAC) Attracting Investors
Can AI Skyborg Technology Create Unpredictable Yet Consistent Military Aircraft?
Are Dual Class Stocks a Mistake for Investors?

Each event in our popular Virtual Road Shows Series has maximum capacity of 100 investors online. To take part, listen to and perhaps get your questions answered, see which virtual investor meeting intrigues you here.
Sources:
Will 2020 Go Down as the Year of the SPAC?
https://en.wikipedia.org/wiki/Paul_Ryan
Paul Ryan Becomes Board Member of FOX News Corp.
Former House Speaker Ryan to Chair Blank Check Company
Wall Street Banks Are Cashing in on the Boom in Blank-Check Companies