Companies by Sector
More than 6000 listed
Communication Services
Telecommunication Services
Consumer Cyclical
Advertising & Marketing Services
Furnishings, Fixtures & Appliances
Homebuilding & Construction
Manufacturing - Apparel & Accessories
Manufacturing - Apparel & Furniture
Retail - Apparel & Specialty
Consumer Defensive
Beverages - Non-Alcoholic
Financial Services
Diversified Financial Services
Healthcare
Healthcare Providers & Services
Medical Devices & Instruments
Medical Diagnostics & Research
Medical Instruments & Equipment
Industrials
Farm & Heavy Construction Machinery
Transportation & Logistics
Utilities
Utilities - Independent Power Producers


	Image Credit: vie.gg (flickr)
The Rapid Growth of the Sports Wagering Industry Shows No Sign of Slowing
Sports betting in the U.S. before 2018 was only legal in Nevada. In May of that year, The Supreme Court struck down the ban on state authorization of sports betting. This opened the floodgates of opportunities for businesses large and small to profit from these new and growing entertainment dollars. Since the ban was lifted, 24 states have laws permitting sports gambling, and there are more in the works.
The rampant industry growth in fewer than four years is accelerating from its current rate. The emergence of online betting apps now makes it even easier to be watching at home or at a sports bar and place a wager or in-play wager on traditional events and even esports. The number of potential wagers and revenue from those bets is likely to continue to multiply over the coming months and years.
As a current example, yesterday afternoon (December 9), another state passed a bill that allows sports betting. The Ohio law HB29 is expected to be signed by the governor and go in effect no later than January 1st. Nasdaq listed Esports Entertainment Group (GMBL) declared support for the inclusion of esports in this legislation, as they expect to help build a strong esports gaming community in Ohio. Grant Johnson, CEO of Esports Entertainment Group said, "The news of Ohio's sports betting bill moving to the governor for his signature is a significant step forward for our Vie.gg wagering platform and our Company."
To understand the significance to all parties including, companies involved in this market, states who can grow their tax revenue, and investors seeking opportunities, look at the chart below. It's a tally of the current economics of legal sports betting to the various states that have allowed it.
US Sports Betting, June 1, 2018 – December 8, 2021
DEFINITIONS
Handle: Amount wagered over the time period.
Revenue: Amount of money kept by sportsbooks out of the amount wagered.
Hold: How much revenue sportsbooks keep as a function of handle.
Taxes/Jurisdiction: Taxes collected by state and local jurisdictions; or state share of proceeds in revenue-sharing markets.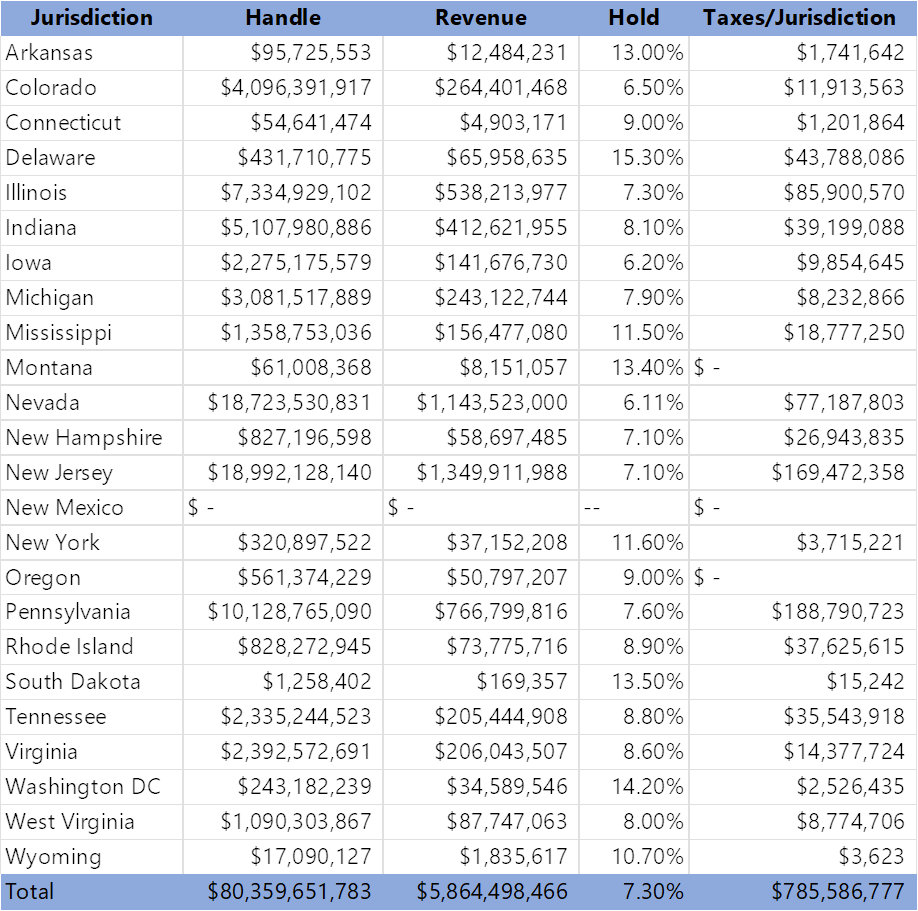 Data Source: Legal Sports Report
As you can see, there are 23 states that have joined Nevada since 2018. Ohio will bring the full total to 25 of the 50 states. There is work being done in the legislative branches of other states that are also likely to pass next year.
Take-Away
With change there is potential for investors. One industry that is having one door after another open is gaming, specifically sports wagering. The growth potential is further compounded as technology allows viewers to be tuned into more types of games, including esports. Innovative online apps help wagerers to instantly find an entity to accommodate their bet.
As other states are added to the above list and publicly traded media and entertainment companies find fun and innovative ways for users to enjoy this growing past-time, investors can seek to benefit from calculating the odds of selecting companies that will capitalize on this growth.
Suggested Content:
Sources:
https://www.legalsportsreport.com/sports-betting/revenue/
https://www.actionnetwork.com/news/legal-sports-betting-united-states-projections
https://www.archerlaw.com/landmark-u-s-supreme-court-decision-paves-the-way-for-legalized-sports-betting/
https://www.usatoday.com/in-depth/graphics/2021/09/09/online-sports-gambling-good-bet-industry-continue-winning-ways/5686836001/
https://www.legalsportsreport.com/sportsbetting-bill-tracker/
Stay up to date. Follow us:
Company
Ticker
Price
Previous
Mkt Cap
Volume
52wk Range
eSports Entertainment Group Inc
GMBL (Nasdaq)
$0.81
$32.82M
0
$0.60 - $17.97
Fundamental Analysis
Advanced Market Data
()
Detailed Quote
Charts
Statistics
Financials
Historical Quotes
Insider Activity
Key Ratios