Companies by Sector
More than 6000 listed
Communication Services
Telecommunication Services
Consumer Cyclical
Advertising & Marketing Services
Furnishings, Fixtures & Appliances
Homebuilding & Construction
Manufacturing - Apparel & Accessories
Manufacturing - Apparel & Furniture
Retail - Apparel & Specialty
Consumer Defensive
Beverages - Non-Alcoholic
Financial Services
Diversified Financial Services
Healthcare
Healthcare Providers & Services
Medical Devices & Instruments
Medical Diagnostics & Research
Medical Instruments & Equipment
Industrials
Farm & Heavy Construction Machinery
Transportation & Logistics
Utilities
Utilities - Independent Power Producers


  Image: PxHere (1413412)
The Various Ways to Allocate into "War Investments"
The developments between Russia and Ukraine, coupled with international reactions will impact all investment markets over the coming weeks/months. While prices will settle as markets push and pull to determine the appropriate range, the current reaction has created some investments to gain substantially along with those that have been hurt by weakness in their own sectors.
A Different Angle on Gold
Gold spiked to its highest level since late 2020. Gold is up by $180 per ounce, or almost 10% since the end of January when it was well below $1800. Gold mining stocks, specifically junior gold miners, have performed even better. As measured by the VanEck Junior Miners ETF (GTXJ), the sector is up 16.89%.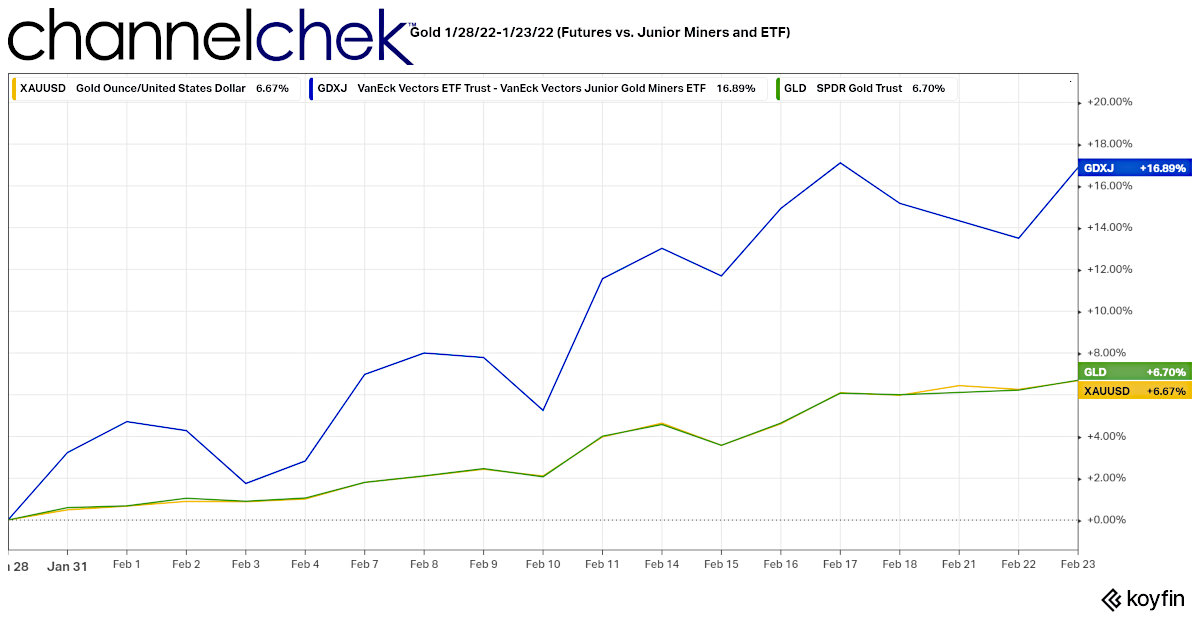 Current news and company information on junior miners is plentiful on Channelchek. There you can review the research on Great Panther Mining (GPL) which is exceeding, by a wide margin, the performance of gold and the junior mining ETF. Among the many other junior miners worth the attention of investors interested in this sector are: Allegiant Gold Ltd. (AUXXF), Great Bear Resources (GTBAF), and Aurania Resources (AUIAF, ARU:CA).
Crude is Up, Who Benefits?
Oil's surge to the $100 per barrel mark has brought energy sector stocks up along with it, with a bit of a lag. While crude oil has risen 8.69% since January, the overall energy sector measured by the XLE, which is heavily weighted with giants like Chevron and Exxon, is up over 2% in less than a month while the overall stock market has been sliding rapidly.
Smaller energy stocks, represented in the graph below by the ETF Investco Small-Cap Energy (PSCE) are up twice the larger companies and appear to now be gaining at a more rapid pace than crude.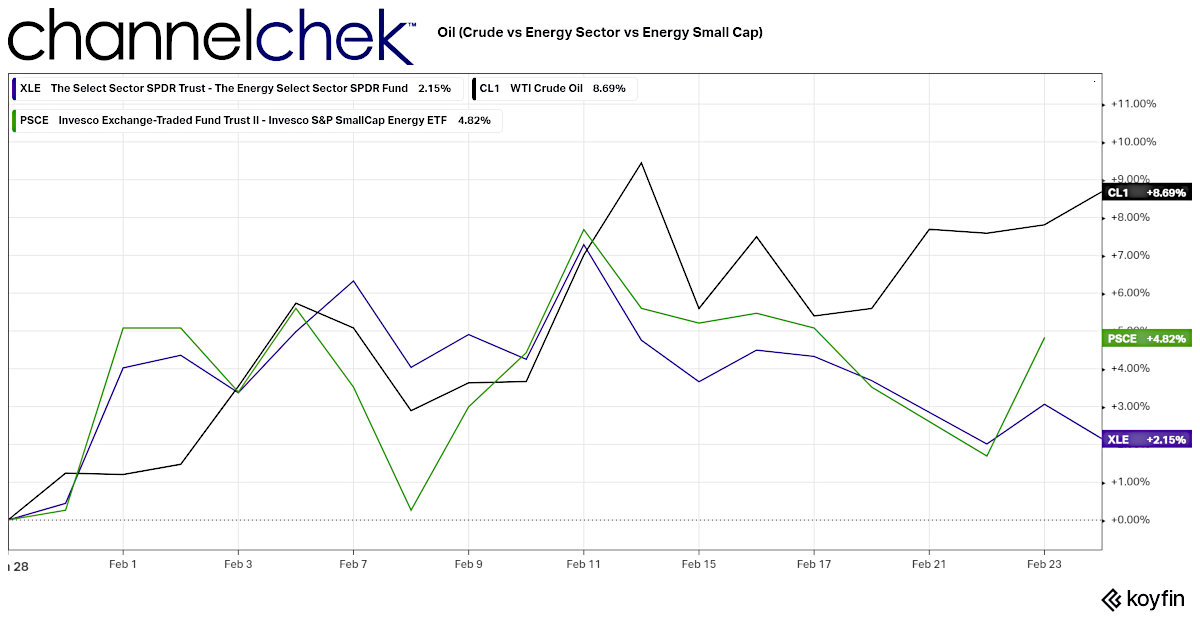 Small and microcap energy sector stocks are demonstrating they have more upside potential than larger companies in this sector. Current news and company information on smaller energy stocks is plentiful on Channelchek. There you can review the research on Indonesia Energy (INDO) whose price has more than doubled over this period. InPlay Oil Inc. (IPOOF, IPO:CA) has also seen a positive impact.
Overlooked Natural Resources
Palladium and platinum mining stocks, although less talked about, have also surged. A good example is Palladium One Mining Inc. (NKORF, PDM:CA). Since the end of January, the stock has risen 9.68%. The percent performance of Palladium One has spiked double digits over the past two days.
Take-Way
Changes and events bring opportunities for investors to reallocate and open themselves to other areas to enrich their portfolios. While at times the more profitable changes are from events that we would prefer not to happen, these events are beyond our control. Whereas one's portfolio positions are well within their control. For example: Reallocating into construction materials after a devastating hurricane should be done without guilt. The same is true for those investing to take advantage of the current Ukraine/Russia situation.
Channelchek provides data and research on companies that often move by higher percentages when their industry moves. Sign-up to receive our emails to supplement your knowledge in ways missing on other equity research and market information platforms.
Managing Editor, Channelchek
Suggested Reading
Sources
www.koyfin.com

Stay up to date. Follow us:
Company
Ticker
Price
Previous
Mkt Cap
Volume
52wk Range
Palladium One Mining Inc.
PDM:CA (CDX)
$0.23
$57.66M
0
$0.17 - $0.37
Fundamental Analysis
Palladium One Mining Inc
NKORF (OTO)
$0.18
$46.31M
0
$0.13 - $0.31
Fundamental Analysis
InPlay Oil Corp.
IPO:CA (TSX)
$4.07
$350.89M
0
$0.46 - $4.32
Fundamental Analysis
InPlay Oil
IPOOF (OTCQX)
$3.24
$279.34M
0
$0.38 - $3.47
Fundamental Analysis
Indonesia Energy Corp Ltd - Ordinary Shares
INDO (AMERA)
$19.59
$149.81M
0
$2.61 - $86.99
Fundamental Analysis
Great Panther Mining Limited (Canada)
GPL (AMERA)
$0.24
$106.85M
0
$0.16 - $0.90
Fundamental Analysis
Great Bear Resources Ltd - New
GTBAF (OTCQX)
$22.43
$1.30B
0
$10.08 - $24.02
Fundamental Analysis
Aurania Resources Ltd.
ARU:CA (CDX)
$0.60
$32.14M
0
$0.61 - $3.43
Fundamental Analysis
Aurania Resources
AUIAF (OTCQB)
$0.48
$25.79M
0
$0.48 - $2.82
Fundamental Analysis
Allegiant Gold Ltd
AUXXF (OTCQX)
$0.37
$37.28M
0
$0.18 - $0.46
Fundamental Analysis
Advanced Market Data
()
Detailed Quote
Charts
Statistics
Financials
Historical Quotes
Insider Activity
Key Ratios