Image Credit: RODNAE Productions (Pexels)
Thanksgiving Dinner by the Numbers
Minnesota leads the nation in turkey production, while Wisconsin grows 59% of all cranberries. See how Thanksgiving dinner comes together from farms across the nation.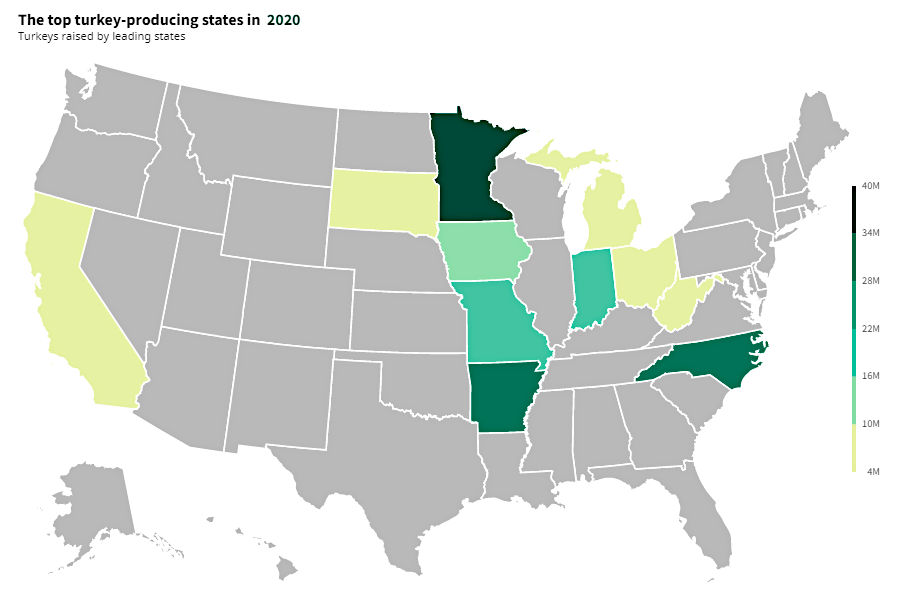 From mashed potatoes to green bean casserole to the centerpiece turkey, many of the components of a traditional Thanksgiving menu originate from American farms.
Here's the government data behind Thanksgiving dinner. Unless otherwise noted, all the data is from the US Department of Agriculture.
Turkey
In 2020, farmers raised 224 million turkeys and produced 5.7 billion pounds of ready-to-cook turkey. That's an average of 26 pounds of meat per bird. Last year, total turkey production was worth an estimated $5.1 billion.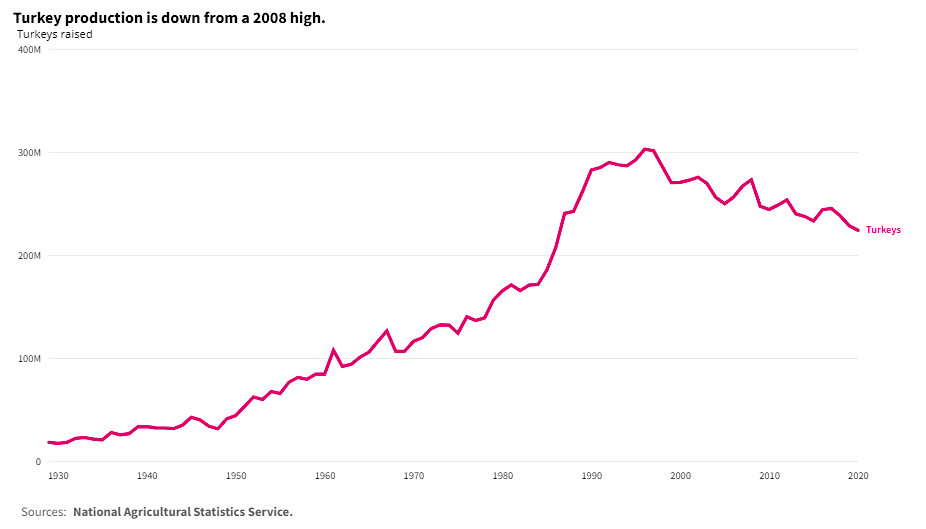 Top states: Minnesota produced the most turkeys in 2020 at 40 million birds — or about 18% of the US total. Arkansas was second with 31 million, followed by North Carolina at 30 million.
Fun fact: Americans ate 16 pounds of turkey per person in 2020.
Sweet potatoes
In 2020, the US produced 3.4 billion pounds of sweet potatoes. Farmers sold $588 million worth of sweet potatoes.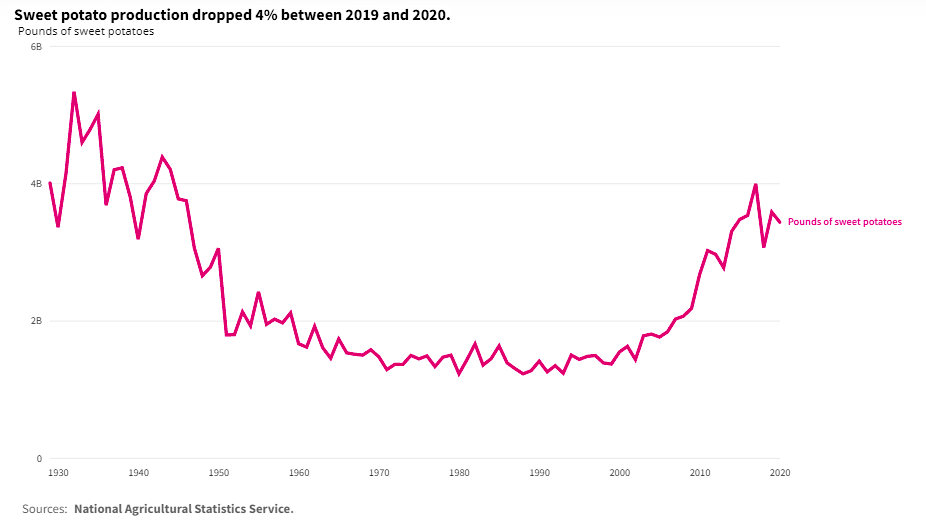 Top states: North Carolina leads the nation in sweet potato farming, producing 1.9 billion pounds or about 55% of the crop grown in the US. California growers produced 887 million pounds or 26% of US sweet potato production.
Fun fact: Domestic sweet potato consumption has grown significantly since 2000: annual per capita availability, a measure used as a proxy for consumption, increased from 4.2 pounds in 2000 to 6.7 pounds in 2020.
Cranberries
In 2020, the US produced 7.8 million barrels of cranberries, down 1.1 million from the 2018 figure of 8.9 million barrels. Barrels can hold 100 pounds of cranberries.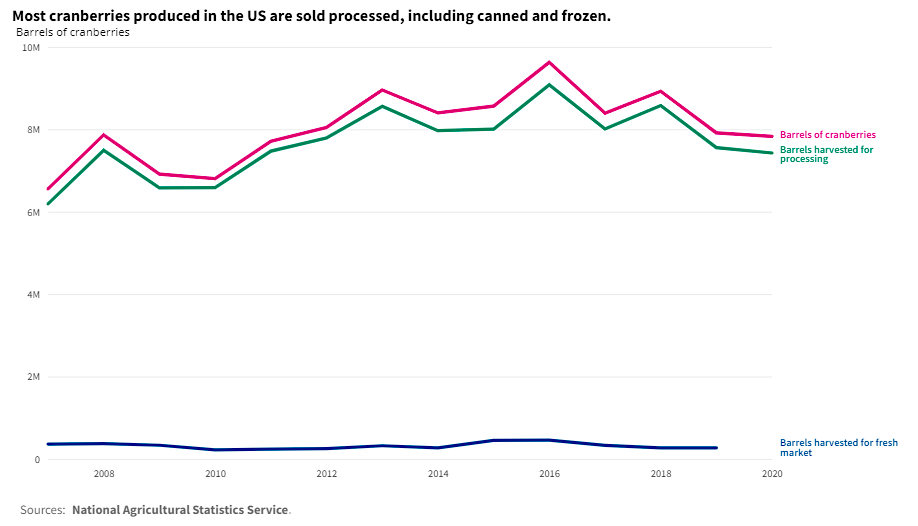 Top states: This Thanksgiving mainstay is harvested from bogs covering 39,300 acres primarily in two states. In Wisconsin, farmers harvested 4.6 million barrels of cranberries in 2020, accounting for 59% of total production. Massachusetts farmers produced 2.1 million barrels of cranberries, accounting for 27% of all production.
Fun fact: The price of a barrel of cranberries is 47% lower from a high of $70.02 (adjusted to 2020 dollars) in 2008 to $37.30 in 2020.
Potatoes
In 2020, the US produced 47 billion pounds of potatoes. The value of all potatoes sold in 2020 was $3.7 billion, an 8% decrease from 2019.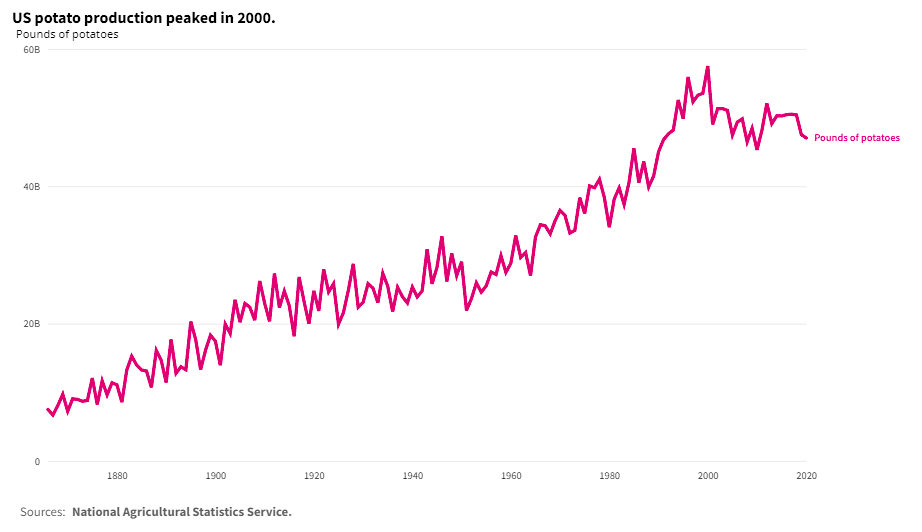 Top states: Synonymous with potatoes, Idaho leads the nation in production, responsible for 32% of the nation's output. Neighboring Washington is responsible for 24% of production.
Fun fact: Forty percent of potatoes were processed into frozen products, including french fries. About 24%, or 11.3 billion pounds of potatoes, remained as the fresh type that can be transformed into mashed potatoes.
Snap (or green) beans
In 2020, the US produced 1.7 billion pounds of snap beans. Eighteen percent of snap beans produced in the US are for fresh use, while the rest are processed by canning or freezing.

Top states: Wisconsin led all states in production in 2020 with 633 million pounds of snap beans. Five other states — New York, Michigan, Oregon, Florida, and Illinois — had production exceed 100 million pounds.
Fun fact: In terms of area harvested, snap beans were among the top three vegetables alongside sweet corn and tomatoes. In 2020, snap bean farms covered 185,200 acres. Sweet corn harvests covered 402,900 acres, while tomatoes covered 280,000 acres.
Pumpkins
In 2020, US farmers produced 1.5 billion pounds of pumpkins.

Top states: Production is dispersed throughout the US, with all states producing some pumpkins. In 2017 and based on weight, about 40% of pumpkin acres were harvested in the top six pumpkin-producing states. Illinois harvested 15,900 acres of pumpkins, more than twice the 7,000 acres harvested in second-place Pennsylvania.
Fun fact: The majority of Illinois' pumpkin crop — 523 million pounds or 82% of the total — is processed as pie filling or other processed pumpkin products. By contrast, 0% of the pumpkin crop in California is processed. This difference is largely explained by differences in types of pumpkins grown in Illinois versus other states. According to the USDA, pumpkin growers in other states are geared more toward growing pumpkins for seasonal reasons such as Halloween.
To learn more about the farmers producing this food, read this report on the 3.4 million agricultural workers in America.
Suggested Reading:
Stay up to date. Follow us: