Companies by Sector
More than 6000 listed
Communication Services
Telecommunication Services
Consumer Cyclical
Advertising & Marketing Services
Furnishings, Fixtures & Appliances
Homebuilding & Construction
Manufacturing - Apparel & Accessories
Manufacturing - Apparel & Furniture
Retail - Apparel & Specialty
Consumer Defensive
Beverages - Non-Alcoholic
Financial Services
Diversified Financial Services
Healthcare
Healthcare Providers & Services
Medical Devices & Instruments
Medical Diagnostics & Research
Medical Instruments & Equipment
Industrials
Farm & Heavy Construction Machinery
Transportation & Logistics
Utilities
Utilities - Independent Power Producers


	Image Credit: Marco Verch (Flickr)
Severe Punishment for All Things Crypto in China -Who's Impacted?
Who is impacted by the Chinese announcing the crackdown on all things related to cryptocurrency under their jurisdiction? Ten agencies undersigned the announcement, including law enforcement, the central bank, securities and foreign exchange regulators. The impact extends far beyond the speculative crypto investor within the country.
The alternative or virtual currencies have been going through a period of weakness leading up to today's announcement. But this news had a particularly strong impact causing Bitcoin to be down 4.50%, Ethereum down 7.70%, and Solana down 6.20%. However, the long-term impact on these coins may be positive. Although fewer are allowed to legally buy, hold, and trade cryptocurrencies, new crypto entering the broader market could be reduced considerably if the Chinese agencies' crackdowns are successful. Determination for success seems high as the National Development and Reform Council (NDRC) said it would launch a nationwide crackdown on cryptocurrency mining as it works to cripple the sector entirely.
This could place upward pressure on currencies such as Bitcoin, where a large percentage was mined in the country. It also comes at a time when there are more long-term holders of digital currency, which reduces currency in circulation. This reduced supply coming onto the market could only play out if China is able to find and prevent mining activity.
Distribution of Bitcoin Mining Hashrate from September 2019 to April 2021, by Country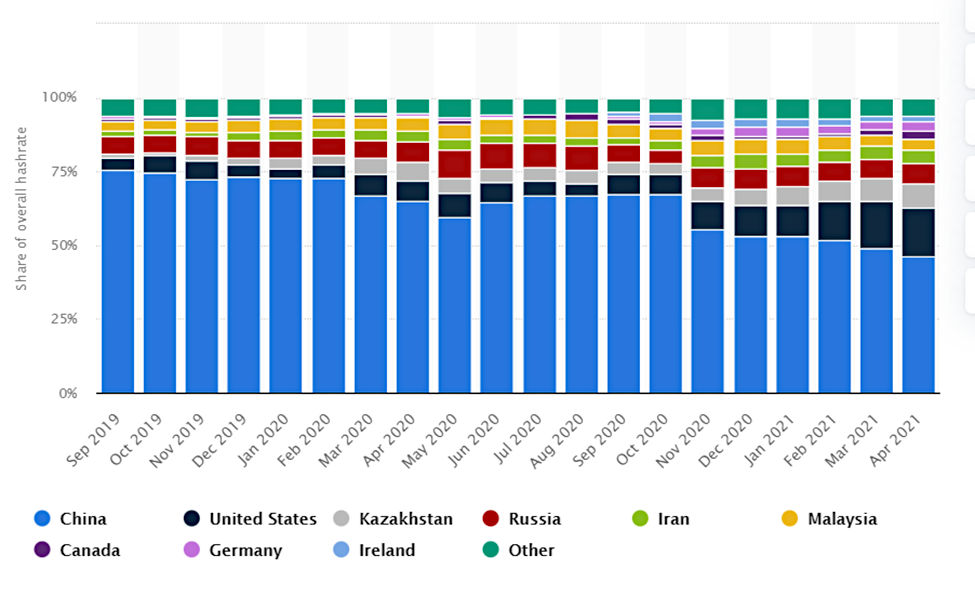 Exchanges and over-the-counter (OTC) services that were still available this week, including Huobi, OKEx and Binance, allowed Chinese users to exchange their fiat yuan into crypto assets to participate in crypto trading activities. These services, whether in China or offshore, are to cease operations. The People's Bank of China (PBoC) said individuals who live inside China but work for overseas crypto exchanges that making crypto trading available in China are also subject to legal prosecution. It's clear from the announcement that Huobi, OKEx, and Binance will need to discontinue their OTC services.
Cryptocurrency derivatives such as futures trading are also illegal. This is likely to extend to all other contracts and trust situations such as ETFs created using either derivative contracts or virtual currency.
Chinese Crypto Chronicle
The bullet points below are a timeline showing how over eight years the Chinese government moved from allowing cryptocurrencies to trade freely, with no restrictions on participation, to where we are today with a defined no tolerance policy.
In 2013, the government defined bitcoin as a virtual commodity. Individuals were allowed to freely participate in its online trade.
Later in 2013that year the PBoC and other financial regulators banned banks and payment companies from providing bitcoin-related services.
In late 2017, China banned initial coin offerings (ICOs) in order to "protect" investors and curb financial risks.
Also, late 2017 ICO rules banned cryptocurrency trading platforms from converting legal tender (Yuan) into cryptocurrencies or crypto into yuan.
During 2017, most crypto exchange platforms shut down or moved offshore.
By July 2018, 88 digital currency trading platforms and 85 ICO platforms had withdrawn from the Chinese market.
Take-Away
The escalating crackdown on all things related to cryptocurrency seems to have peaked as ten agencies of the country are working to put a lid on non-government-sponsored digital currency. It isn't clear how those within the country that are currently holding cryptocurrency will be able to cash out if they want to, these assets may be forever taken off the market. Additionally, a reduction in mining in a country that contributed greatly to new Bitcoin being created may have a longer-term bullish impact on the exchange rate of $USDF to BTC. This could impact many other coins as they tend to trade as a group and because Bitcoin isn't the only currency mined in China.
Suggested Reading:
Sources:
https://www.reuters.com/business/bitcoin-slides-below-40000-ether-tumbles-2021-05-19/
https://www.theblockcrypto.com/linked/118581/china-issues-tougher-measures-to-keep-cracking-down-on-crypto-trading
https://www.pymnts.com/cryptocurrency/2021/china-declares-all-cryptocurrency-related-transactions-illegal/
https://www.reuters.com/article/crypto-currency-china-explainer-idUSKBN2GK1FO
https://www.shine.cn/biz/economy/2109245518/
Stay up to date. Follow us:
Company
Ticker
Price
Previous
Mkt Cap
Volume
52wk Range
HIVE Blockchain Technologies Ltd
HVBTF (OTCQX)
0
0
0
0 - 0
Advanced Market Data
()
Detailed Quote
Charts
Statistics
Financials
Historical Quotes
Insider Activity
Key Ratios