Companies by Sector
More than 6000 listed
Communication Services
Telecommunication Services
Consumer Cyclical
Advertising & Marketing Services
Furnishings, Fixtures & Appliances
Homebuilding & Construction
Manufacturing - Apparel & Accessories
Manufacturing - Apparel & Furniture
Retail - Apparel & Specialty
Consumer Defensive
Beverages - Non-Alcoholic
Financial Services
Diversified Financial Services
Healthcare
Healthcare Providers & Services
Medical Devices & Instruments
Medical Diagnostics & Research
Medical Instruments & Equipment
Industrials
Farm & Heavy Construction Machinery
Transportation & Logistics
Utilities
Utilities - Independent Power Producers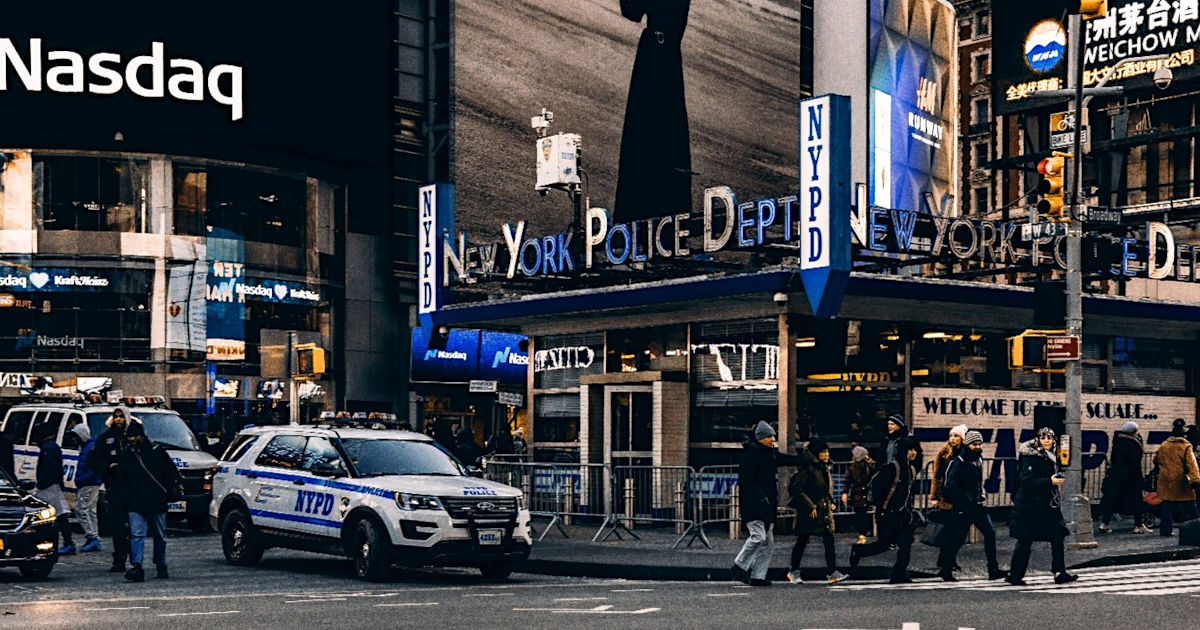 The FAANGs Come Out During Election Uncertainty
Investors trying to determine what impact the tight presidential race has had on the stock market may find stocks related to remote working and online communication have again become stock market leaders.
Clear election night winners include the NASDAQ 100 as indicated by futures contract trading. The tech-heavy Nasdaq 100 Index (NDX) is a basket of the 100 largest, most actively traded U.S companies listed on the Nasdaq exchange. Among the largest within the index are Apple (AAPL), Microsoft (MSFT), Amazon (AMZN), and Facebook (FB).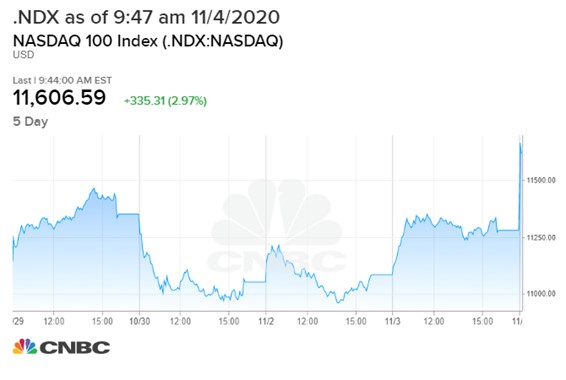 December 2020 contracts were up more than 3% overnight, with some of the largest gains coming after the President shared his concern about vote-counting efforts. Currently, both President Donald Trump and Challenger Joe Biden still have mathematical paths to occupying the White House over the next four years. Mega-cap stocks running out ahead of other stocks has been a theme during the COVID-19. The FAANG trend had recently reversed as election polls pointed to a Biden win.
In addition to the uncertain presidential race outcome, many expected a clear Democratic sweep within Congress. The reasoning was that Democrats are expected to be more inclined to put forth the largest stimulus package. The coming make-up of Congress is not expected to alter the strength much in either direction.
Recently the small cap Russel 2000 Index (RUT) has been outperforming the Nasdaq 100. Investors, for now, seem to be again favoring big tech in the face of a divided government, which is less likely to agree on spending plans.
David Bianco, the chief investment officer of the Americas at DWS Group Americas, Inc., has been quoted as saying, "If it's a mixed government, it's still a good environment for tech companies." He gave these reasons, "You're unlikely to get a big increase in corporate taxes. Less change, more status quo, more stability in taxes and regulation is good for all businesses including tech."
There are benefits to Washington being unable to pass as many changes. Uncertainty as to which person or which party will hold the executive branch is likely to create speculative flows until resolved.
Suggested Reading:
Which Stocks Do Well After a Presidential Election
Fintech Pirates are Looting Unsuspecting Trading Accounts
Many Investors are Keeping Their Powder Dry


Each event in our popular Virtual Road Shows Series has a maximum capacity of 100 investors online. To take part, listen to and perhaps get your questions answered, see which virtual investor meeting intrigues you here.
Sources:
https://www.nytimes.com/live/2020/11/04/business/us-economy-coronavirus
https://www.investing.com/news/stock-market-news/futures-jump-in-volatile-trade-as-election-race-tightens-2340288
https://uk.finance.yahoo.com/finance/news/stay-home-nasdaq-trade-reasserts-031222341.html
https://www.wsj.com/articles/senate-election-2020-results-11604378353
https://www.cnbc.com/2020/11/04/how-the-nasdaq-and-tech-stocks-became-the-winner-on-election-night.html