Companies by Sector
More than 6000 listed
Communication Services
Telecommunication Services
Consumer Cyclical
Advertising & Marketing Services
Furnishings, Fixtures & Appliances
Homebuilding & Construction
Manufacturing - Apparel & Accessories
Manufacturing - Apparel & Furniture
Retail - Apparel & Specialty
Consumer Defensive
Beverages - Non-Alcoholic
Financial Services
Diversified Financial Services
Healthcare
Healthcare Providers & Services
Medical Devices & Instruments
Medical Diagnostics & Research
Medical Instruments & Equipment
Industrials
Farm & Heavy Construction Machinery
Transportation & Logistics
Utilities
Utilities - Independent Power Producers


	
ARK Invest's Non-Managed Fund Offering Would Attract ESG Investors
Fund manager ARK Invest is looking to bring a new ETF to market. This one, according to the SEC filing, won't pick stocks and be managed like Ark's other funds. Instead, it will attempt to replicate an index in terms of holdings and percent weighting. The ARK Transparency ETF would follow an index developed by Solactive, a German-based financial index provider.
Cathie Wood, the founder of ARK Invest, believes that while this carve-out index has many of the same attributes of popular ESG funds, the transparency screen could provide superior performance. Ark's SEC application to register this new fund comes at a time when ESG funds are on pace to capture the massive accelerating appetite for ESG investing.
ESG funds are on track for a record year of inflows after amassing $21 billion in new investments during the first quarter of this year alone. One of the notable differences for ARK will be the Solactive Transparency Index excludes many sectors included in most ESG offerings. Instead, the top positions by weight in the index as of yesterday (Aug 31) are Salesforce ($CRM), Microsoft ($MSFT), Apple ($AAPL), Nike ($NKE), and Chipotle ($CMG). The current snapshot of the index shows approximately 97% of the holdings are US dollar-based with the remaining exposure to the Canadian dollar. The index on which the ETF would base its holdings is currently 83.6% US-headquartered corporations.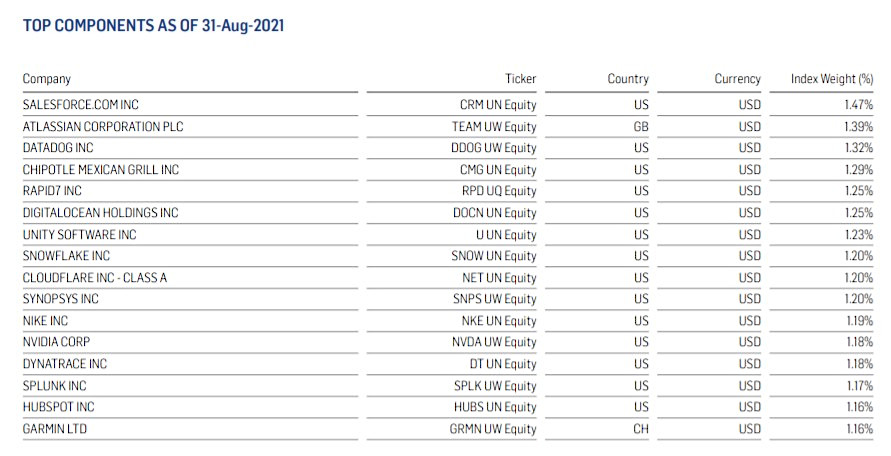 Top Components to the Solactive Transparency Index and their weighting
If SEC approved, the Transparency ETF would be ARK's second new product launched in 2021. The first was a Space-Focused ETF. This ETF launched in March has attracted $600 million in assets. Cathie Wood, as Chief Investment Officer of her company, has relied on a policy of transparency that is higher than other investment management firms. ARK precisely outlines positions and the reasons for each individual investment in the funds. Factors that impact whether a company can be added to the Transparency Index index include whether it meets certain transparency criteria, its involvement in lawsuits and other legal issues, and the company's public reputation.
The long-term performance of the index remains to be seen. Below is a chart showing the last three months, the data at a glance, appear inconclusive.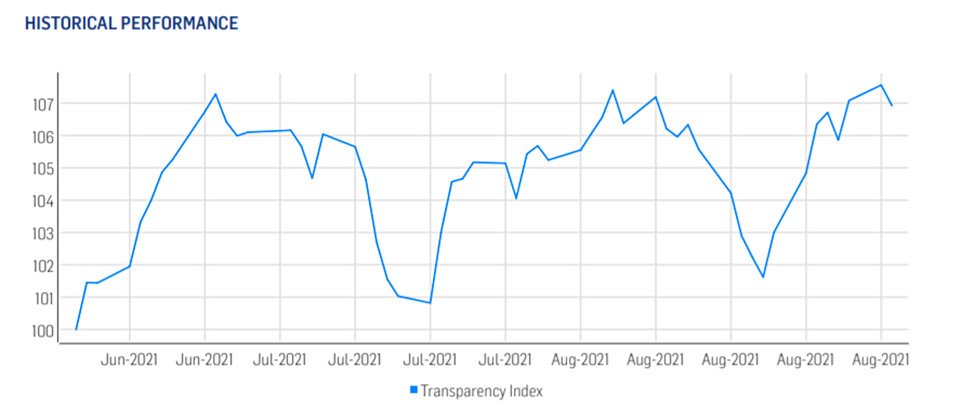 Source: Solactive
Take-Away
It appears that if SEC approved, ARK Invest is going to have a new investment product offering. This will be the first "hands-off" indexed-based product offering for the firm. Investments will largely be dictated by the underlying index weighting. Investors, rather than place their faith in the analysis of stocks held within the ETF, will instead determine if this carve-out of the market is where they wish to allocate funds.
In many ways, the decision by Cathie Wood's company to create this fund says that they believe there are investors that would find a more stringent "do only good" criteria an appealing alternative to ESG only funds.
Suggested Reading:
Sources:
https://www.solactive.com/wp-content/uploads/solactiveip/en/Factsheet_DE000SL0DL14.pdf
https://www.cnbc.com/2021/05/09/esg-investing-to-reach-1-trillion-by-2030-head-of-ishares-americas.html
https://www.barrons.com/articles/things-to-know-today-51630492299?mod=hp_INTERESTS_economy-and-policy&refsec=hp_INTERESTS_economy-and-policy
Stay up to date. Follow us: