Companies by Sector
More than 6000 listed
Communication Services
Telecommunication Services
Consumer Cyclical
Advertising & Marketing Services
Furnishings, Fixtures & Appliances
Homebuilding & Construction
Manufacturing - Apparel & Accessories
Manufacturing - Apparel & Furniture
Retail - Apparel & Specialty
Consumer Defensive
Beverages - Non-Alcoholic
Financial Services
Diversified Financial Services
Healthcare
Healthcare Providers & Services
Medical Devices & Instruments
Medical Diagnostics & Research
Medical Instruments & Equipment
Industrials
Farm & Heavy Construction Machinery
Transportation & Logistics
Utilities
Utilities - Independent Power Producers

The Role of Confidence in Today's Fed Policy
In recent years, the government and the Federal Reserve have been employing a policy closely aligned to Modern Monetary Theory (MMT). Under MMT, the government pushes the economy up to a point near full employment by stimulating the economy through fiscal spending and a loose monetary policy. Government is less concerned with running up the federal debt than expanding the economy. At the same time, the Federal Reserve declares its intent to keep interest rates low by buying bonds. By stating interest rate targets, it may not even need to actively buy bonds in the open market as investors will be reluctant to sell bonds at interest rates above targeted levels. Lower interest rates, of course, serve the government well as its debt grows. MMT argues that federal debt should not be a concern because the government can always print money. Given the political attraction of being able to spend without worrying about debt levels, politicians on both sides of the aisle have been embracing MMT.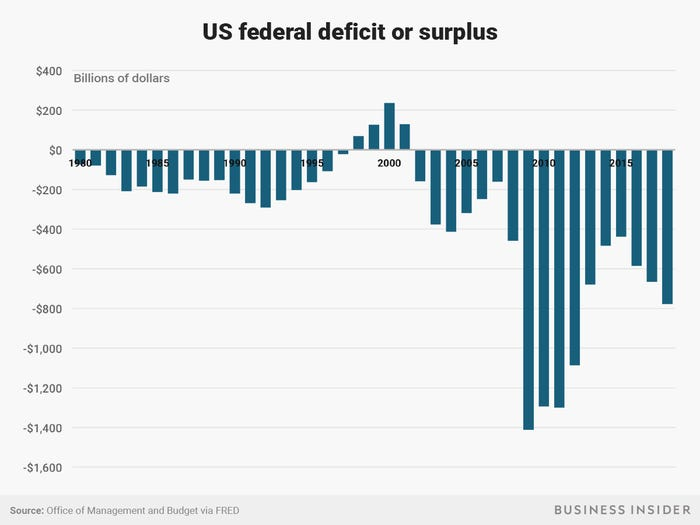 Such a policy has served the United States, Japan, and Germany well in recent years. But the policy relies on two key assumptions. First, the government will only stimulate the economy up to the point that it begins to cause inflation. Once there are signs of inflation, the government will reduce its spending or raise taxes to lower private-sector spending. If consumers do not believe the government will cut back on spending, they will continue to consume ahead of price increases. Second, investors must believe that the Federal Reserve will step in to support its price targets. If investors believe interest rates are about to rise, they will sell bonds and offset any efforts by the Fed to buy bonds. At the heart of MMT is the belief that federal debt is different from private debt and that rising federal debt will not crowd out the ability of the private sector to issue debt. To date, foreign investors have actively purchased U.S. debt.
When the economy shut down this spring, the government stepped in with a heavy dose of both fiscal and monetary stimuli just as it did after the Great Recession when it bailed out troubled banks. That stimulus helped offset reduced private sector spending. The action did not lead to inflation because unemployment levels were high. But what will happen when the pandemic ends? The economy entered the pandemic in a position of near full employment. In fact, some would say that it was operating at a rate below the transitional unemployment rate. When unemployment gets too low, workers are not available to find their way towards fast-growing industries. This can reduce future economic growth.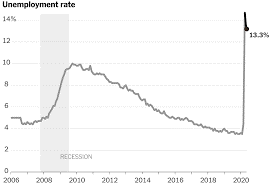 Source: U.S. Bureau of Labor Statistics
So, what happens if furloughed workers return to work at the same time the economy is exploding with pent-up demand. Under MMT, the government should react by raising taxes and increasing targeted interest rates. However, raising taxes and increasing interest rates may be difficult to do in a politically charged environment.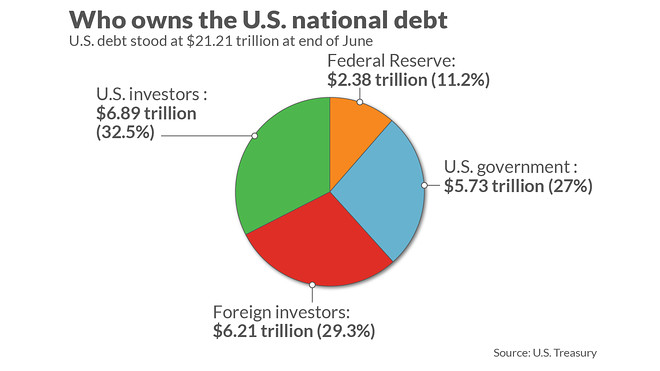 And, what happens if bond market participants lose confidence in the United States? Interest rates could rise in defiance to the Federal Reserve's attempts to target low rates. In such a scenario, the Fed would be forced to print more money to buy bonds, essentially doubling down its bet. In essence, MMT is comparable to the gambler who keeps doubling his bet, thinking that eventually, he will win and eliminate his losses. Like the gambler, MMT supporters are not concerned with debt, and the gambit works as long as the holders of debt remain confident that it will be repaid.
Suggested Reading:
The Limits of Government Tinkering
Will There be an Explosion in New Acquisitions?
Gold May Become Investors' Favorite for Several Years
Enjoy Premium Channelchek Content at No Cost
Sources:
https://www.vox.com/future-perfect/2019/4/16/18251646/modern-monetary-theory-new-moment-explained, Dylan Matthews, Vox, April 16, 2019
https://www.businessinsider.com/modern-monetary-theory-mmt-explained-aoc-2019-3, Jim Edwards and Theron Mohamed, Business Insider, March 2, 2020
https://www.marketwatch.com/story/heres-who-owns-a-record-2121-trillion-of-us-debt-2018-08-21#:~:text=Some%2070%25%20of%20the%20national,information%20from%20the%20U.S.%20Treasury., Jeffry Bartash, MarkeWatch, August 23, 2018