Companies by Sector
More than 6000 listed
Communication Services
Telecommunication Services
Consumer Cyclical
Advertising & Marketing Services
Furnishings, Fixtures & Appliances
Homebuilding & Construction
Manufacturing - Apparel & Accessories
Manufacturing - Apparel & Furniture
Retail - Apparel & Specialty
Consumer Defensive
Beverages - Non-Alcoholic
Financial Services
Diversified Financial Services
Healthcare
Healthcare Providers & Services
Medical Devices & Instruments
Medical Diagnostics & Research
Medical Instruments & Equipment
Industrials
Farm & Heavy Construction Machinery
Transportation & Logistics
Utilities
Utilities - Independent Power Producers

U.S. Debt as a Percentage of GDP Has Hit Levels Not Seen Since World War II
The federal budget deficit is projected to hit a record $3.3 trillion due, in part, to government expenditures to fight the coronavirus. With the deficit, the U.S. national debt is now more than $26 trillion. With the U.S. annual gross domestic product dropping to $19.5 billion in the second quarter, that means that debt as a percentage of GDP has skyrocketed to 133%, up from a level of 106% in 2019. The table below shows that the debt/GDP number has grown steadily over the last forty years, with big jumps coming during periods when the government has stimulated the economy. In 2009, for example, debt/GDP jumped from 68% to 83% when the government bailed out distressed financial institutions. Increased government spending during times of economic weakness is an unfortunate necessity. More alarming, however, is the fact that debt/GDP percentage is not reduced during times of prosperity.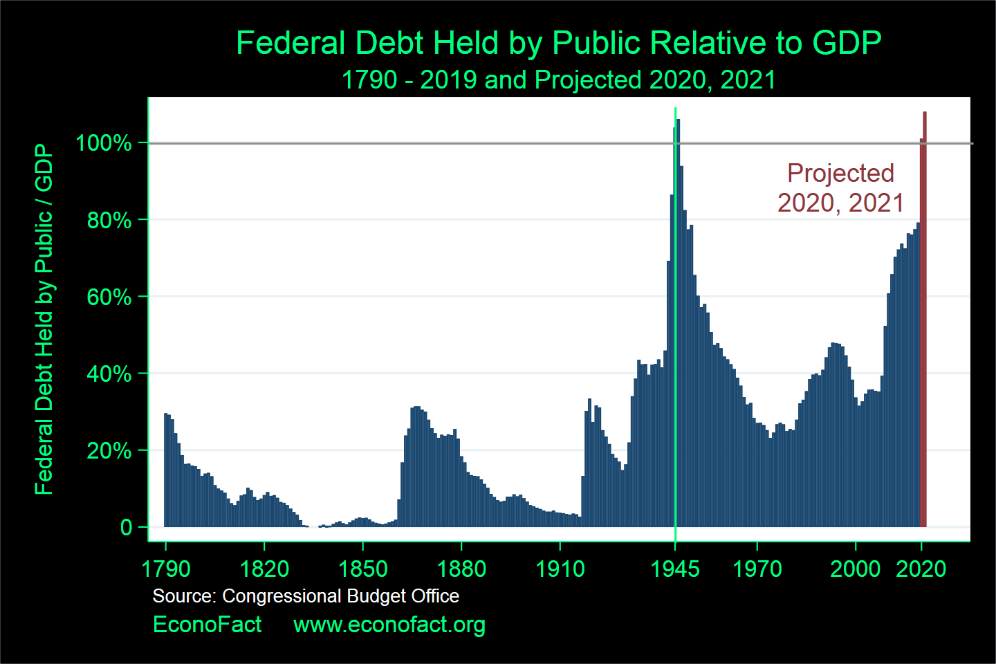 How much debt is too much debt? Even before accounting for this year's stimulus spending, the United States was responsible for 31% of the world's debt. Presumedly, that debt must be repaid at some point. At current levels, the U.S. debt represents approximately $80,000 for every man, woman, and child living in the United States. Is the current level of debt placing a burden on future generations? Or should debt be viewed as a cheap form of financing that should be used as long as it does not lead to higher inflation? This article explores the pluses and minuses of higher government debt levels.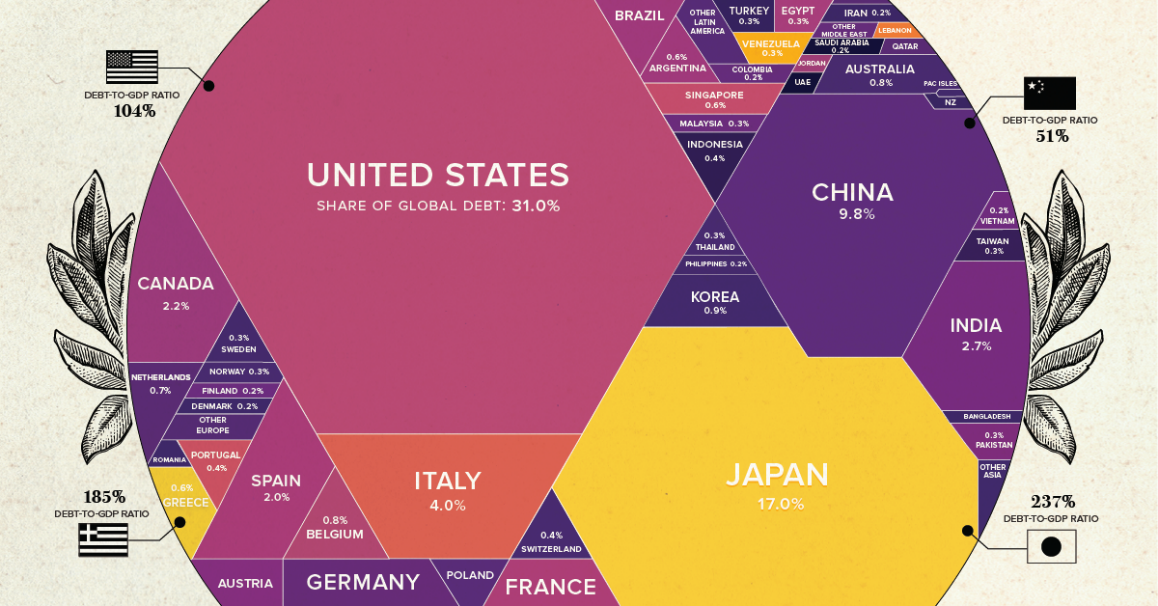 Rising debt is a big issue
The government is saddling future generations with debt. If one assumes that debt must be repaid, GDP is one measure of a country's ability to repay its debt. Think of debt to GDP as a measurement akin to debt to sales for corporations. When debt was only 30% of GDP as recently as thirty years ago, it was reasonable to believe that the country could repay its debt in the foreseeable future. With debt levels at 130% of GDP and approaching 150%, such repayment is harder to imagine without future generations taking severe austerity measures.
High debt levels choke out savings needed to fund corporate borrowing. The government must borrow the debt from someone. In theory, that means that there are fewer dollars to purchase corporate bonds, and corporations must offer higher interest rates to bond investors. This could affect corporate profitability and the ability to fund investments needed to fuel growth.
Higher debt limits the government's ability to stimulate the economy in the future. No one questions whether governments should borrow to stimulate the economy during times of economic weakness. However, it can not do so forever. Debt cannot rise without limit. Therefore, increasing debt levels means that the government will be less able to do so in the future should the need arise.
On-balance-sheet debt does not include many other government obligations. The national debt reflects the cumulation of annual federal budget deficits. However, there are many other government obligations. Social Security is an example of a government obligation not included in federal debt. Economist Jim Hamilton estimates that off-balance-sheet liabilities could exceed $70 trillion, or roughly three times that of on-balance-sheet debt.
Our debt is held by foreign governments and carries the risk of being used against us for political reasons. Foreign entities own $6 trillion, or 29%, of the debt issued by the U.S. government, including $1 trillion held by China. Should a country make a sudden decision to sell U.S. Treasuries, it could have negative implications for treasury market and the U.S. economy. The large ownership by foreign entities is the result of the fact that the United States has run a trade deficit for many decades. If a foreign entity were to suddenly decide that it no longer wanted to hold U.S. dollars in the form of treasuries, it could cause the dollar to drop suddenly and weaken the nation's purchasing power.
A loss of confidence in the government's ability to repay debt could be disastrous. Treasury rates are low because the bonds are backed by the full faith and credit of the U.S. government. But what if investors begin to doubt the country's ability or willingness to pay back their debts? Such doubt could lead to a wave of selling in the treasury markets, pushing interest rates higher and thus putting additional pressures on the government.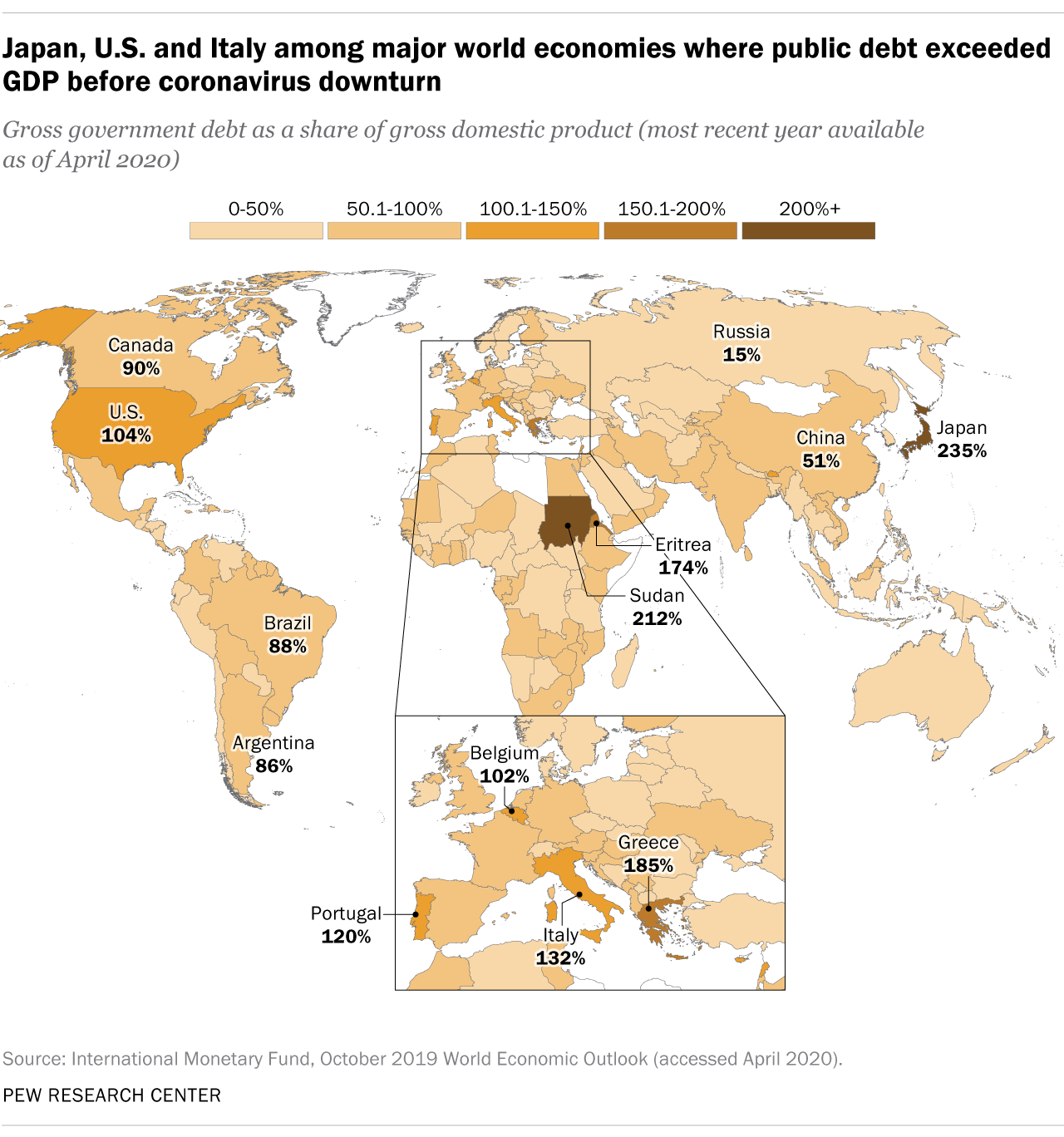 Rising debt is not a big issue
Other countries have a higher debt to GDP rate. The United States is not alone in reporting rising debt levels. Other countries such as Japan and Greece have spent their way towards economic growth and are doing well. Japan's debt, for example, is 235% of its GDP.
The nation has had debt levels larger than GDP before and survived. As mentioned earlier, the U.S. debt as percentage of GDP rose above 100% during World War II due to increased government spending. When that spending stopped, debt levels decreased. Government stimulus to combat the effects of the pandemic can be viewed as a temporary increase in spending. There is no reason to believe debt spending will resume to more normal levels once the impacts of the virus subside.
Not borrowing to stimulate the economy would mean lower GDP, so the rate would rise anyways. Federal deficits are the function of two things: government spending and the receipt of taxes. Since taxes are directly correlated to GDP, government spending to stimulate GDP growth can be viewed as an investment that will result in higher tax collection. Conversely, if the government were to not spend money to grow the economy, the debt-to-GDP ratio could rise anyway because of negative or limited GDP growth.
Interest rates are low. The United States is engaging in a strategy of increasing debt while at the same time lowering interest rates through moral suasion. The strategy of increasing debt while pushing interest rates lower is a key component of Modern Monetary Theory. The Fed has set the discount rate (the rate at which eligible financial institutions may borrow funds) at the low rate of 0.25%. This directly affects the rate at which financial institutions lend to customers. To date, there is no sign that government borrowing is affecting corporate borrowing.
Conclusion
The debate about government debt levels will probably continue for centuries. To date, rising debt levels have not had an adverse effect on interest rates, inflation, or corporate lending. On the other hand, the U.S is approaching debt levels never seen before in history. In April, the Congressional Budget Office projected the deficit for Fiscal Year 2020 will be $3.7 trillion. If another stimulus package is passed, the deficit could read $5 trillion. The CBO also projects fiscal 2021 government spending of $4.8 trillion. That means that the government will borrow more in 2020 than it typically will spend in a given year. Repaying the debt cannot be done by cutting government spending for a few years. It will take decades of austerity.
Suggested Reading:
JOLTS Report Suggests More Risk Taking
Small-cap Stocks are Looking Better for Investors
Can One Do Well and Do Good in Tandem

Each event in our popular Virtual Road Shows Series has a maximum capacity of 100 online investors. To take part, listen to and perhaps get your questions answered, see which virtual investor meeting intrigues you here.
Sources:
https://www.cnbc.com/2020/09/02/budget-deficit-to-hit-record-3point3-trillion-due-to-virus-recession.html, CNBC, September 9, 2020
https://theconversation.com/why-the-22-trillion-national-debt-doesnt-matter-heres-what-you-should-worry-about-instead-111805, The Conversation, February 14, 2019
https://www.investopedia.com/articles/investing/080615/china-owns-us-debt-how-much.asp, Investopedia, January 15, 2020