Companies by Sector
More than 6000 listed
Communication Services
Telecommunication Services
Consumer Cyclical
Advertising & Marketing Services
Furnishings, Fixtures & Appliances
Homebuilding & Construction
Manufacturing - Apparel & Accessories
Manufacturing - Apparel & Furniture
Retail - Apparel & Specialty
Consumer Defensive
Beverages - Non-Alcoholic
Financial Services
Diversified Financial Services
Healthcare
Healthcare Providers & Services
Medical Devices & Instruments
Medical Diagnostics & Research
Medical Instruments & Equipment
Industrials
Farm & Heavy Construction Machinery
Transportation & Logistics
Utilities
Utilities - Independent Power Producers


  Image: ACS Laboratories
Can Marijuana Businesses Benefit from NFTs?
Non-fungible tokens (NFT) are developing a growing role in cannabis businesses. While cryptocurrency may still be used to carry out transactions without involving a bank, NFTs are being adopted to create interest in brands and to verify they are tested and are bonafide by validating the Certificate of Authenticity (COA).
Branding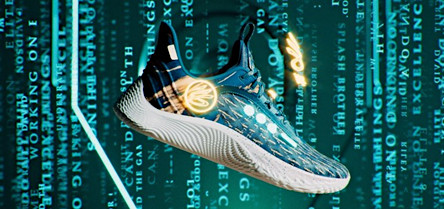 As a business, cannabis sales are like many others. First, produce a product people want, then build followers of the product. Many large popular companies have adopted the use of NFTs to build their brand and reach different consumer types. One example of this is the Under Armour Curry Flow Sneaker. In December, when brand ambassador Stephen Curry broke the NBA's three-point record, Under Armour (NYSE: UAA) celebrated by releasing a collection of nonfungible tokens (NFTs) related to the shoe.
Gary Vaynerchuk, motivational influencer and founder of The Wine Library recently announced he will open a restaurant where patrons must purchase NFTs to gain membership.
Adidas and the Bored Ape Yacht Club have partnered to offer NFTs that allow owners exclusive access to buy real-world physical products. Another shoe company, Nike (NYSE:NKE) bought RTFKT, which makes NFTs and shoes only used within the metaverse. In this way users who are seen at home just doing it in their Nikes can portray themselves similarly in the metaverse.
As for Cannabis companies, It's easy to understand how the attention received by NFTs can be used to help stand out among competitors. Within the metaverse, consumers see the same brands that exist in the physical world; added recognition can make the products more desirable in both. Jeffrey Welsh, an intellectual and entertainment lawyer for Denver-based law firm Vicente Sederberg, said the "low-hanging fruit" for marijuana businesses is to build memberships around NFTs that are associated with cool or unique digital assets that, in turn, are connected to products such as popular or exotic strains." Sederberg concedes, "We haven't yet seen the power for NFTs in cannabis."
Crypto-Hesitancy
As with anything new, despite mainstream companies embracing NFTs and using them within their marketing and brand recognition strategies, there are skeptics of tokens. The primary argument against the use is that the market is new so assessing value is difficult. It is possible for owners to wind up with something down the road of little or no value. That would not be a positive for customer relations.
Verifying COAs With NFTs
ACS Laboratory is a large marijuana and hemp test lab in Boca Raton, Florida. In November, the lab launched a certificate of analysis (COA) on a cannabis strain as an NFT during the Art Basel Miami Beach annual fair.
A COA includes all details of a product or artwork to help verify its origin. Within the context of cannabis products, an NFT of the COA can prove ownership and verify chemical makeup.
ACS created the NFT by partnering with Blockticity, which describes itself as a "leader in guaranteed certificates of authenticity for the most valuable of possessions." With this, last December, the first-ever COA for marijuana was encrypted forever on the blockchain as an NFT for a COA. "The blockchain is the future for cannabis and hemp to secure the integrity of the analytical results and the COA, determine permissions and eventually to include payments," said Roger Brown, president of ACS Laboratories.
Brown said he first thought, "Who is going to buy a digital picture?" He said he later understood that the NFT could help authenticate his companies authentification. ACS now gets calls regularly with questions about the validity of test results.
How it Works
Using recent innovations, a business or individual can scan a QR code that brings up an NFT of the COA they are interested in. There they have the ability to understand everything about the product. ACS doesn't think of NFT creation as a revenue stream. The NFT serves to improve consumer confidence of one brand over another as consumers or wholesalers make purchasing decisions
There is now a team at ACS whose job it is to get COAs on blockchain via token technology.
Take-Away
Two very young businesses are finding they may be able to help each other. The Cannabis industry which once only benefitted from the blockchain by using digital currency now is seeing the benefits of non-fungible tokens. The NFTs are being adopted for brand awareness and recognition as sellers' marketing departments understand the power of building communities. The industry can also benefit from being able to prove authenticity on everything about the products. This is particularly important for some with ingested, smoked, or vaped consumables. Perhaps other consumable products will also begin using blockchain verification.
Suggested Reading
Sources
https://mjbizdaily.com/are-nfts-a-scam-or-a-smart-play-for-marijuana-companies/?utm_medium=email&utm_source=newsletter&utm_campaign=MJD_20220202_NEWS_Daily
https://artbasel.com/stories/art-market-report-2021
https://www.marketingdive.com/news/under-armours-wearable-nfts-honor-steph-curry-shattering-3-point-record/616472/
https://www.voguebusiness.com/technology/adidas-reveals-new-nft-project-with-bored-ape-yacht-club
https://www.entrepreneur.com/article/415203
https://www.theverge.com/22833369/nike-rtfkt-nft-sneaker-shoe-metaverse-company
https://www.cnbc.com/2022/01/12/kim-kardashian-and-floyd-mayweather-sued-over-alleged-crypto-scam.html
https://app.poap.xyz/r/token/2227842
https://www.tappancollective.com/pages/about-our-nft-coa
https://www.prnewswire.com/news-releases/acs-laboratory-launches-first-national-hemp-client-coa-nft-301433872.html
https://www.forbes.com/sites/chrisroberts/2021/03/01/would-you-buy-digital-marijuana-blockchain-based-nfts-arrive-in-cannabis/?sh=73b4ed030a3e
Stay up to date. Follow us: